Healthy Vegan French Toast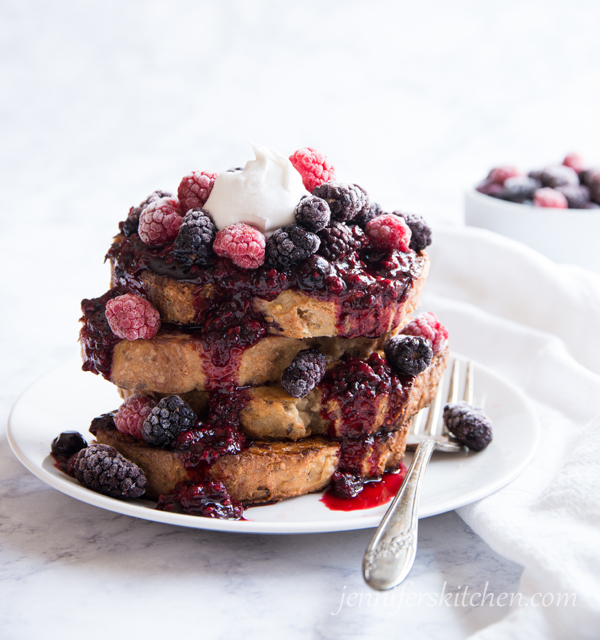 No eggs? No problem.
This healthy French toast is made with absolutely no eggs or dairy or sugar, and it's so delicious that it'll be loved by all!
What makes this French toast so healthy?
1. No cholesterol.
Regular French toast typically has over 100 mg of cholesterol.
2. Baked instead of fried.
This healthy French toast is baked instead of fried and it is completely oil-free.
3. No sugar.
Use one of our healthy toppings, and this French toast is a healthy, sugar-free way to start your day.
How to make perfectly healthy, perfectly delicious French toast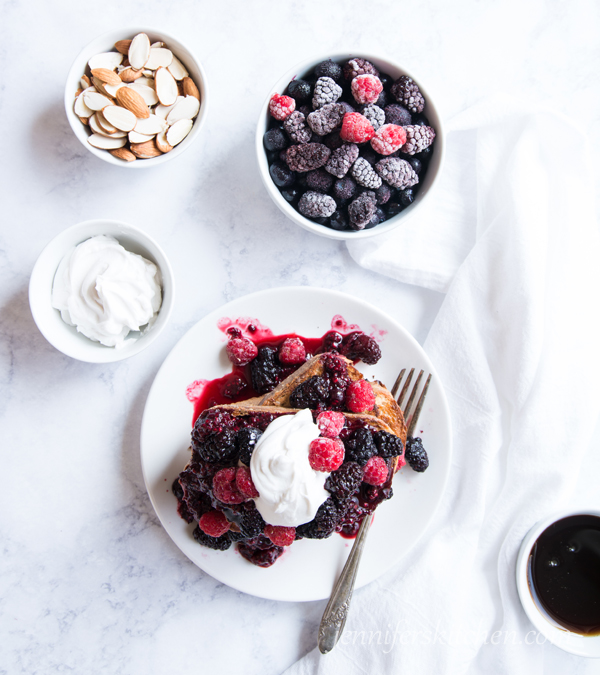 This website is brought to you without annoying ads because we can live healthier lives without the influence of marketing. But running a high-traffic site is expensive. How can you help? If you purchase anything through the affiliate links on my site, your cost is the same, but I receive a small commission. Thank you!
THE BREAD:
You can make French toast out of any kind of bread, but for the best French toast most good cooks will recommend using day-old Italian bread, brioche, or challah. However, because I wanted this French toast to be a healthy breakfast option, I skipped over the brioche and challah (too much sugar and cholesterol in these breads) and opted for a hearty, whole-grain, Italian-type bread. Whole-grain French bread would work as well.
Regular sandwich bread can be used, but it's too thin for making really good French toast. It will soak up the batter too quickly and become soggy.
It's best to use bread that's at least a day old. Fresh bread is soft and moist, but older bread is drier so it can soak up more batter.
THE BATTER:
The batter for this egg-free French toast gets its richness from coconut milk instead of eggs. The whole-grain oats in the batter create a crispy outside on each luscious slice. The natural, pure maple syrup offers a whisper of sweetness, and the Kala namak (black salt) gives just a tiny hint of egg-y flavor.
DIPPING/SOAKING:
The amount of time the bread should soak in the batter depends on the type of bread used.
Hearty, whole-grain bread (which I recommend) needs to be soaked for up to 10 minutes to allow the batter to soak into the bread slices.
Bread that isn't whole-grain or that is sliced into thin slices should be soaked for less time.
Regular sandwich bread shouldn't be soaked at all. Rather it should be dipped. In and out very quickly!
Tip for success: If in doubt, check your bread slice by poking a fork in it. About 1/4 of the inside of the bread should be soaked with batter. Soaking bread for too long results in soggy French toast. Not soaking long enough makes blah, dry French toast.
Healthy toppings for your Healthy Vegan French Toast
We can quickly degrade a healthy, whole-grain, French toast breakfast into a unhealthy, sugary disaster by smothering our French toast with syrup. But no worries! You don't have to eat your French toast dry. I have an abundance of super healthy, super delicious toppings for pancakes, waffles, and French toast.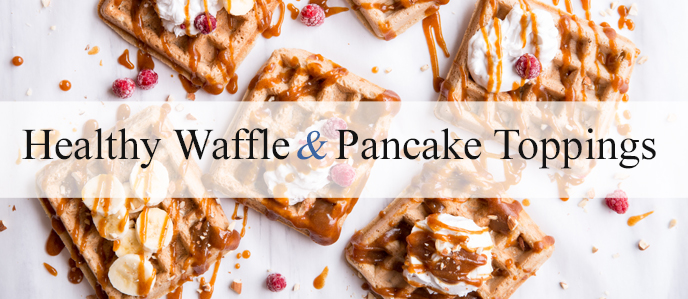 And … for the most luscious French Toast, check out my recipe for Maple Date Syrup. You'll love it!
Can I freeze this French toast?
Yes you can! French toast freezes really well and makes for a great, easy breakfast option for busy mornings.
To freeze:
Allow French toast to cool on a wire rack, and then transfer to a baking sheet lined with parchment paper. Freeze until solid, then transfer to a resealable freezer bag or container and return to freezer.
To reheat:
Toast in the toaster.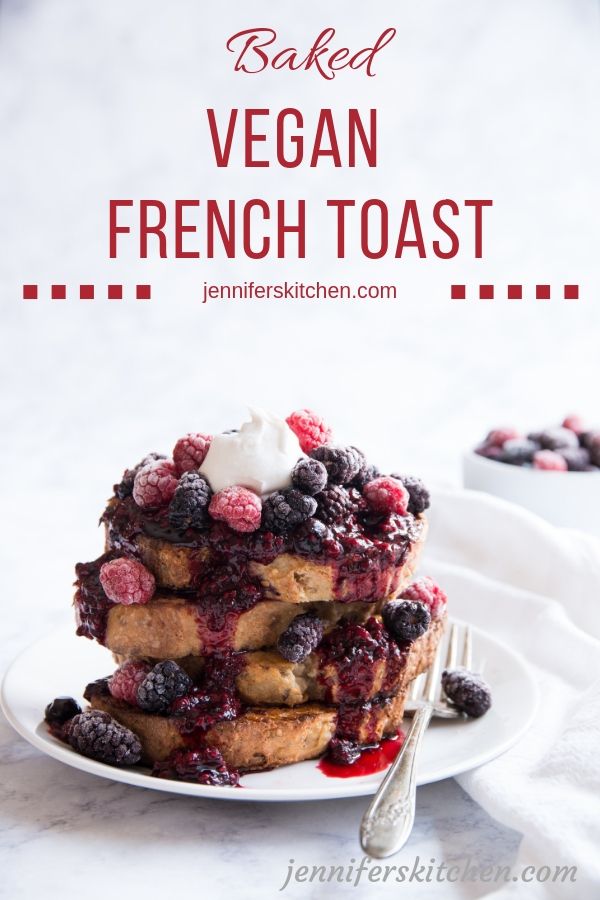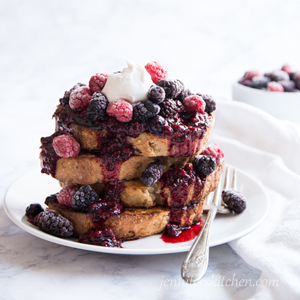 Healthy, Whole-Grain, Vegan French Toast
With zero cholesterol, no oil, and no sugar, this vegan French toast is much, much better for you than traditional French toast.
Instructions
Place all ingredients except bread in blender and blend until smooth. Allow mixture to sit (in blender) for 2 to 5 minutes to thicken and to allow oats to soften.

Blend mixture again until silky smooth.

Transfer batter to a shallow, wide-bottom dish. Place bread slices (as many as will fit) into dish and allow to soak for 10 minutes. If using a different kind of bread, you may not need to soak bread; see instructions in post.

Meanwhile, preheat oven to 425°F.

Place bread on oiled baking sheet. Do not drain excess batter off bread. Repeat with remaining bread slices.

Bake in a preheated oven at 425°F for 9 to 10 min or until lightly browned on bottom. Flip over and bake for an additional 7 to 9 minutes.

For the yummiest slices, before flipping bread slices, spoon extra batter over tops of slices. Flip and continue baking according to directions.
Notes
The amount of time to soak bread depends on the type of bread used. Thin sandwich bread should be very quickly dipped – no soaking needed! Thicker, heartier bread (which I recommend) needs to be soaked for up to 10 minutes to allow the batter to soak into the bread slices. See explanations/instructions in post.
Make Ahead Tip:
French toast freezes nicely. See freezing and reheating instructions in post.
>> One quick request: if you like this recipe, please leave a rating and a comment. Ratings help more people find these healthy recipes!
Print Recipe
Want More?
For more healthy and delicious recipes like this one that will simplify your journey to a healthier and thinner you, check out my
Healthy Weight Loss Program!
You my also like:
Before you go . . .
Did you know that you can eat all this delicious food AND lose weight? You can!
No calorie counting. No portion sizes.
Join my online weight loss program today!