Blending Hot Foods in a Blender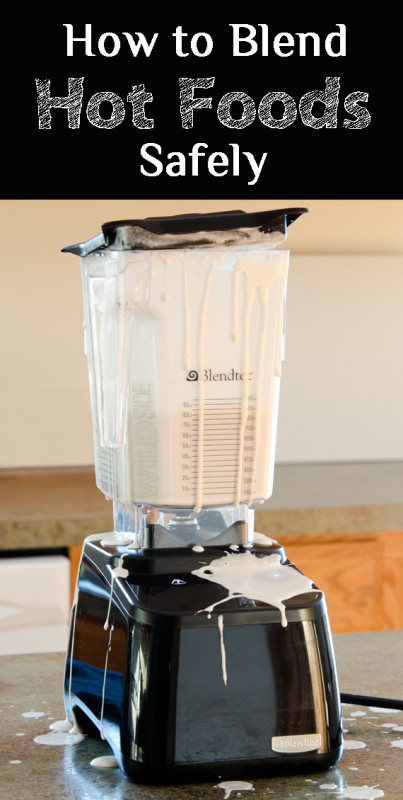 A blender can be a useful tool in the kitchen and is great for making salad dressings, smoothies, homemade applesauce, healthy waffle batter, and much more.
However, it is important to understand that blending hot foods, such as soup or homemade applesauce, in a blender can be dangerous and can cause severe burns if certain precautions are not taken.
When hot food is inside your blender and you put a lid on top, it heats up the air above between the food and the blender lid, and causes pressure to build up in the blender jar. This pressure can actually cause the top to blow right off as hot food explodes out the top of the blender jar.
NEVER blend hot foods in a blender without following these safely instructions!
How to Blend Hot Foods Safely
1. Fill the blender jar only one-third to one-half full.
Filling the jar more than halfway can cause too much steam to build up and can blow the lid off the blender.
2. Remove center piece (feeder cap) of blender lid.
3. Place the blender lid (minus the feeder cap) securely on the blender.
4. Cover the blender lid with a clean kitchen towel.  (I like to use one that is folded to be just slightly larger than the blender lid.)
The hot steam needs an easy escape route (through the feeder cap and then through and out the edges of the towel) once the blender is turned on so that pressure doesn't build.
5. Hold the lid on securely and start blending on lowest speed.
Gradually increase speed as needed.
Following these instructions can help prevent severe burns; but please still use extreme caution when blending hot foods!!!
Update:  The new Blendtec blender has a special lid that vents steam pressure without needing to remove the center part. It seems to work very well, but still use caution.
Popular Posts
You my also like:
Before you go . . .
Did you know that you can eat all this delicious food AND lose weight? You can!
No calorie counting. No portion sizes.
Join my online weight loss program today!