Refrigerator Pickles (Lemon Pickles)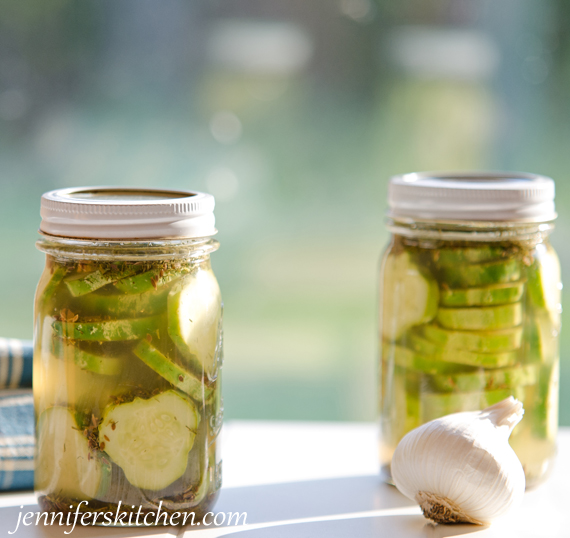 Our cucumber plants have been producing well this year, and we've surely been enjoying their wonderful fruit, especially since this means more Cucumber Corn Relish Salad, more Mazidra, and more pickles!
Homemade Pickles
Making refrigerator pickles is uber easy! It only takes minutes of your time. And no "store-bought, polysorbate 80, sodium benzoate, natural flavors, yellow 5-spiked" pickle can compare to these fantastically fresh homemade pickles!
What's more, these luscious pickles are even vinegar-free (an ingredient we try to avoid).
Lemon Pickles
How do you make pickles without vinegar? Use lemon juice. You'll love them!
These cool and crisp pickles taste amazin'. So if you don't have a garden or belong to a CSA, stop by your local farmer's market and pick up a peck o' potential pickles.
Ready, set, crunchalicious!
This website is brought to you without annoying ads because we can better live healthier lives without the influence of marketing. But running a high-traffic site is expensive. How can you help? If you purchase anything through the affiliate links on my site, your cost is the same, but I receive a small commission. Thank you!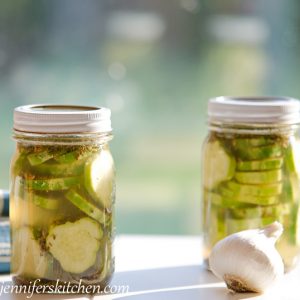 Refrigerator Pickles
Cool and crisp refrigerator lemon pickles.
Ingredients
1

clove

garlic, cut in half

4

small

cucumbers

-

(pickling cucumbers work best)

2

teaspoons

dill seed

2 – 3

teaspoons

salt

-

depending on taste

1/3

cup

lemon juice

1

teaspoon

apple juice concentrate

-

optional

1 1/2

cups

water, approximately
Instructions
Place garlic in a quart jar.

Wash cucumbers and cut into slices.

Place cucumber slices in jar along with dill, salt, and lemon juice (and apple juice if desired).

Bring water almost to a boil. Pour very hot water into jars until cucumbers are covered.

Screw lid on jar and place in refrigerator. (I always give the jar a gentle shake before placing in frig – just to make sure ingredients are mixed well.)

Wait at least 24 hours before serving. The pickles will taste even better after two days of marinating.
>> One quick request: if you like this recipe, please leave a rating and a comment. Ratings help more people find these healthy recipes!
Print Recipe
What is the difference between refrigerator pickles and canned pickles?
While the ingredients are almost the same, refrigerator pickles are not processed in the canner or hot water bath, and they aren't sealed. They need to be kept in the refrigerator, and they keep for about 7 to 10 days. Refrigerator pickles tend to be a bit crunchier than canned pickles because they aren't exposed to the high heat of the canning process.
Leave a comment
Your comments make my day! 🙂
You my also like:
Before you go . . .
Did you know that you can eat all this delicious food AND lose weight? You can!
No calorie counting. No portion sizes.
Join my online weight loss program today!