Sweet Pepper, Onion, and Olive Pasta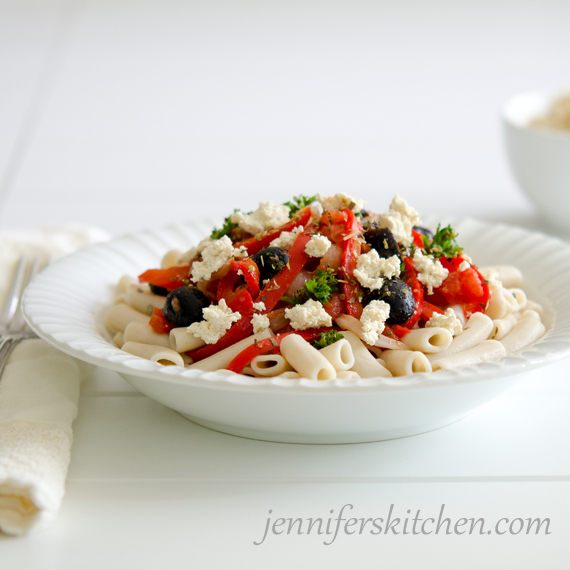 I'm not quite sure why I took such a clean and tidy looking photo of this delicious dish.  It doesn't look anywhere near this neat in real life.  Rather, on my plate it's a lovely mess of juicy, tomatoey, peppery, yumminess.  I should have taken a photo of it after I started eating.  But then, once I started eating it, a photo wasn't going to happen.  Mmmmmm mmmmm!
This is some yummy stuff, my friends.
And it's quick and easy, leaving you more time to experience this lovely fall weather, go play in the leaves, enjoy a hayride, spend time with friends, make some more autumn honey pear crisp, visit an apple orchard, or think about what you're thankful for.
Speaking of friends and being thankful, we were blessed by a visit from some very dear friends this past weekend.  The meal they graciously brought was thoroughly enjoyed, their many hours of help was appreciated beyond words, and the sweet company was just what was needed.
There's nothing quite like help from a friend to turn a job into a fun time.
But back to the recipe.
Yes, you really should try this.  It's sooo delicious.
And if you use whole-grain pasta, this is quite a healthy meal.  If you're like me and you just aren't that into eating cardboard, skip the whole wheat pasta and use Tinkyada whole-grain pasta.  Whole-grain (gluten-free) goodness and not a shred of cardboard.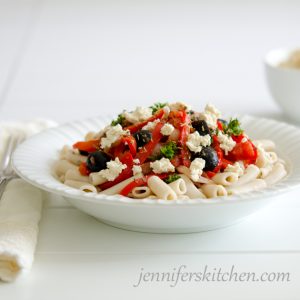 Sweet Pepper, Onion, and Olive Pasta
Ingredients
1/2

pound

extra-firm water-packed tofu

-

(not silken tofu)

8

ounces

uncooked pasta

- (I use Tinkyada Pasta)

2

tablespoons

olive oil

1

large

red bell pepper or 2 medium red bell peppers

1

large

onion or 2 medium onions

-

(use sweet onions if available)

2

cloves

garlic, minced

1/3

cup

chopped fresh parsley

1 1/2

cups

diced tomatoes

-

(fresh or canned)

2

teaspoons

dried basil

1

teaspoon

dried oregano

1

teaspoon

granulated onion

1/2

teaspoon

salt

-

scant, see note

1

cup

sliced or halved black olives
Instructions
Drain tofu. Place it in a colander and set something heavy on top to press water out of tofu. Set aside.

Meanwhile, cook pasta according to directions on package.

Cut onion and bell pepper into thin strips. In a medium pan, sauté onion and bell pepper in oil over medium high heat until onions are translucent (about 7 to 9 minutes).

Add garlic and sauté for 1 additional minute.

Stir in fresh parsley, tomatoes, basil, oregano, and 1/2 teaspoon salt, and bring to boil. Reduce to a low boil and continue cooking for another 5 to 10 minutes, stirring occasionally.

Stir in olives.

Place tofu in a mixing bowl, add tofu seasonings (lemon juice, basil, onion and garlic powder, and salt) and mash with a fork until mixture is evenly crumbly.

When pasta is done, drain thoroughly. Return pasta to the pan it was cooked in. Add pepper and tomato mixture and gently toss.

Serve hot topped with tofu.
Notes
Be sure to squeeze as much liquid as possible out of the tofu before using.
Use a bit less salt if using canned tomatoes with salt.
>> One quick request: if you like this recipe, please leave a rating and a comment. Ratings help more people find these healthy recipes!
Print Recipe
Popular Posts
You my also like:
Before you go . . .
Did you know that you can eat all this delicious food AND lose weight? You can!
No calorie counting. No portion sizes.
Join my online weight loss program today!