How to Make Pear Sauce (Sugar-Free)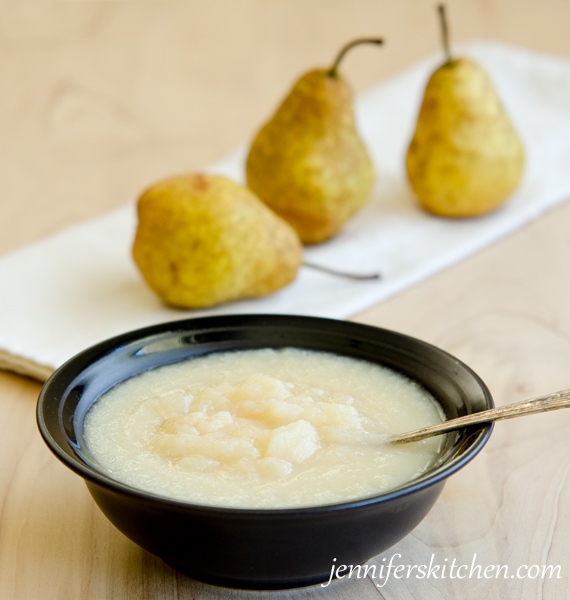 This website is brought to you without annoying ads because we can better live healthier lives without the influence of marketing. But running a high-traffic site is expensive. How can you help? If you purchase anything through the affiliate links on my site, your cost is the same, but I receive a small commission. Thank you!
Some dear friends invited us to come and pick pears from their pear tree last week. She said they had an abundance, so I thought we might get a basket or two, but we ended up with about 4 bushels! Four beautiful bushels!
Time to make pear sauce!
While a lot of people make applesauce this time of year, I hardly ever hear about pear sauce. But pear sauce is so easy to make and so incredibly delicious, you're really missing out if you don't try some!
Here's How to Make Your Very Own Pear Sauce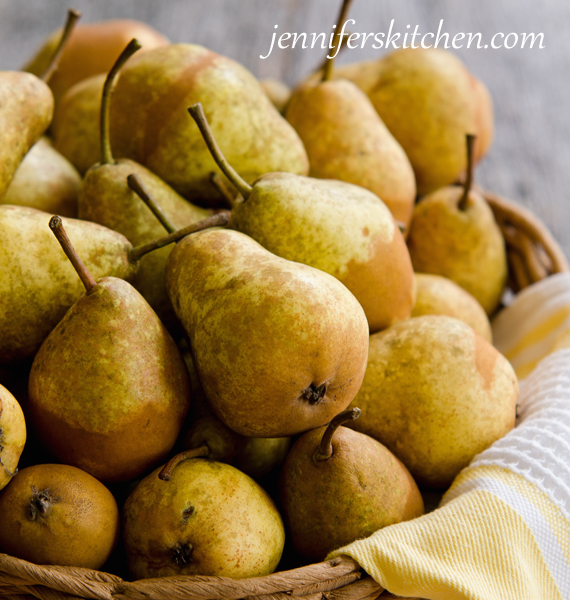 1. First, choose some ripe, sweet pears.
Naturally, the sweeter the pear, the sweeter your pear sauce will be.
2. Next, wash your pears.
3. Begin heating a little bit of water or orange juice in a very large pan over medium heat.
You'll need about 1/4 cup for just a few pears or 1/2 cup for 12 to 36 cups of pears quarters. If you're doing more than 36 cups of pears, you're probably going to need an additional pan, so you'll want another 1/2 cup of juice in the second pan too.
You don't need much liquid, and the exact amount you need will depend on how juicy your pears are and how quickly they release their own juices. Try not to use more liquid than needed, because it'll dilute your delicious pear flavor.
4. Cut pears off the core.
Many people use an apple corer to cut out the core, or they cut the pear into halves and then remove the core with a paring knife or a melon baller, but I've found the fastest way for me is to just use a knife to cut the pear off the core while holding the pear in my hand over top of the pan. I can prepare the pears almost twice as fast this way.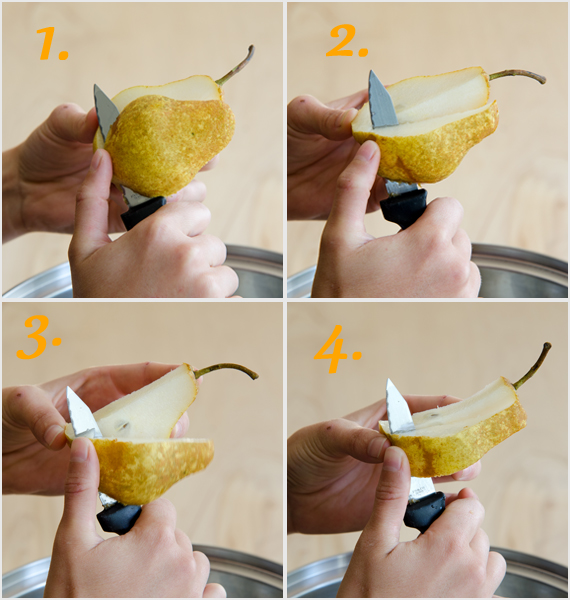 NOTE: There is no need to peel the pears.
This pear sauce is made with the skins on (they get all blended up) and is actually richer and creamier this way.
Some people use a food mill to make pear sauce, but we like this method better because, once again, the result is a richer and creamier sauce and the fiber content is higher with the skins (which is great for weight loss).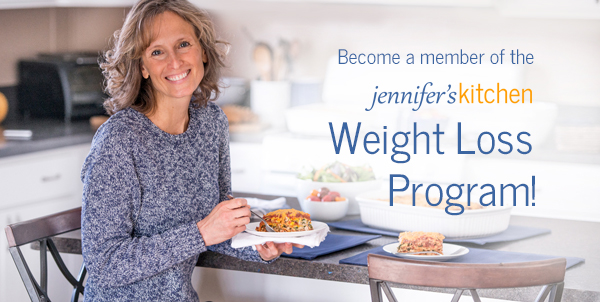 5. Add pears to hot liquid.
If you aren't using the touch-it-once method above, add your pears to the hot liquid. If your pears are already in the pan, go to step #6 🙂
6. Stir often to prevent pears from scorching on the bottom of the pan.
The pears should quickly start making their own juice. But if not, reducing the heat and stirring often is usually a better option than adding more liquid so as to not dilute the pear flavor.
7. Bring pears to boil.
Don't cover your pan – for the best flavor, you want as much extra liquid as possible to evaporate.
8. Reduce heat and simmer for 30 minutes.
If you're making a very, very small batch, simmer time can be reduced by about 10 minutes.
9. Remove from heat.
When pears are cooked, remove from heat. Allow to cool slightly.
10. Using a large slotted spoon, transfer pears to a blender jar.
Be sure to drain the pears well with the spoon so your sauce won't be too thin.
NOTE: You can wait for your pears to cool before you blend them, but they'll be easier to blend and your pear sauce will be thicker if you blend the pears while still very warm. However, be sure to use caution when blending hot foods in a blender. (Read this post for more information about blending hot ingredients in a blender.)
11. Blend until very smooth.
A high-power blender is helpful (maybe essential) for getting the pear sauce silky-smooth. If you don't have a heavy-duty blender, be sure to blend the sauce for a long time to get rid of all traces of pear skin.
You're done!
Preserving Your Pear Sauce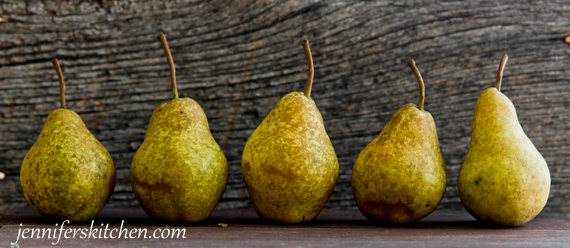 We've been enjoying freshly-made sauce, but we also canned some for the winter.
One of the best things about preserving pears by making them into sauce instead of regular canned pears means you use a lot less sugar (like zero) and a lot less time (you don't have to peel the pears when making pear sauce if you have a good blender).
I make canned pear sauce in the same way as I do apple sauce, except I add 2 teaspoons of lemon juice for each quart of sauce. This is to increase the acidity since apples are more acidic than pears.
How do you can pear sauce?
I have step-by-step instructions for canning pear sauce or apple sauce for you here.
The book, Preserving Summer's Bounty: A Quick and Easy Guide to Freezing, Canning, and Preserving, and Drying What You Grow, is also an excellent resource for comprehensive instructions on how to preserve every thing from asparagus to strawberries to zucchini.
How Many Pears Equals How Many Quarts of Sauce?
Four pounds of fresh pears will yield approximately 1 quart of pear sauce.
There are about 2 to 3 large pears in a pound, 3 to 4 medium pears to a pound, and about 4 to 5 very small pears in a pound.
One bushel of pears weighs about 55 pounds.
How to Eat Pear Sauce
You can enjoy pear sauce any way that you would applesauce.
We think it's great over waffles or toast with almond butter. Pear sauce can also add some natural sweetness to your oatmeal. Or how about a bowlful of granola mixed with pear sauce and then topped with blueberries. And of course you can use pear sauce to replace some or all of the oil in cake, cookie, or muffin recipes. I've also heard warm pear sauce is fabulous over ice cream, but I've never tried it that way.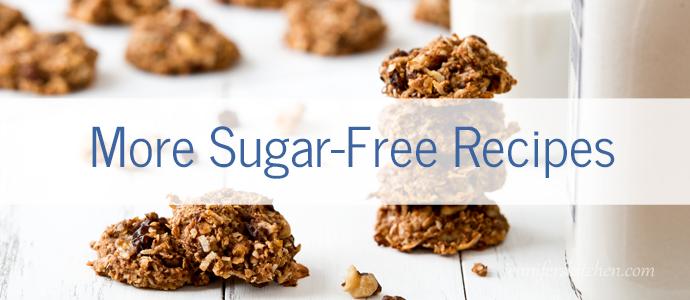 Or you can just eat a big bowl of it!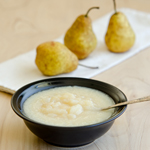 Sugar-Free Pear Sauce
This delicious, sugar-free pear sauce is a delicious change from applesauce.
Ingredients
12

cups

fresh pear quarters

1/2

cup

orange juice
Instructions
Place orange juice into a large pan and begin heating.

Wash pears and cut into quarters. Add quarters to hot orange juice and bring to boil.

Cook at a very low boil for 30 minutes, stirring often (especially at the beginning) to prevent scorching.

Using a large slotted spoon, transfer pears to blender (draining them well). (A heavy duty blender works best for this recipe; other blenders may not get the pear sauce smooth enough.)

Blend until very smooth. Makes approximately 1 1/2 quarts of sauce.
>> One quick request: if you like this recipe, please leave a rating and a comment. Ratings help more people find these healthy recipes!
Print Recipe
Want More?
For more healthy and delicious recipes like this one that will simplify your journey to a healthier and thinner you, check out my
Healthy Weight Loss Program!
You my also like:
Before you go . . .
Did you know that you can eat all this delicious food AND lose weight? You can!
No calorie counting. No portion sizes.
Join my online weight loss program today!