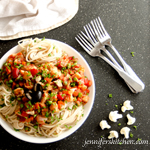 Very Veggie Pasta
Yield 4 servings
This simple pasta dish features fiber-rich vegetables and delicious whole-grain (but not cardboard-tasting) pasta. Delicious! (I use my veggie chopper to cut the veggies small. Saves a lot of time.)
Ingredients
2 medium onions, diced
1 medium carrot, shredded or diced small (I use my veggie chopper to cut the veggies small. Saves a lot of time.)
2 tablespoons olive oil
4 cups very small cauliflower florets (about 1/2 head)
5 cloves garlic, minced
2 teaspoons dried oregano
2 teaspoons dried basil
2 1/2 teaspoons granulated onion
1 teaspoon salt
3/4 cup water or broth
12 ounces pasta (I use Tinkyada sprial pasta or Tinkyada spaghetti)
3 1/2 cups crushed tomatoes or tomato sauce
1 teaspoon raw sugar
2 tablespoons chopped fresh parsley
1 cup frozen petit peas
olives - optional
Instructions
In a large soup pan, sauté onion in oil over medium heat until they begin to look translucent, about 8 minutes. If using diced carrots, saute them along with onions. If using shredded carrots, wait to add them in step #2. Meanwhile, start water for pasta.
Add cauliflower and garlic. If using shredded carrots, add them now. Sauté for 1 to 2 additional minutes.
Stir in seasonings. (See note.)
Increase heat to medium-high and add 3/4 cup water or broth, cover, and cook until cauliflower is tender, but not mushy – about 4 to 5 minutes.
Meanwhile, cook pasta according to package directions.
Stir in tomatoes or tomato sauce, raw sugar, and fresh parsley. Taste and adjust seasonings as desired. (See note)
(At this point, sauce can be cooked longer if you prefer your vegetables to be softer.)
Add peas and cook until heated – about 2 minutes. Serve hot.
Notes
Different varieties of crushed tomatoes and tomato sauce come seasoned differently. If using tomato sauce, cut seasonings in half. If using crushed tomatoes, do a taste test at step 6 and adjust seasonings if desired.
Recipe by JennifersKitchen at https://jenniferskitchen.com/2015/02/very-veggie-pasta.html