Stuffed Collard Leaves (Collard Rolls)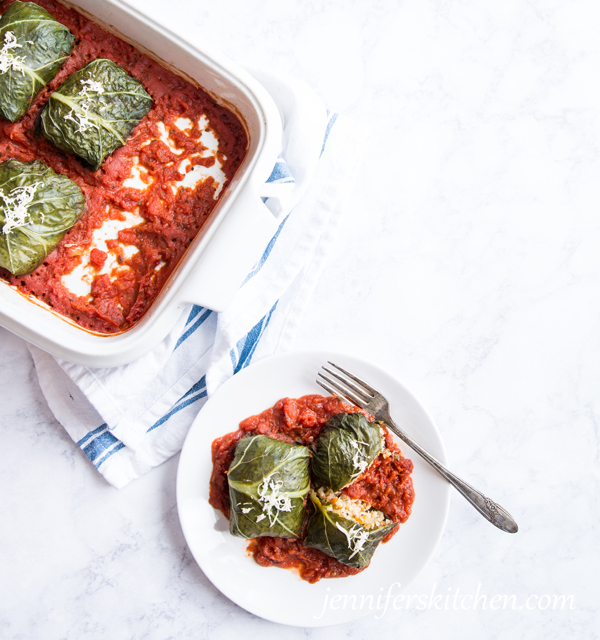 I am super excited to introduce you to these little guys. They earned their way among my top 5 favorite dishes this month, and I think you are going to like them too. (When did I start referring to food as "little guys"? Anyway …)
Here's what I like about these Stuffed Collard Rolls:
1. They are sooooo much easier to make than cabbage rolls.
2. They freeze well – which makes this dish a great recipe for company! No need to be in the kitchen up to the last minute. Make them up to 3 months ahead of time, wrap well, and place in freezer. Reheat in oven while you are visiting with your guests.
3. High in fiber, vitamin A, and vitamin K (they even offer some calcium), these Stuffed Collard Rolls make a super healthy meal.
4. They are vegan and gluten-free.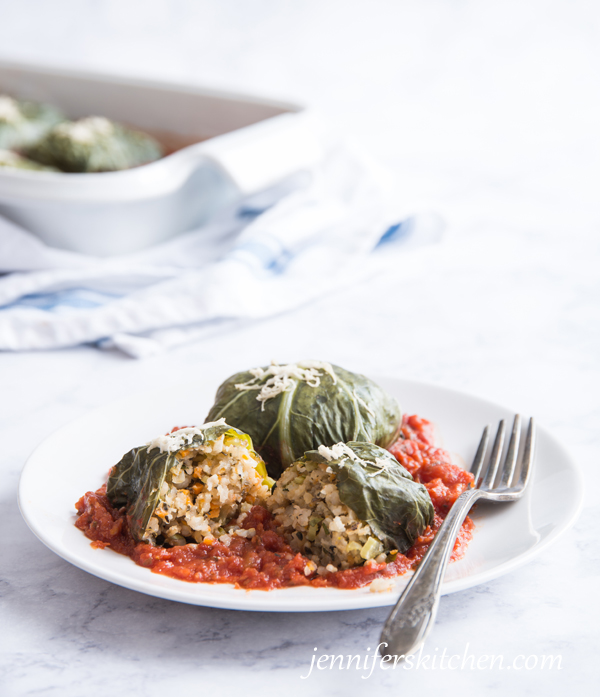 5. Leftovers are amazing. They keep well, reheat beautifully, and the flavor just keeps getting better.

What are Collard Leaves?
Never tried collard leaves? You can find them next to the kale in just about any good grocery store. Try to get small-sized leaves as they are usually more tender.
Collards are a member of the brassica family – the same family that kale, cabbage, broccoli, and cauliflower belong to. They taste a bit like a cross between cabbage and kale.
Collard Rolls Nutrition
Collard leaves contain incredibly high levels of vitamin K. One-half cup of cooked collards provides a whopping 500% of your daily needs for this nutrient! Vitamin K can help increase bone mass and can improve memory.
Collards are also a rich sources of phytonutrients with potent anti-cancer properties. And they have been shown to have the capacity to lower blood cholesterol levels – especially LDL cholesterol.
The leaves are also an excellent source of folate. Folate plays a significant role in DNA synthesis and (when eaten by pregnant women) has been shown to help prevent neural tube defects in newborns.
With this amazing nutrient profile, plus the fact that they are low in calories and high in fiber, these Stuffed Collard Leaves are the perfect weight loss food.
How to Make Collard Rolls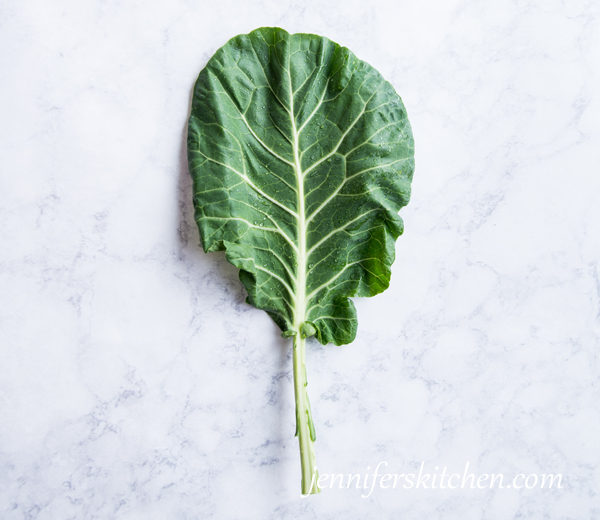 This website is brought to you without annoying ads because we can live healthier lives without the influence of marketing. But running a high-traffic site is expensive. How can you help? If you purchase anything through the affiliate links on my site, your cost is the same, but I receive a small commission. Thank you!
1. Wash collard leaves.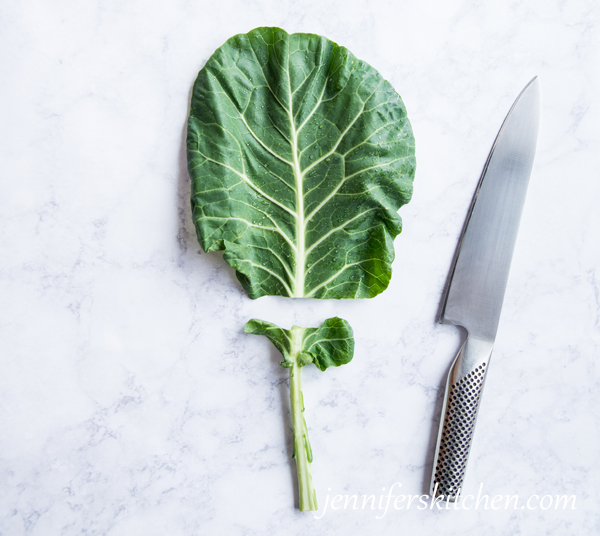 2. Cut approximately one inch off the bottom of each leaf.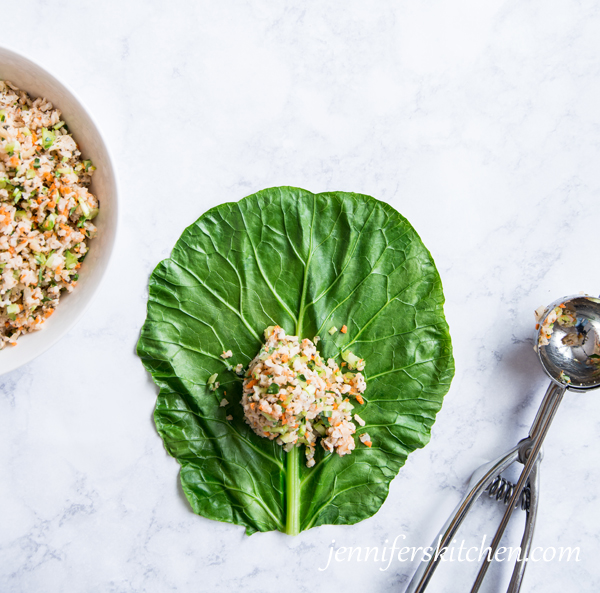 3. Steam leaves. Spread out on clean surface. Measure approximately 1/4 cup of filling onto bottom half of leaf.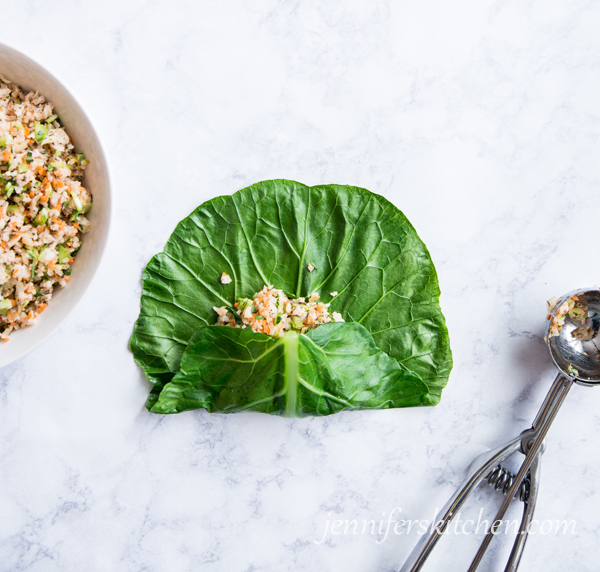 4. Fold up bottom of leaf over filling.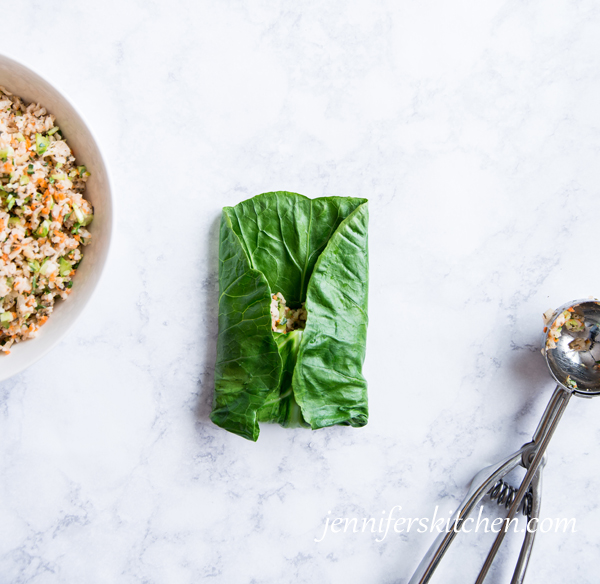 5. Fold in sides.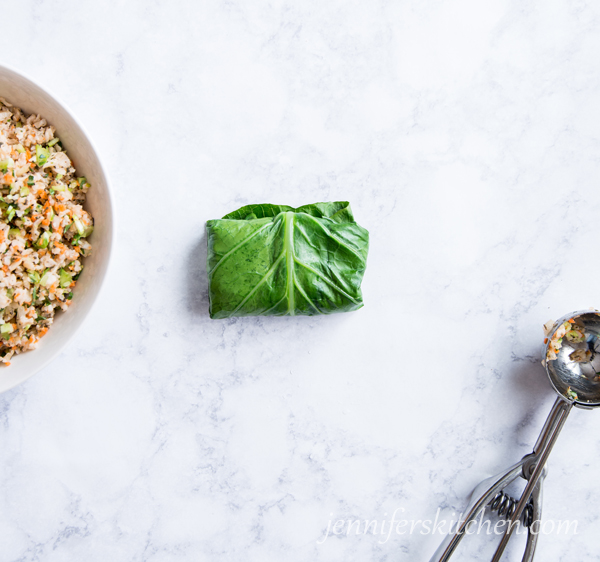 6. Roll up.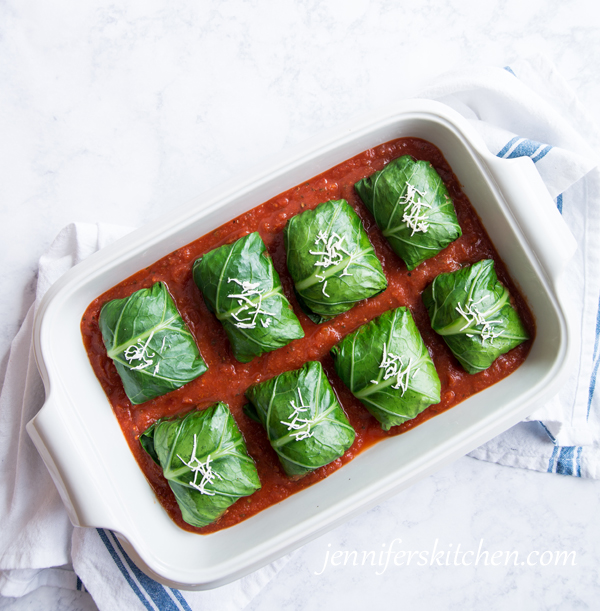 7. Place into tomato sauce in baking dish. Bake.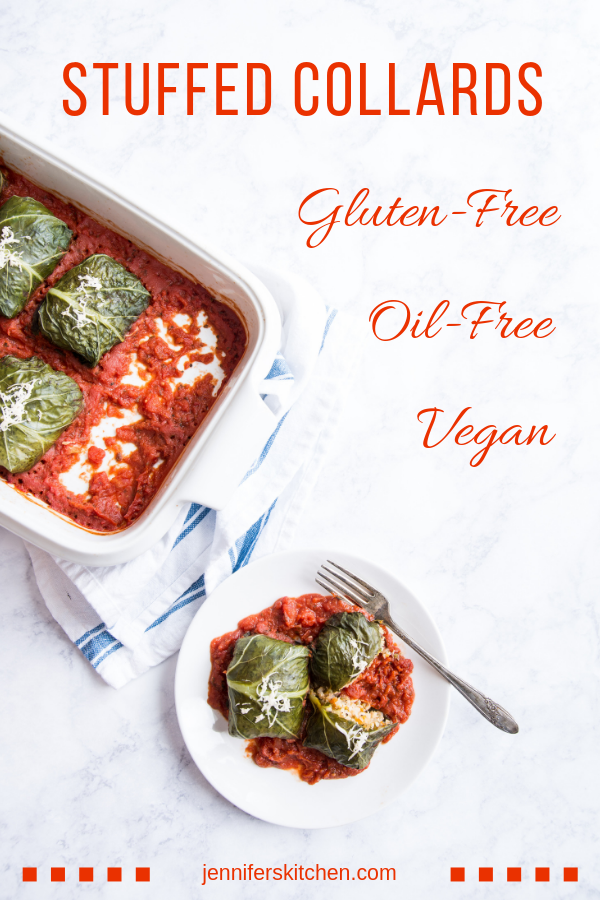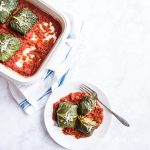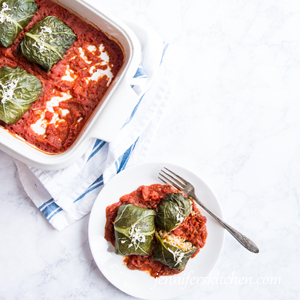 Rice-Stuffed Collard Leaves
Collard leaves filled with wonderfully seasoned vegetables and rice, baked in a luscious tomato sauce – the perfect (and perfectly healthy) comfort dish.
Ingredients
8 – 10

small to medium

collard leaves

-

(slightly bigger than your hand)

3/4

cup

water

1

medium

yellow onion, diced very small

1/4

cup

raw sunflower seeds

-

coarsely chopped

1

medium

carrot, shredded or chopped very small

-

(about the size of a grain of rice)

3

cloves

garlic, minced

2

cups

cooked brown rice

4

teaspoons

granulated onion -

(1 tablespoon + 1 teaspoon)

2 1/2

(generous) teaspoons

dried basil

3/4

teaspoon

salt

1/2

teaspoon

dried parsley

1/4

teaspoon

dried oregano

1 1/2

cups

tomato sauce - or Jennifer's Kitchen Easy, 1-Pot, 7-Ingredient Marinara Sauce
Instructions
Cut approximately one inch off the bottom of each leaf. (See pictures in post.)

This part of the leaf is more rigid than the rest of the leaf, so cutting it off makes the leaves easily to roll. These bottom ends can be finely minced and added to the filling if desired.

Bring approximately 3/4 cup water to boil in pot. Add whole collard leaves, reduce heat to medium-low and steam for about 8 minutes or until tender.

If your collards are not young and tender, you may want to steam them longer. If they aren't steamed long enough, the collard rolls will be tough.

Remove from pot to cool.

Dice onions very small. (I avoid using a food processor to dice onions because it tends to make them bitter.) Set aside.

Chop sunflower seeds in a food processor and place in a bowl.

Chop carrots in the processor and add to sunflower seeds.

Mince garlic in the processor and add to carrots and sunflower seeds.

Place rice and seasonings in processor and pulse just until rice is chopped.

Add diced onions, garlic, sunflower seeds, and carrots to food processor and pulse several times or until mixture begins to stick together. This helps the filling hold together in the collard roll.

NOTE: The goal is to chop and mix ingredients, not puree them.

Pour tomato sauce into an 8-inch x 12-inch inch baking dish or casserole dish.

Measure approximately 1/4 cup of rice mixture onto bottom half of a steamed collard leaf. Fold up bottom of leaf over rice, fold in sides, and roll up. (See step-by-step pictorial in post.)

Place stuffed collard leaf into tomato sauce in baking dish. Repeat with remaining collard greens.

Cover. Bake at 350°F for 50 minutes.
Notes
Stuffed collards freeze well.
Yield: 8 to 10 rolls
To freeze before baking:
Place stuffed collards in a sealed container and freeze. When ready to serve, bake at 350 for 1 hour and 10 minutes.
To freeze after baking:
Bake as directed, place in freezer (in a sealed container). When ready to serve, remove from freezer, place in oven (covered), and reheat at 350°F for 30 minutes.
>> One quick request: if you like this recipe, please leave a rating and a comment. Ratings help more people find these healthy recipes!
Print Recipe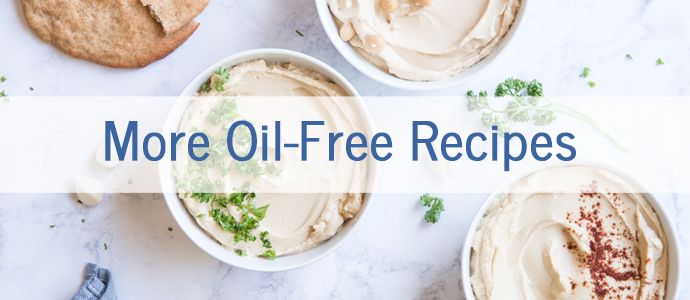 You my also like:
Before you go . . .
Did you know that you can eat all this delicious food AND lose weight? You can!
No calorie counting. No portion sizes.
Join my online weight loss program today!