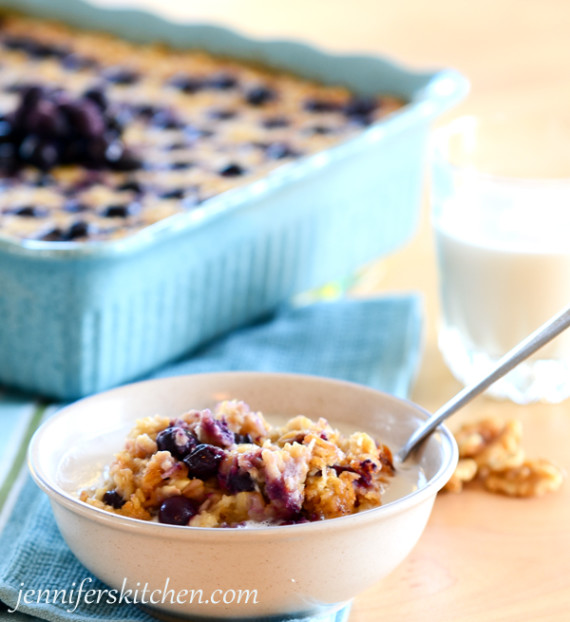 This recipe will surprise you!  Oatmeal? No, this is not your grandmother's oatmeal. You will love it!  It's oatmeal with a makeover.
I've eaten oatmeal many different ways, and this is by far my favorite.  Naturally sweet, warm, creamy, and good for you!
Don't like oatmeal?  Try this.
Seriously.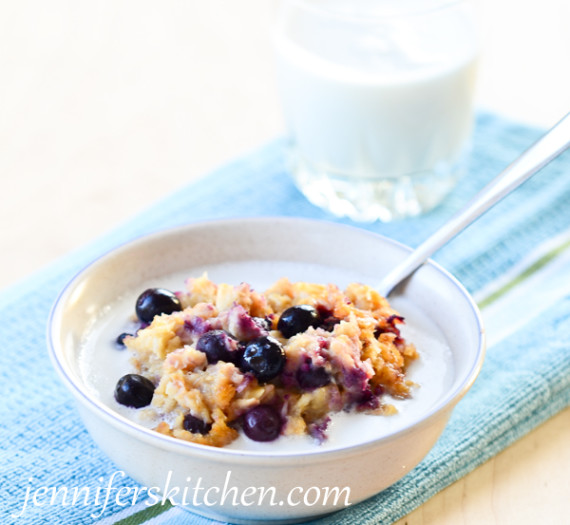 Baked Apple Blueberry Oatmeal
A delightful change from plain oatmeal. This dish is quite sweet; if you don't like sweet oatmeal, you can easily half the sweetener.
:
All recipes on jenniferskitchen.com are property of Jennifer's Kitchen and cannot be included in any other recipes collection, online or offline, without prior written permission.
Ingredients
2 cups non-dairy milk
2 cups applesauce
your choice of sweetener -
1/4 cup honey
OR 1/3 cup pure maple syrup
OR 1/2 cup raw sugar
OR 1/2 cup chopped dates (see note)
OR if you'd like to reduce the sweetener, replace some of it with chopped apples
1/2 cup shredded coconut
1 teaspoon vanilla
1/2 teaspoon salt
1 tablespoon melted coconut oil
2 cups regular rolled oats
1 cup frozen blueberries
Instructions
Stir together all ingredients, except blueberries and oats in a large mixing bowl.
Add oats and lightly mix. Do not over mix. Mixture will be soupy.
Gently stir in blueberries.
Pour into an oiled 2-quart baking dish.
Bake uncovered at 375°F for 45 minutes or until lightly browned.
Notes
1. If using dates, they should be chopped small so their sweetness is distributed throughout the dish.

2. While the oil is optional, it does add a bit of a buttery flavor to the dish. However, it also adds calories and can be left out without negatively affecting the final product.


Make Ahead Tip:

This dish can be baked the evening before and kept in the refrigerator until the next morning when ready to reheat.


Variation:

Stir 1/2 cup chopped nuts in with the oats.
Did you make this recipe?
Share it on Instagram! Tag @jenniferskitchn and hashtag it #jenniferskitchn
Leave a comment
Your comments make my day! 🙂