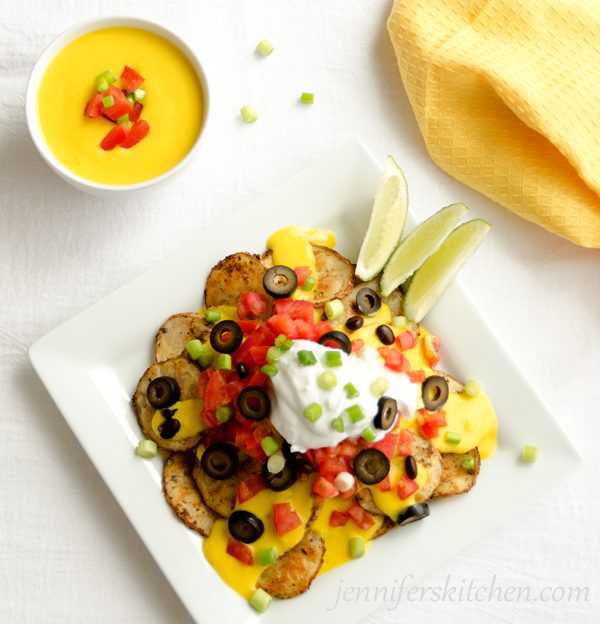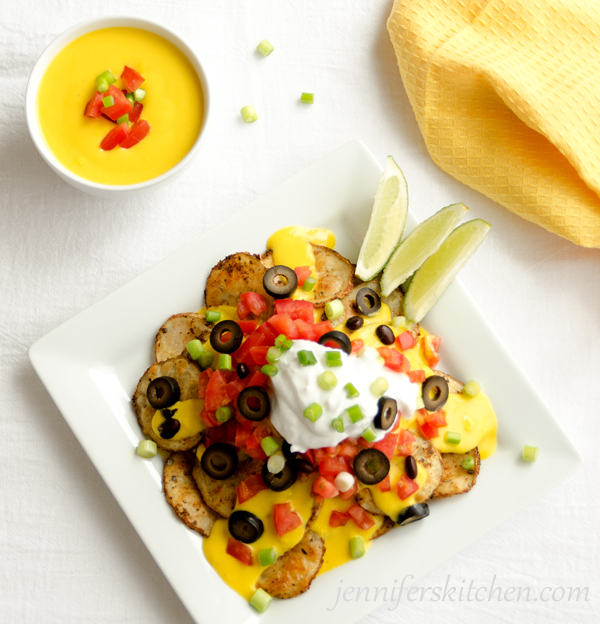 No need to read How to Win Friends & Influence People. Just serve up these amazing, gluten-free, vegan, healthy, and absolutely scrumptious Potato Nachos.
What's so great about these Potato Nachos? First, you know everyone will love them because who wouldn't love to have a huge plate of nachos loaded with silky cheese sauce and luscious sour cream and call it a healthy meal?
Plus they're more flexible than Nadia Comaneci, so everyone gets to make 'em how they like 'em, which means even members of the Picky Eaters Club are happy.
So how does one transform loaded nachos into a healthy meal?
1. First, trade in the fattening chips for super spuds.
One ounce of chips contains 7 grams of fat and 140 calories. On the other hand, one medium potato is loaded with vitamin B6, potassium, manganese, and fiber and has been shown to help with weight loss.
2. Then spoon on this rich and creamy Healthy Cheese Sauce.
This Healthy Cheese Sauce is cholesterol-free and a good source of vitamin A and fiber. Regular cheese sauce has zero fiber, so this is a super healthy swap!
3. Add fresh tomato and olives and green onions.
Great sources of vitamin C, fiber, and healthy fats.
4. Top with this Vegan Soy-Free Sour Cream.
This luscious plant-based sour cream has half the calories, half the total fat, and less than half the saturated fat as regular sour cream … and no cholesterol.
Now your yum-where-have-you-been-all-my-life-so-very-good dinner is served.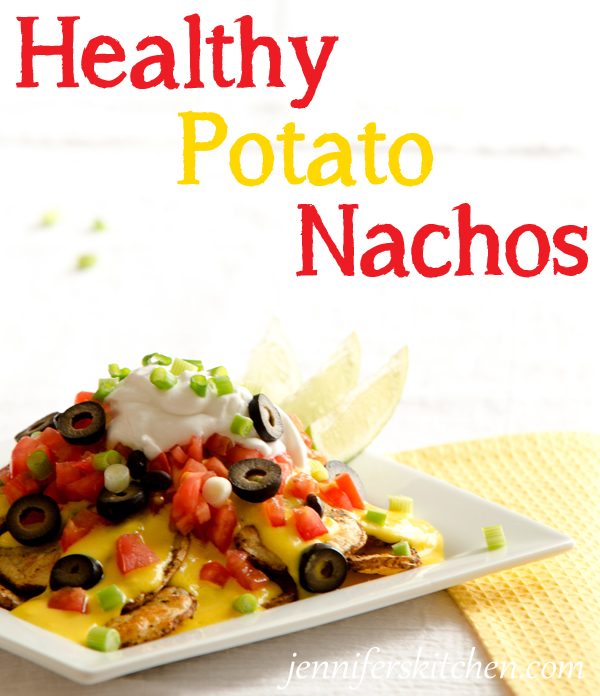 Here's what you need to know about this recipe:
1. I use my food processor to cut the potatoes because it's so fast. It takes about 50 seconds to slice all the potatoes. And it cuts the potatoes evenly, which helps them bake evenly.
2. I recommend making the Vegan Soy-Free Sour Cream the day before. It's an easy recipe and doesn't take much time, but it does need to set up in the frig, so making it a day or two (or three) ahead works great.
3. The Potato Nachos recipe calls for one recipe of Vegan Sour Cream and one recipe of Healthy Cheese Sauce, but you may not use that much. Use the extra for burritos (or something else) later in the week. It's never a problem getting the leftovers eaten! 🙂
4. You can include black beans in the toppings to make this a hearty, filling meal.
5. Experiment with other toppings if you'd like. Some ideas include diced avocado, guacamole, croutons, corn, bell peppers (be nice to your tummy and avoid the hot ones), fresh diced red onion or sweet onion, and fresh cilantro.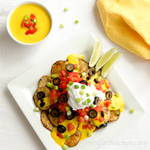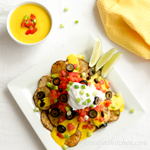 Healthy Potato Nachos
These amazing Potato Nachos are not only gluten-free, vegan, and good-for-you, but they are also absolutely scrumptious!!
Ingredients
Potatoes
2

pounds

russet potatoes, scrubbed or peeled

-

(about 4 medium)

1

tablespoon

olive oil

2

teaspoons

granulated onion

1

teaspoon

dried basil

1

teaspoon

dried oregano

1/2

teaspoon

sweet paprika

1/4

teaspoon

granulated garlic

1/4

teaspoon

cumin -

optional

3/4

teaspoon

salt

-

scant
Instructions
Cut potatoes into slices approximately 1/4 inch thick. (I recommend using a food processor to slice potatoes quickly and ensure slices are all the same size, which helps them bake evenly.)

Place in a large bowl or gallon-size Ziploc bag.

Drizzle olive oil over potatoes and mix well. Add seasonings and mix thoroughly.

Line two large baking sheets with parchment paper and lightly oil. Place potatoes single layer on baking sheets. (It's okay if some of the potatoes overlap slightly.)

Bake at 400°F for 35 minutes or until potatoes are nicely browned. (Baking time will vary depending on the thickness of the potatoes.)

Meanwhile, prepare toppings. Serve hot potatoes topped with cheese sauce, vegetables, and then sour cream.
Notes
See notes in post above this recipe.
>> One quick request: if you like this recipe, please leave a rating and a comment. Ratings help more people find these healthy recipes!
Print Recipe
Want More?
For more healthy and delicious recipes like this one that will simplify your journey to a healthier and thinner you, check out my
Healthy Weight Loss Program!
You my also like:
Before you go . . .
Did you know that you can eat all this delicious food AND lose weight? You can!
No calorie counting. No portion sizes.
Join my online weight loss program today!