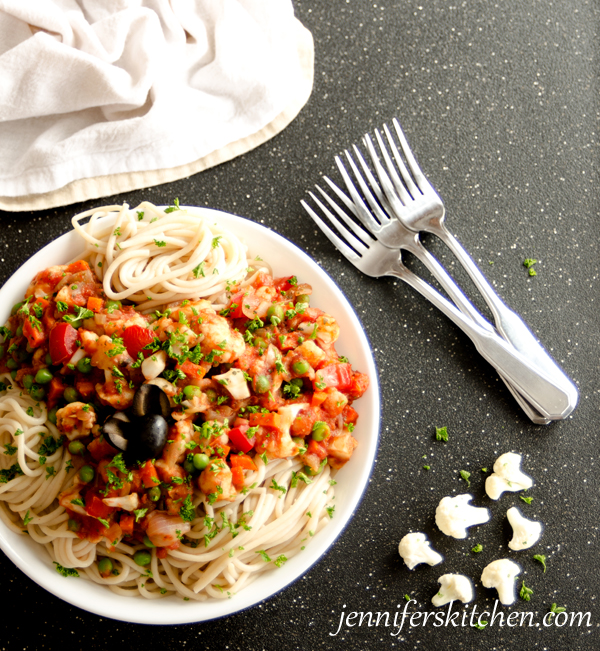 This recipe is a devious attempt to get you to eat your vegetables. Except, now that I've told you, I guess it's no longer devious. Shall we call it creative? Artful? Subtle? I don't know. I just know that vegetables can be boring and this is yummy. Even though it has vegetables in it.
So the secret to making veggie pasta that doesn't taste like a plate of noodles being invaded by yucky vegetables is to cut the veggies into itty bitty teeny tiny pieces. And mix it with a flavorful sauce. Voila! Rich, saucy pasta … and, oh, wait … are there vegetables in here?
Is Pasta Fattening?
If you've been around here for a while, you know that, while I think whole-grain pasta is a good food choice for healthy weight loss, I am most definitely NOT a fan of cardboard-tasting whole-grain pasta.
Tinkyada pasta to the rescue! This stuff is the best tasting, whole-grain (dried) pasta I have ever had. No, let me rephrase that. Tinkyada pasta is the best tasting pasta, whole-grain or not. I've tried numerous brown rice pastas and other whole-grain pastas, and Tinkyada wins, hands-down.
Evidence:
At a weight loss class I taught a few years ago, I made two pots of soup – each with identical ingredients in them, except in one pot I used regular white pasta, and in the other I used Tinkyada Brown Rice pasta.
I served each class participant the two different soups, but I didn't tell them which was which. Then I took a survey asking the participants which pasta/soup they liked best. Forty-eight out of 49 said they couldn't tell the difference, and the one person who said she could tell the difference responded she liked soup #2 (the one with Tinkyada pasta) best!
(With all this Tinkyada praising, I thought I should mention I'm not associated with Tinkyada in any way. I just like their pasta, and I think it's an excellent choice for weight loss.)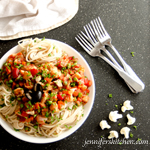 Very Veggie Pasta
This simple pasta dish features fiber-rich vegetables and delicious whole-grain (but not cardboard-tasting) pasta. Delicious! (I use my veggie chopper to cut the veggies small. Saves a lot of time.)
Ingredients
2

medium

onions, diced

1

medium

carrot, shredded or diced small

- (I use my veggie chopper to cut the veggies small. Saves a lot of time.)

2

tablespoons

olive oil

4

cups

very small cauliflower florets

-

(about 1/2 head)

5

cloves

garlic, minced

2

teaspoons

dried oregano

2

teaspoons

dried basil

2 1/2

teaspoons

granulated onion

1

teaspoon

salt

3/4

cup

water

- or vegetable broth

12

ounces

uncooked spiral or spaghetti pasta

- I recommend Tinkyada pasta.

3 1/2

cups

canned crushed tomatoes

-

or tomato sauce

1

teaspoon

raw sugar

-

optional

2

tablespoons

chopped fresh parsley

1

cup

frozen petite peas

black olive halves or slices

-

optional
Instructions
In a large soup pan, sauté onion in oil over medium heat until they begin to look translucent, about 8 minutes. If using diced carrots, saute them along with onions. If using shredded carrots, wait to add them in step #2. Meanwhile, start water for pasta.

Add cauliflower and garlic. If using shredded carrots, add them now. Sauté for 1 to 2 additional minutes.

Stir in seasonings. (See note.)

Increase heat to medium-high and add 3/4 cup water or broth, cover, and cook until cauliflower is tender, but not mushy – about 4 to 5 minutes.

Meanwhile, cook pasta according to package directions.

Stir in tomatoes or tomato sauce, raw sugar, and fresh parsley. Taste and adjust seasonings as desired. (See note.)

(At this point, sauce can be cooked longer if you prefer your vegetables to be softer.)

Add peas and cook until heated – about 2 minutes. Serve hot.
Notes
Different varieties of crushed tomatoes and tomato sauce come seasoned differently. If using tomato sauce, cut seasonings in half. If using crushed tomatoes, do a taste test at step 6 and adjust seasonings if desired.
>> One quick request: if you like this recipe, please leave a rating and a comment. Ratings help more people find these healthy recipes!
Print Recipe
Want More?
For more healthy and delicious recipes like this one that will simplify your journey to a healthier and thinner you, check out my
Healthy Weight Loss Program!
You my also like:
Before you go . . .
Did you know that you can eat all this delicious food AND lose weight? You can!
No calorie counting. No portion sizes.
Join my online weight loss program today!