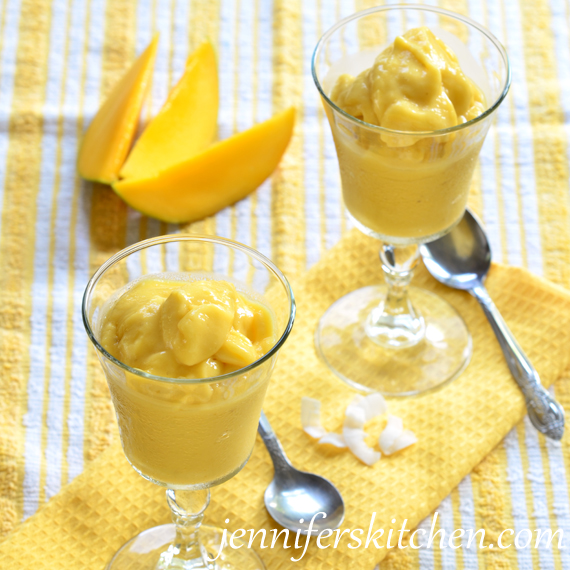 When's the last time you had a mango?
Oh, I would eat them every day if I could, but I usually can find them in the store only in spring and summer.  So I was thrilled when the grocery store near me started carrying frozen mangoes!  This means I can eat mango smoothie in the dead of winter when I'm snuggled up to the wood stove wearing a fleece and a thick pair of cozy socks.
Actually, I've started buying mangoes in the diced and frozen variety even when fresh mangoes are in season, because a couple bags in the freezer means I can have mangoes without waiting for the one on my countertop to get ripe … and without even peeling or cutting it.  The ultimate in laziness convenience.
Speaking of easy, this recipe is.
1. Place ingredients in blender jar.
2. Push button.
3. Enjoy.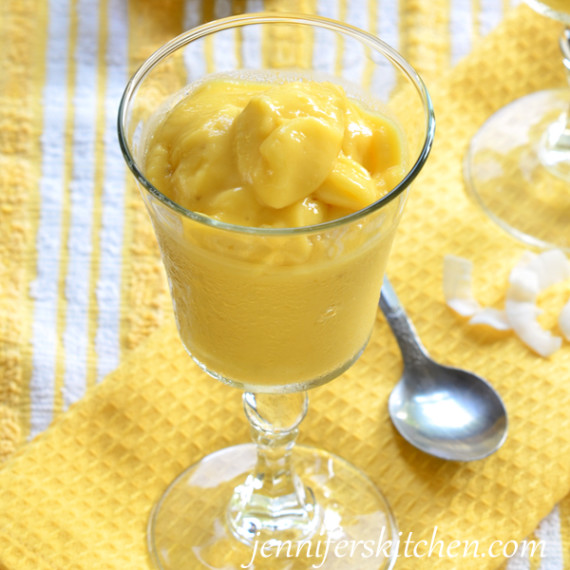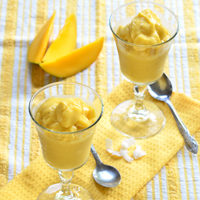 Print
Mango Banana Smoothie
Yield 1 delicious smoothie
This naturally sweet smoothie is a delicious summertime treat and also doubles as a healthy sauce for Wonderful Waffles.
Ingredients
1/4 cup coconut milk
1 medium very ripe banana (I like to use a frozen banana, but you can use fresh one.)
1 cup frozen mango dices
1 teaspoon vanilla
Instructions
Place all ingredients in blender in order listed. A high-powered blender works best for this.
Blend until smooth. Serve immediately.
Notes
For the sweetest taste, be sure to use a banana that is very ripe.
Popular Posts