Italian Vegetable Soup with Pasta and Meaty Tofu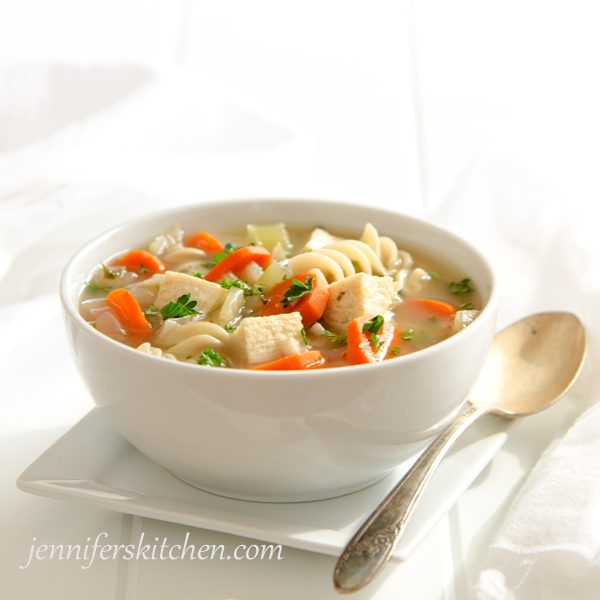 When I come in from the bitter cold with a red nose and frozen toes, I want something warm and comforting … but still healthy. This fragrant, Italian-flavored soup is the epitome of comfort food, is wholesome and nourishing, and really hits the spot.
But I Don't Like Tofu!
Pop a brick of that bland, texture-less stuff in the freezer, wait about 24 hours. (Yes, you want to do this step ahead of time. I just keep a block of tofu on hand in the freezer for whenever I need it.)
Then, let it thaw, and you'll be amazed at the transformation. The texture becomes chewy, and it beautifully takes on the delicious flavors of this luscious soup.
Try it, Mikey. You'll like it.
What Is Fennel?
An optional ingredient in this recipe, fennel bulb (or Florence fennel or finocchio) is an aromatic, crunchy (when raw), slightly sweet vegetable with a white bulb, light green stalks, and feathery leaves. It adds a wonderful depth of flavor to this Italian soup.
For years I avoided fennel in the grocery store because, really, what kind of crazy person would want to eat a vegetable that tastes like Twizzlers? Then, my friend, Elizabeth (who actually grew her own fennel in her garden) made me a creamy dish with fennel in it and I loved it! And it didn't taste like licorice.
So, with that culinary catalyst from Elizabeth, I decided to try cooking with fennel bulb, and now you have this delicious Italian Vegetable Soup.
Do you ever cook with fennel? Share your favorite ways to eat fennel in the comment section below.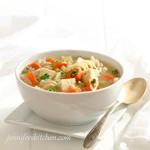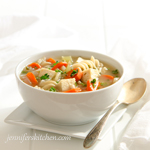 Italian Vegetable Soup with Pasta and Tofu
Good-for-you veggies, satisfying pasta, and tofu-made-meaty are seasoned with herbs in this comforting soup.
Instructions
Squeeze excess water out of tofu. You can do this by hand or with a tofu press.

Cut into small cubes and place on a paper towel or clean kitchen towel to drain.

In a large soup pot, sauté carrot, celery, fennel, and onion in oil over medium (not high) heat until onion begins to turn translucent.

Add garlic and sauté for one additional minute.

Turn heat to high and add water, fresh parsley, and seasonings. Cover and bring to boil.

When water comes to boil, stir in pasta. Boil, uncovered, until pasta is tender. (Cooking time will vary depending on type of pasta used.)

Add tofu during last one minute of cooking time. Serve hot.
Notes
Freezing tofu gives it a meatier texture and helps it to hold together in the soup.
* * * This recipe for Italian Vegetable Soup with Pasta and Tofu  is . . . … gluten-free, plant based, sugar-free, high in fiber, dairy free, egg-free, vegetarian, vegan, and made from real, whole foods.
>> One quick request: if you like this recipe, please leave a rating and a comment. Ratings help more people find these healthy recipes!
Print Recipe
Want More?
For more healthy and delicious recipes like this one that will simplify your journey to a healthier and thinner you, check out my
Healthy Weight Loss Program!
You my also like:
Before you go . . .
Did you know that you can eat all this delicious food AND lose weight? You can!
No calorie counting. No portion sizes.
Join my online weight loss program today!