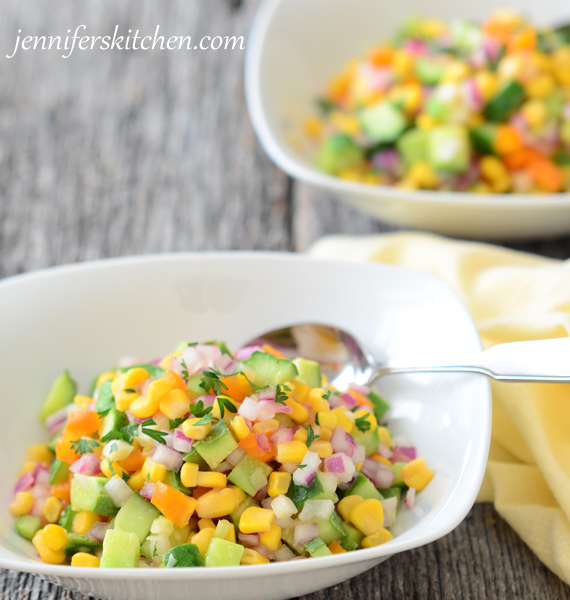 Finishing the laundry without ending up with a matchless sock.
Raising one eyebrow.
Making beet soup while wearing a nice white shirt.
And convincing your four-year-old to walk around the puddle.
Some things are just difficult.
But THIS recipe is not one of them! 🙂
It's easy.
It's beeeeeeautiful!
It's delish!
And it's quick. As in 8 minutes or less quick. (I use my veggie chopper to achieve this Speedy-Gonzales time. If you don't have a veggie chopper, it may take you a little longer. But then, why don't you have a veggie chopper?)
Print
Cucumber Corn Relish Salad
A refreshing way to serve garden corn and cucumbers on those hot summer days.
Ingredients
1 medium red onion, diced small
1 stalk celery, diced small
2 small to medium cucumbers, diced small
1/4 red or orange bell pepper – optional
1/2 cup lemon juice
1/4 cup olive oil, scant
1 teaspoon granulated onion
1/2 teaspoon salt – see note
1/4 teaspoon granulated garlic
1 1/2 cup corn kernels (If using canned, drain well)
1 tablespoon minced fresh parsley – optional
Instructions
Place all ingredients in a mixing bowl and mix well.
Chill before serving.
One quick request: if you like this recipe, please leave a rating and a comment. Ratings help more people find these healthy recipes!
Notes
The amount of salt needed depends on taste and the amount in the corn if using canned corn.
Did you make this recipe?
Share it on Instagram! Tag @jenniferskitchn and hashtag it #jenniferskitchn
Leave a comment
Your comments make my day! 🙂
Popular Posts