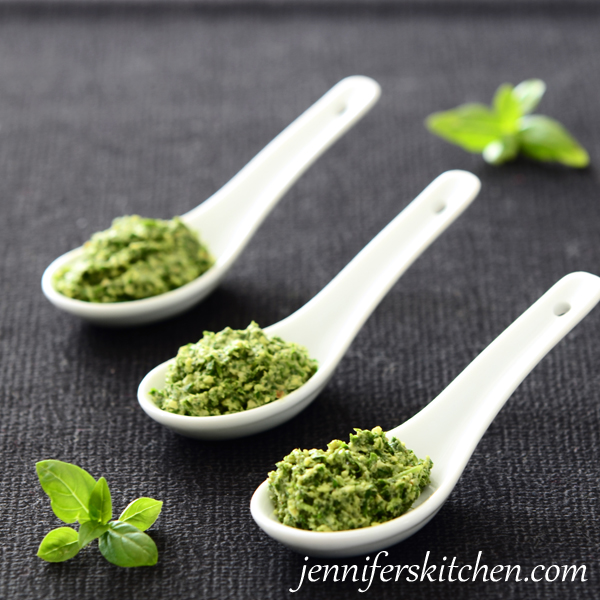 As promised, I have an oil-free pesto recipe for you this week.
I really like pesto and it's a pretty healthy food, except for all the oil in it. Some pesto recipes contain as much as 3/4 cup of oil (per 2 cups basil). And while my Slimmed-Down Pesto has a lot less than that, if you're trying to reduce how much oil you eat, pesto probably isn't on your menu.
100% Refined Fat
Even so-called "healthy" oils, like olive oil and coconut oil, are still a refined food. To get oil, the whole foods (olives, coconuts, walnuts, etc.) must be processed and stripped of most of their beneficial nutrients (fiber, calcium, iron, etc.). The result is a concentrated source of calories without the nutrients to manage those calories.
As I mentioned in my last post, I'm not overly concerned about calories and fat grams, but I am concerned about eating too many refined and processed foods – including refined fat. And in traditional pesto recipes, that's where most of the calories and fat grams come from!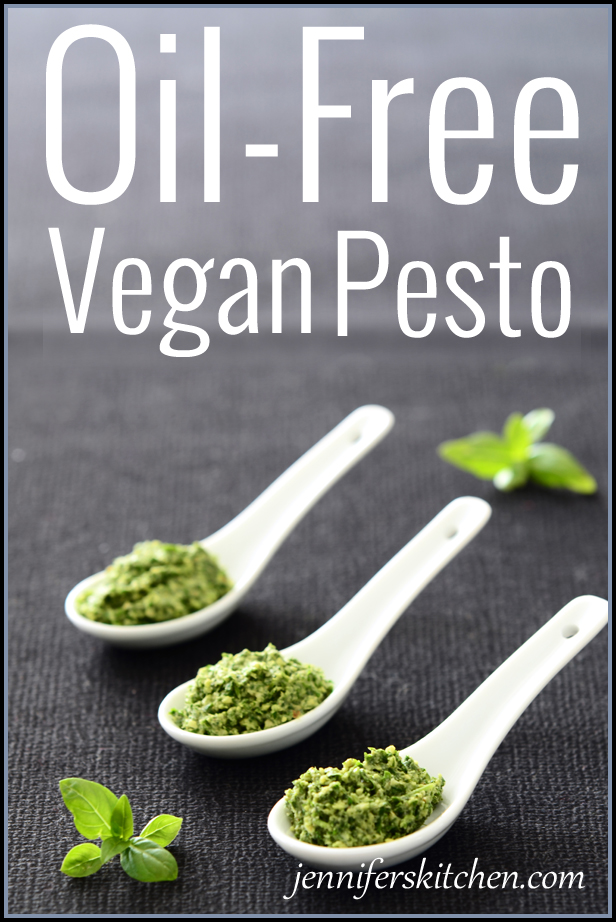 Oil-Free Pesto to the rescue!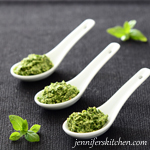 Oil-Free Basil Pesto
Not your traditional pesto, but a delicious and healthy alternative.
Ingredients
1/2

cup

raw walnuts - or pine nuts – divided

1 to 2

cloves

garlic

1/2

teaspoon

salt

-

scant

2

cups (packed)

fresh basil leaves

1/2

cup

mashed ripe avocado

1/4

cup

cooked white beans with liquid

-

or mashed silken tofu

2

tablespoons

lemon juice

-

scant
Instructions
Place 1/4 cup walnuts, garlic, and salt in food processor and process until coarsely ground.

Add remaining nuts, basil, white beans (or tofu), avocado, and lemon juice and process until nuts and basil is finely chopped. Serve immediately.
>> One quick request: if you like this recipe, please leave a rating and a comment. Ratings help more people find these healthy recipes!
Print Recipe
Want More?
For more healthy and delicious recipes like this one that will simplify your journey to a healthier and thinner you, check out my
Healthy Weight Loss Program!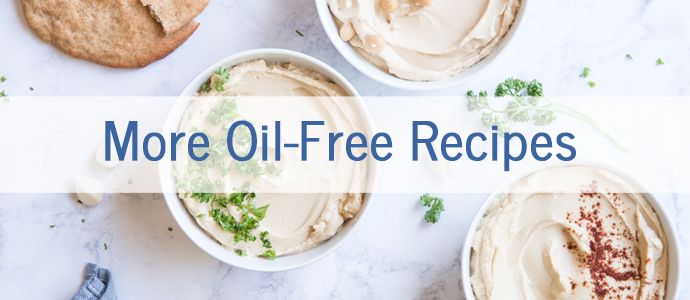 You my also like:
Before you go . . .
Did you know that you can eat all this delicious food AND lose weight? You can!
No calorie counting. No portion sizes.
Join my online weight loss program today!