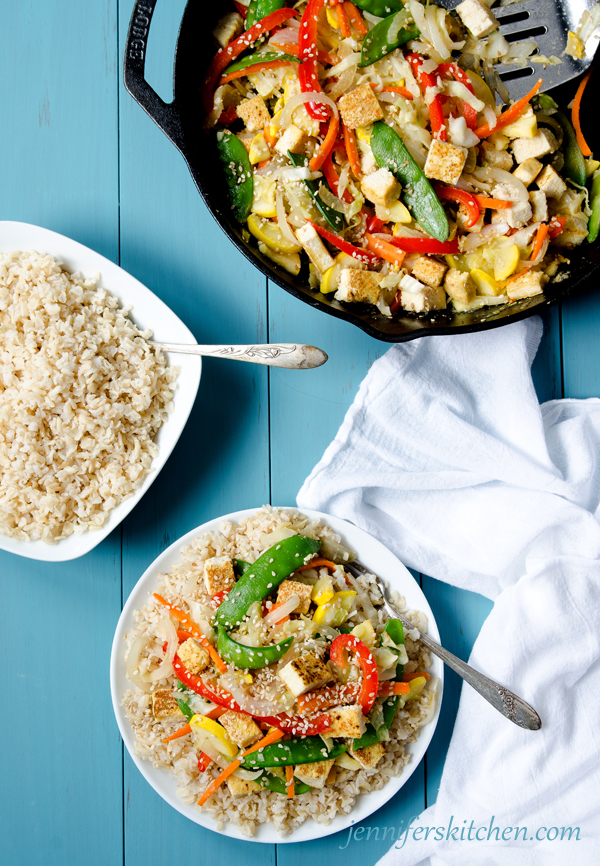 A stir-fry, by definition, is a mixture of vegetables cut into small pieces (usually combined with tofu or meat) that's cooked quickly in oil over high heat. To this mixture is usually added soy sauce or vinegar to season.
Since this dish isn't sauteed over high-heat and contains no soy sauce or vinegar, maybe I should call it a vegetable saute or vegetable medley or something similar, rather than a stir-fry.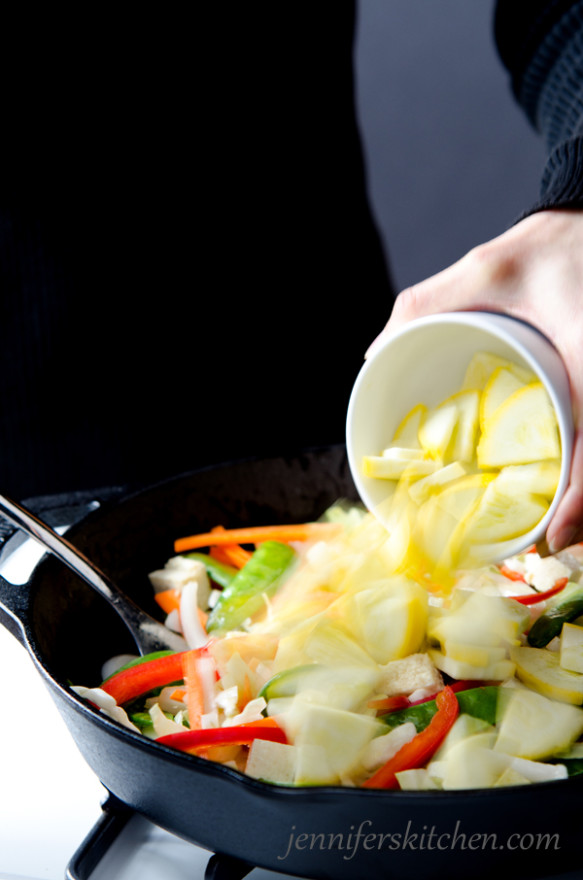 Whatever you call it, this dish is easy-to-make, super healthy, and wonderfully delicious. It's great over rice, but I like it on its own as well.
And because it's not only gluten-free and vegan, but can also be made soy-free as well (by using chickpea tofu), it's a great dish for when you need to make a meal for a variety of tastes/preferences/dietary needs.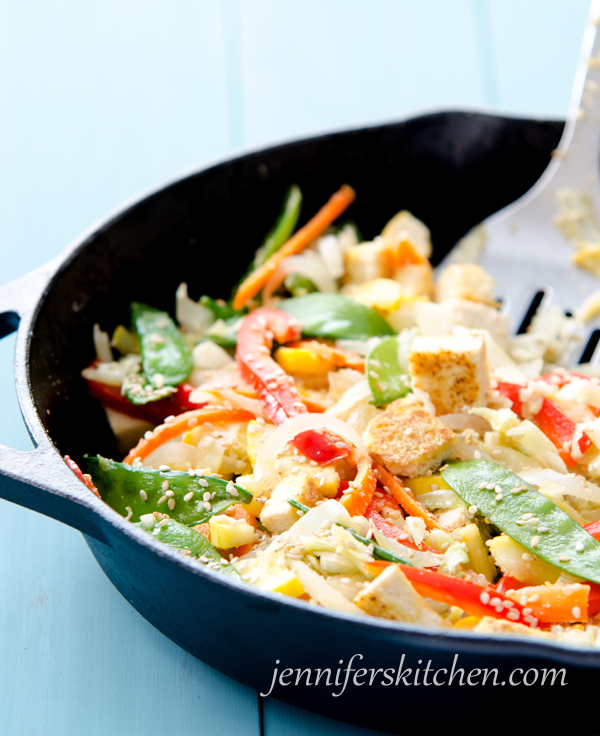 I use a food processor to make this recipe because:  1.) It saves time.   2.) Um, it saves time.   With a food processor, I can get this meal on the table in less than 30 minutes.
Sesame Stir-Fry (Vegan and Gluten-Free with Soy-Free Option)
Since, by definition, stir-fry is cooked at a high temperature and usually in a wok, this vegetable medley isn't technically "stir-fry". It is, however, a flavorful and satisfying way to get more vegetables in your diet. Tahini and lemon juice give this super healthy stir-fry a tasty twist.
:
All recipes on jenniferskitchen.com are property of jenniferskitchen and cannot be included in any other recipes collection, online or offline, without prior written permission.
Ingredients
1 pound frozen extra-firm tofu, thawed (See note.)
2 medium carrots, cut into thin slices or matchsticks
3 cups coarsely shredded cabbage
1/2 red bell pepper, sliced into thin strips
2 medium sweet onions, sliced into thin strips
1 cup sugar snap peas
2 tablespoons olive oil
1 small yellow summer squash, quartered and sliced (approx. 3/8-inch slices)
3 - 4 cloves garlic, minced
1 tablespoon + 1 teaspoon granulated onion
1 1/4 teaspoons salt
2 tablespoons lemon juice
2 tablespoons tahini
3 tablespoons sesame seeds


4 cups cooked brown rice
Instructions
In a very large pan or skillet, sauté carrot, cabbage, pepper, onion, and peas in oil over medium-high heat for 4 minutes or until vegetables begin to brown slightly.
Meanwhile, squeeze or press liquid out of tofu. Cut into bite-size cubes.
Add squash and tofu and continue to sauté until vegetables become tender crisp (about 4 minutes). Stir enough to prevent sticking, but not so much that the tofu falls apart.
Reduce heat if vegetables brown too fast.
Stir in garlic, granulated onion, and salt.
Mix together lemon juice and tahini and mix into stir-fry. Remove from heat.
Sprinkle with sesame seeds.

Serve over brown rice or rice noodles or by itself.
Notes
To freeze tofu: Remove tofu from package, drain, place in plastic bag or container, and freeze for at least 24 hours.
Some Notes About This Recipe
Sesame seeds – I use brown sesame seeds in this Sesame Stir-Fry mostly because I like them better in this dish, but also because they are more nutritious. You could use the white ones, but it would change the flavor slightly (and lower the nutrition content a bit).
Tahini – I know, I know. I told you I didn't like tahini.  It's true. I don't like it.  Really.
In fact, I tried it again at lunch today just to make sure, and, yep, it's gross. But it has some magical quality that makes it so you can mix it with certain other ingredients, and – poof! – it makes everything taste amazing. I dunno. Some things in this world are hard to understand.
Tofu – To all you tofu-haters: Here is your opportunity to love it.
P.S
I'll be teaching a weight loss class in Cadillac, MI January 3 through February 4. There will be no charge for this class. If you live in the area and would like to attend, just let me know and I'll send you the details.
Popular Posts