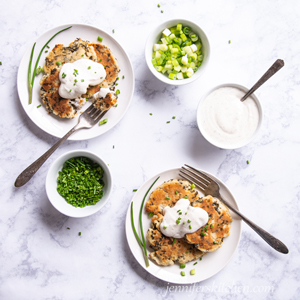 Un-Fried Potato Kale Cakes
Gluten-free, vegan, and oil-free, we think these healthy, oven-baked, potato cakes are the most delicious comfort food ever.
Ingredients
4 medium potatoes (about 1 1/2 pounds)
4 cloves garlic crushed or minced
2 1/2 cups packed finely chopped kale
1/2 to 2/3 cup Creamy Dill Dressing
1/2 teaspoon salt
3 green onions sliced
Instructions
1. Place 1 1/3  cups water into a large pan and place over high heat.
2. Peel potatoes and cut into large (approximately 2-inch) pieces. Add to pan. Cover and bring to boil. When water comes to a boil, reduce heat to a low boil. Cook for 12 minutes or until potatoes are almost tender.
3. Add kale and garlic and cook until potatoes are tender (about 6 to 7 minutes).
4. Drain and return to heat (uncovered) stirring and shaking pan occasionally until dry about 2 minutes.
5. Sprinkle salt over all. Add ½ cup dressing. Using a potato masher, mash potatoes until a few small chunks remain. Mixture should hold together well when shaped into a patty, but not be too sticky and wet. If mixture is too dry, add a tablespoon or two more dressing.
6. Stir in green onion.
7. Shape into 15 cakes about 2 ½ to 3 inches in diameter each. Place onto oiled baking sheet.
8. Bake at 425 for 25 minutes, until golden brown on the bottom. Flip over and bake for an additional 10 minutes or until bottoms are lightly browned.
Notes
If making the Dill Dressing especially for these potato cakes, use a little bit less lemon than the recipe calls for.
* * * This recipe for Un-Fried Potato Kale Cakes is … gluten-free, plant based, oil-free, sugar-free, high in fiber, dairy free, egg-free, vegetarian, vegan, and made from real, whole foods.
Recipe by JennifersKitchen at https://jenniferskitchen.com/2020/04/un-fried-potato-kale-cakes.html