Creamy Pasta Salad (Vegan/Gluten-Free)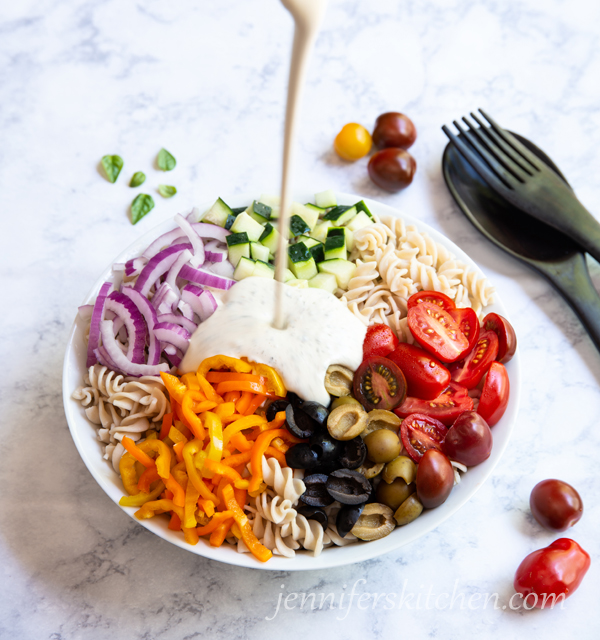 The perfect combination of tangy and creamy, tender and super-fresh-crunchy.
Simple, but delicious. Rich and flavorful, but healthy and slimming. It's just the perfect pasta salad!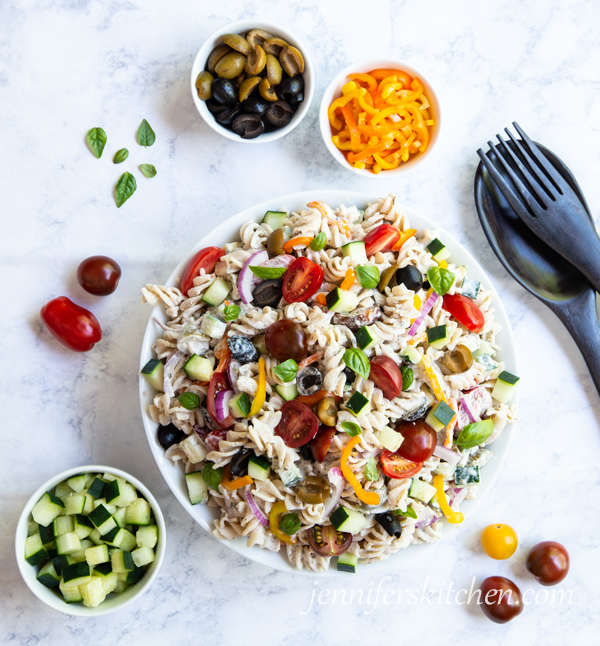 This website is brought to you without annoying ads because we can live healthier lives without the influence of marketing. But running a high-traffic site is expensive. How can you help? If you purchase anything through the affiliate links on my site, your cost is the same, but I receive a small commission. Thank you!
We may just pasta salad our way through this summer season.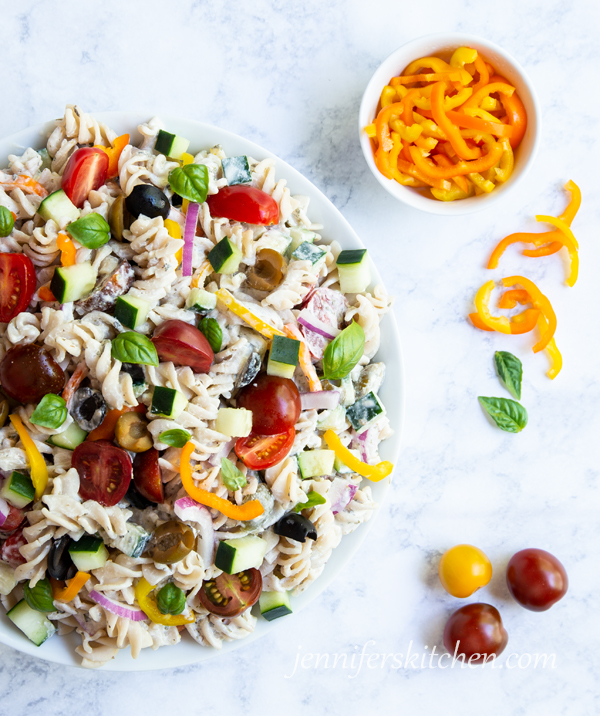 Skinny Summer Pasta Salad
This pasta salad is MUCH better for you than regular pasta salad. Here's why: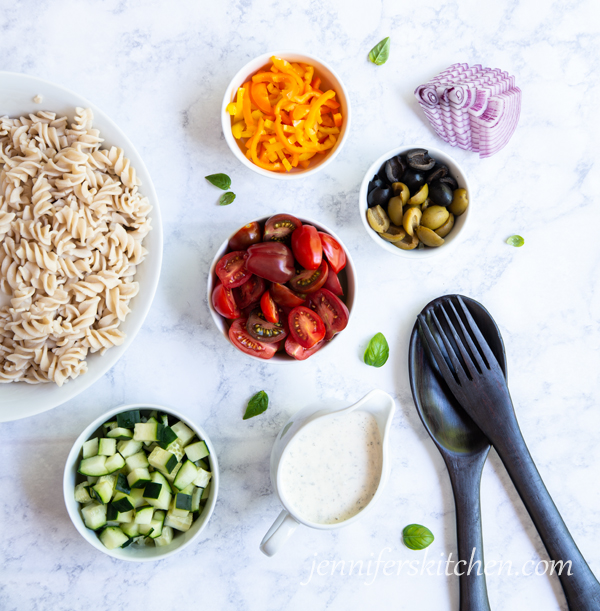 It's lower in calories (about 150 calories lower!), it's higher in fiber (one of the essential nutrients for healthy weight loss), and has zero cholesterol (the average pasta salad is loaded with cholesterol).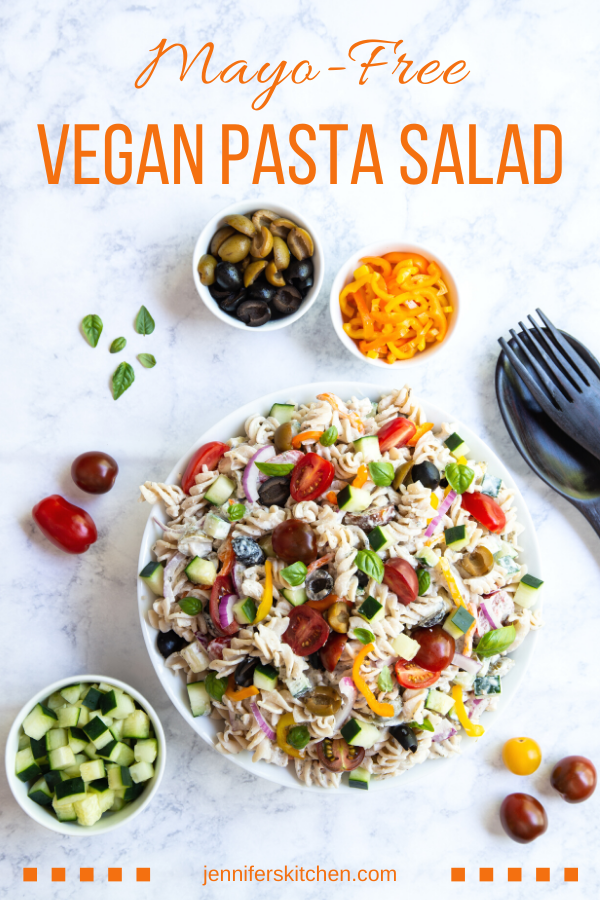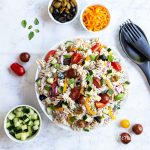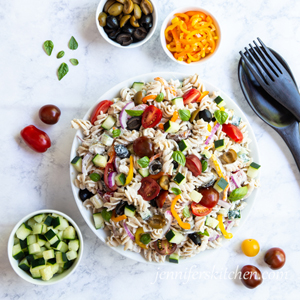 Creamy Pasta Salad
A delicious pasta salad that is so much healthier than traditional pasta salad.
Ingredients
5

ounces

uncooked Tinkyada pasta -

(about 2 cups uncooked spiral pasta)

1/2

cup

olive halves

- (I use tree-ripened olives)

1

small

cucumber or 1/2 medium cucumber, diced small

-

(about 1 cup)

1/4

large

red onion or sweet onion, cut into thin slivers

-

(about 2/3 cup)

2

tablespoons

diced bell peppers

-

optional

1/3

cup

water

1

cup

cherry tomato halves
Instructions
Cook pasta according to package directions. (See note #1.)

Meanwhile, prepare remaining ingredients.

When pasta is done, drain well and transfer to a mixing bowl.

While pasta is still hot, very gently mix in Creamy Italian Salad Dressing. Rinse blender with 1/3 cup water and add this to the pasta. Mixture will appear soupy, but it will thicken as it chills.

Chill, stirring once or twice while chilling.

When pasta is cool, stir in vegetables.

Immediately before serving, gently mix in tomatoes.

Garnish with fresh basil if desired.
Notes
1. You can use 5 sliced green onion instead of red onion or sweet onion.
2. I tested this recipe with Tinkyada pasta (because it is our favorite pasta). Tinkyada tends to absorb the dressing much more than other pastas. No guarantees this recipe will work with other brands of pasta.
Yield: 6 cups (about 4 generous servings)
* * * This recipe for Creamy Pasta Salad is … gluten-free, plant based, oil-free, sugar-free, high in fiber, dairy free, egg-free, vegetarian, vegan, and made from real, whole foods.
>> One quick request: if you like this recipe, please leave a rating and a comment. Ratings help more people find these healthy recipes!
Print Recipe
You my also like:
Before you go . . .
Did you know that you can eat all this delicious food AND lose weight? You can!
No calorie counting. No portion sizes.
Join my online weight loss program today!