Mediterranean Chickpea Burgers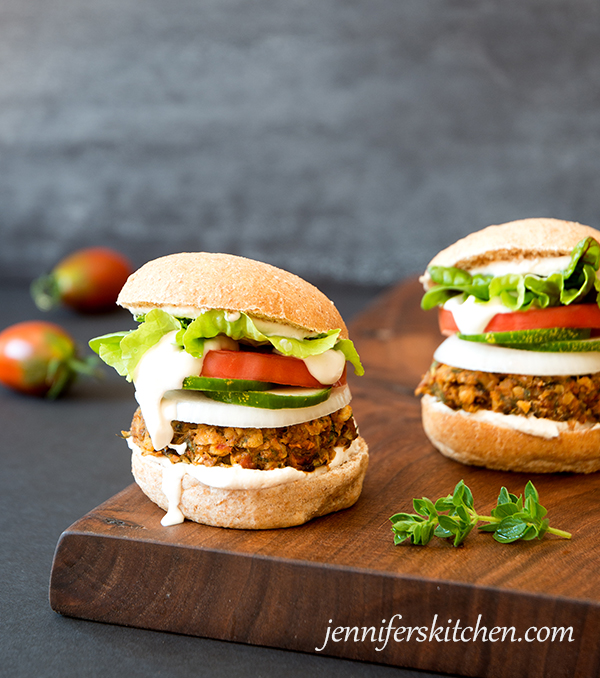 Isn't is so nice to walk in the door, pull something yummy out of the freezer, and be eating dinner in 10 minutes? That's what I love about these Mediterranean Chickpea Burgers.
Not only do they make a great freeze-ahead-and-heat-when-ready meal, but they are super good-for-you. A much healthier and skinnier (and tastier) version than any veggie burger you find in the freezer aisle.
The Skinny on these Burgers
Why are these homemade veggie burgers skinnier than your average veggie burgers?
No soy protein isolate. Nope.
No textured vegetable protein. Nada.
There's a load of veggies in there. Yes!
And they can be made gluten-free if you desire.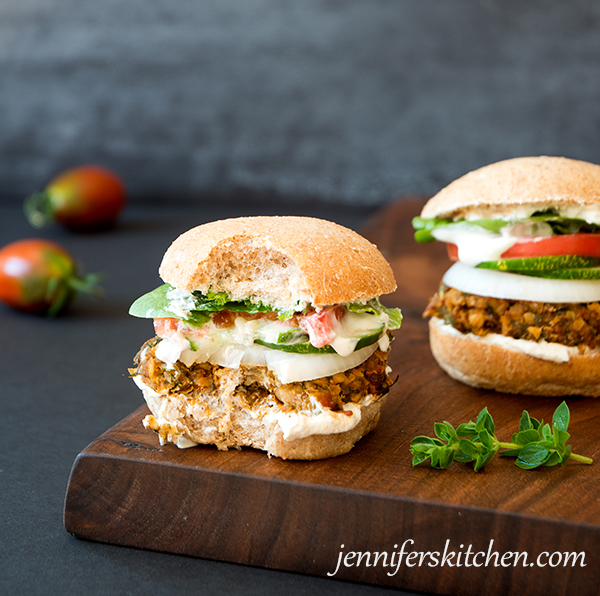 My weird ingredient policy
Normally, when I see a recipe that has some weird ingredient in it like purple carrot noodles or coconut nectar, I usually head straight for that little "X" on the top right of my screen. Honestly, I just don't have 6 1/2 hours to track down fresh squeezed wheat grass to make a batch of raw, organic, green brownies.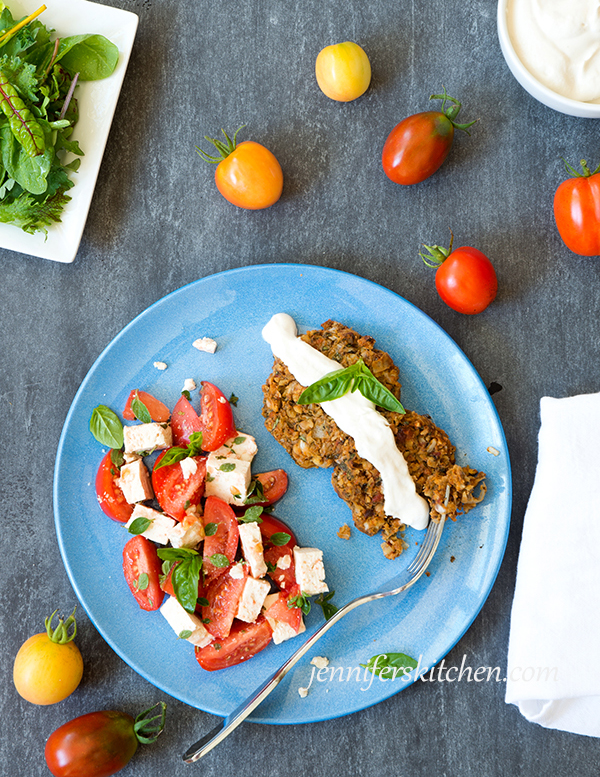 That said, sometimes a dish is so delish that it's worth a weird ingredient or two … and sometimes, after I find out how easy it is to order it from Amazon, I decide it isn't so weird after all.
I think you'll agree these Mediterranean Burgers are worth the two little clicks it takes to send these sun-dried tomato sprinkles on their little way to your very own kitchen.
How We Like It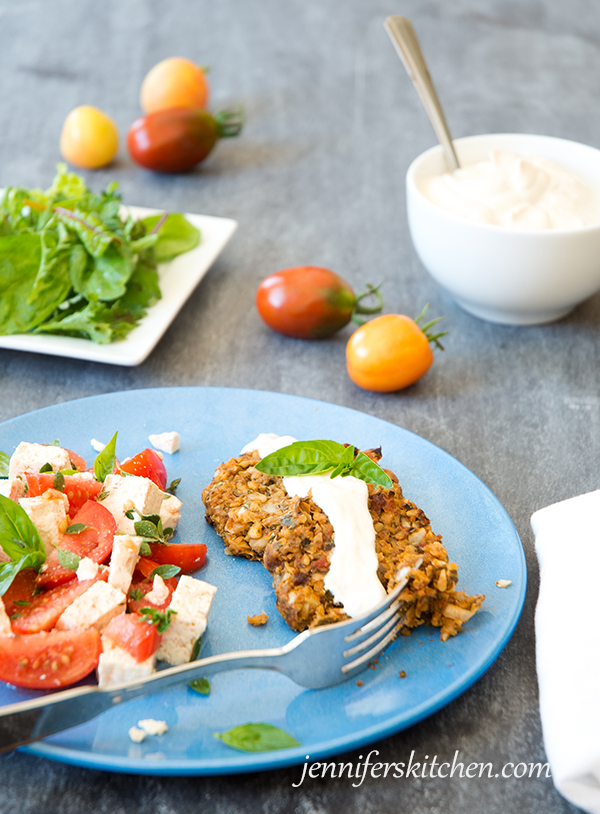 These amazing burgers are great on a bun with all your favorite fixins'. But they are so flavorful (thank you sun-dried tomato sprinkles) that they are even great on their own.
Enjoy!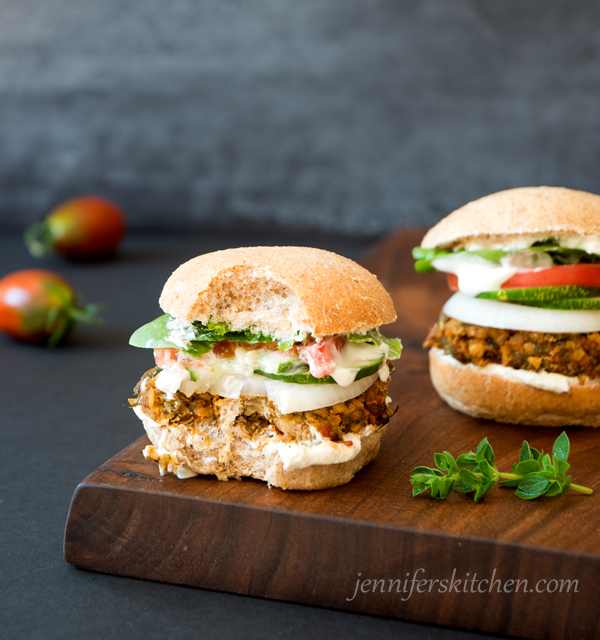 Mediterranean Chickpea Burgers
Ingredients
1

tablespoon

flax seed meal

- finely ground flax seed

1 1/2

cups

canned chickpeas (garbanzo beans)

-

with liquid

1/4

cup

breadcrumbs

-

use gluten-free bread crumbs if you want these to be gluten-free

2

teaspoons

organic cornstarch - or tapioca starch, or potato starch

1/2

teaspoon

lemon zest

-

scant

1/2

teaspoon

granulated onion

1/2

teaspoon

dried basil

1/2

teaspoon

dried oregano

1/4

teaspoon

salt

1 1/3

cups (1.6 ounces)

fresh baby spinach leaves

2

tablespoons

minced fresh parsley

-

(about 1/3 to 1/2 cup packed parsley leaves and small, tender stems)

2

tablespoons

chopped black olives

2

cloves

garlic, minced

2/3

cup

minced fresh onion

2

tablespoons

olive oil

2

tablespoons

tomato paste
Instructions
Preheat oven to 350°F.

In a small bowl, whisk together flax meal and 2 tablespoons liquid from chickpeas. Set aside.

Meanwhile, place breadcrumbs, chopped sun-dried tomatoes, starch, lemon zest, and seasonings in a mixing bowl.

Place spinach in food processor and coarsely chop. Transfer to mixing bowl.

Place parsley in food processor and chop fine. Transfer to mixing bowl.

Stir in olives, garlic, minced onion, oil, tomato paste, and flax mixture. Mix well.

Drain remaining liquid from chickpeas. Place drained chickpeas in a food processor fitted with the "S" blade. Process until coarsely ground. (Recipe can be doubled, but do not process more than 1 1/2 cups of chickpeas in food processor at one time. There should be very few whole chickpeas left, but do not over process or you will have a mush.)

Transfer to mixing bowl. Mix very well.

Using a 3-tablespoon cookie scoop, form mixture into balls. Place on baking sheet and press to form into patties.

Bake in a preheated oven at 350°F for 35 to 40 minutes or until edges are lightly browned.
>> One quick request: if you like this recipe, please leave a rating and a comment. Ratings help more people find these healthy recipes!
Print Recipe
Want More?
For more healthy and delicious recipes like this one that will simplify your journey to a healthier and thinner you, check out my
Healthy Weight Loss Program!
You my also like:
Before you go . . .
Did you know that you can eat all this delicious food AND lose weight? You can!
No calorie counting. No portion sizes.
Join my online weight loss program today!