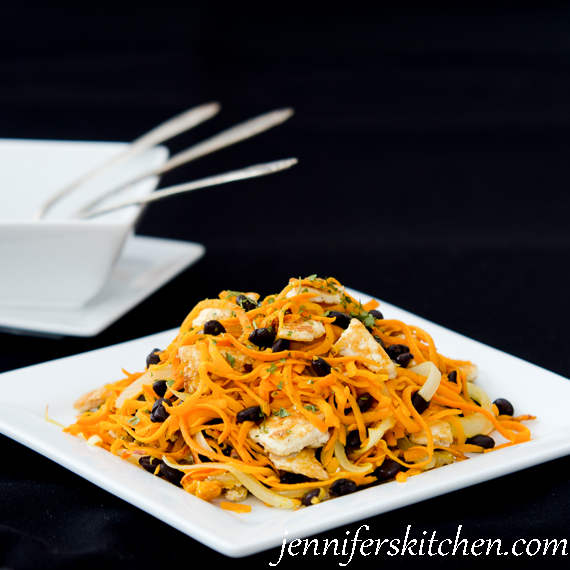 This website is brought to you without annoying ads because we can better live healthier lives without the influence of marketing. But running a high-traffic site is expensive. How can you help? If you purchase anything through the affiliate links on my site, your cost is the same, but I receive a small commission. Thank you!
Want to know how to look younger?  Eat more sweet potatoes.
Ok. So maybe the sweet potato isn't the Fountain of Youth, but it is rich in antioxidants, which are the anti-aging chemicals for your brain and body.
I love sweet potatoes, but the syrupy sweet, marshmallow-topped ones are not my cup of tea.  I like to make mine savory, like Sweet Potato Hash or this Sweet Potato Black Bean Scramble.
Did you know that a sweet potato isn't a potato?  Nope.  Different botanical family.  And potatoes are tubers; sweet potatoes are roots.
And sweet potatoes aren't yams either.  I know; I see them in the grocery store labeled as yams all the time. But your average grocery store doesn't carry true yams.  Real yams are hard to find; you'd probably have to go to Africa … or at least an ethnic market. Yams – the real ones – are native to tropical and subtropical regions, contain more starch and less sugar than sweet potatoes, and are from a different botanical group.
So, what are sweet potatoes?
They're yummy. *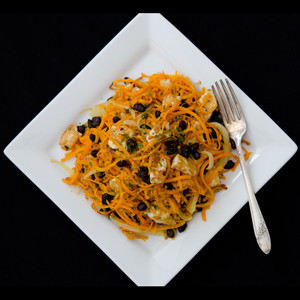 Print
Sweet Potato and Black Bean Scramble
Nutrient-rich sweet potatoes add gorgeous color and full, rich flavor to this hearty and healthy scramble.
Ingredients
1/2 pound extra-firm tofu (not silken)
1 medium sweet potato
1 medium yellow onion, sliced into thin wedges
3 tablespoons olive oil – divided
1 teaspoon granulated onion
1/2 teaspoon dried basil
1/2 teaspoon dried oregano
1/2 teaspoon cumin
1/2 teaspoon salt
1/4 teaspoon granulated garlic
1/8 teaspoon paprika
3/4 cup black beans, rinsed and drained well
Instructions
Rinse and drain tofu. Wrap tofu in a clean towel and place something heavy on top to press extra water out. Set aside.
Peel and shred sweet potato. Slice onion into thin wedges.
Heat 2 tablespoons oil over medium-high heat in a large, non-stick sauté pan. Add onion and sweet potato and stir to coat with oil. Sauté until sweet potatoes begin to soften slightly (about 3 to 4 minutes).
Push sweet potatoes and onions to one side of pan. Add remaining tablespoon of oil to pan. Break tofu into bite-size pieces and add to pan. Sauté until tofu begins to brown.
Sprinkle seasonings over tofu and lightly mix.
Mix tofu with sweet potatoes and onions and continue to sauté until tofu and sweet potatoes are nicely browned
Stir in black beans. Cook until thoroughly heated.

Serve hot.
Notes
The amount of salt needed in this recipe will vary depending on the amount already in the black beans.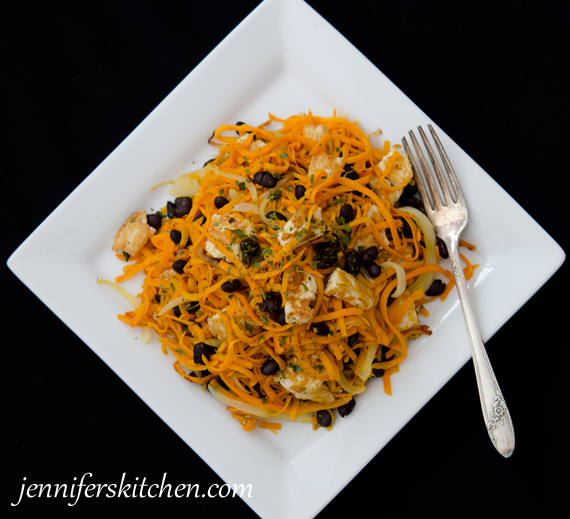 * Sweet potatoes are actually related to the morning glory and are part of the Convolvulaceae family.  Potatoes belong to the nightshade family and yams belong to Dioscoreaceae family.
Popular Posts