Vegan Fettuccine Alfredo (Gluten-Free)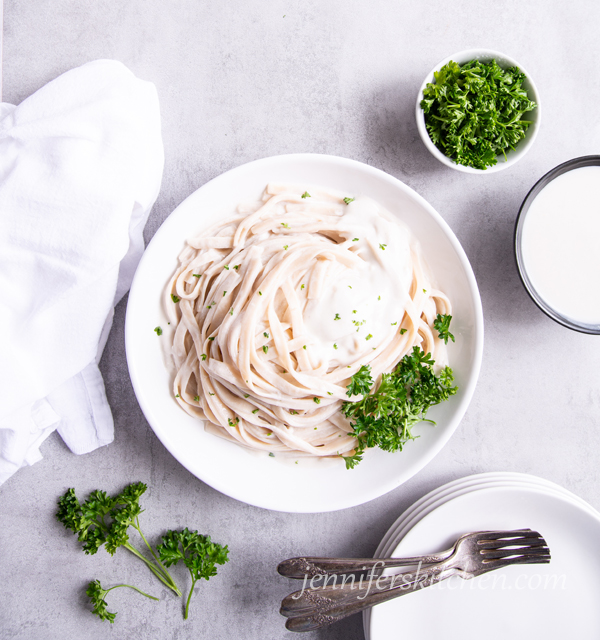 Who ever heard of a pasta dish – a rich and creamy pasta dish – that was actually slimming and good for you!?
Introducing this creamy and luscious, yet healthy and slimming Fettuccine Alfredo that actually fits beautifully into a weight loss plan.
A Super Healthy Fettuccine Alfredo Recipe Makeover
Traditional Fettuccine Alfredo is not exactly health food. With 4 grams of saturated fat, 100 milligrams of cholesterol, and almost no fiber whatsoever, it's a recipe for clogged arteries and weight gain.
On the other hand, this healthy Fettuccine Alfredo recipe contains zero saturated fat and no cholesterol! And it actually gives you 4 grams of fiber – the magic ingredient for healthy weight loss.
What's more, this delicious Alfredo makeover serves up a healthy dose of antioxidants and heart-healthy phytonutrients.
Your mouth and your health will thank you.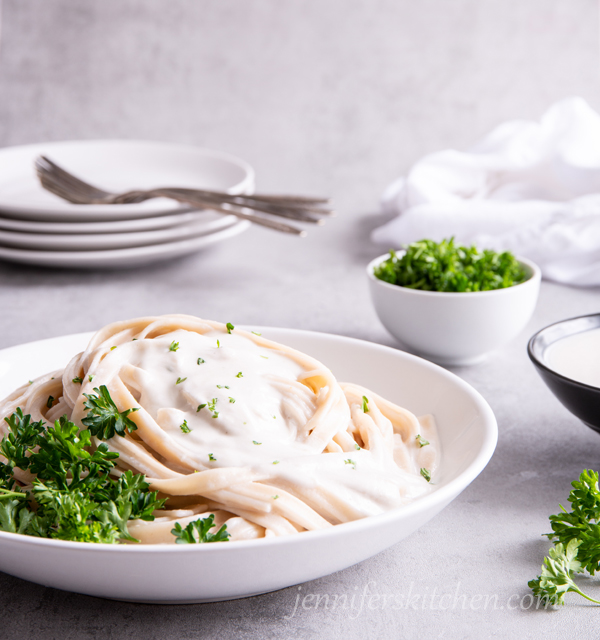 This website is brought to you without annoying ads because we can better live healthier lives without the influence of marketing. But running a high-traffic site is expensive. How can you help? If you purchase anything through the affiliate links on my site, your cost is the same, but I receive a small commission. Thank you!
Vegan Fettuccine Alfredo FAQ
I'm not vegan. Will I like this recipe?
I've never met anyone – regardless of their dietary preferences – who didn't gobble up this delicious pasta dish.
Is this pasta dish gluten-free?
Yes, if you use gluten-free pasta.
I use Tinkyada brand fettuccine pasta to make this Fettuccine Alfredo not only gluten-free, but also whole-grain. I like Tinkyada pasta because it isn't mushy, it's whole grain, and it tastes really, really good!
(We did a taste testing for 21 gluten-free pastas to find the best one. See what we found out!)
How long should I cook the pasta?
Different brand and shapes of pasta cook differently. I use Tinkyada fettuccine pasta and cook it for 14 minutes at a full boil. Be sure to follow the package directions for the brand of pasta you use.
Can I replace ___ with ___ in this recipe?
The sauce will taste bland if not properly seasoned, so if you do make adjustments, be sure to give it a taste test or two until it tastes how you like it.
Note: one of my favorite flavor variations is to add a clove of fresh garlic to the blender when I'm making the sauce. I also like a little Herbamare sprinkled on it.
How should I store leftovers?
I recommend storing the sauce and pasta separately. If they are stored together, the pasta tends to absorb the moisture from the sauce, and the sauce becomes sort of dry while the pasta becomes mushy.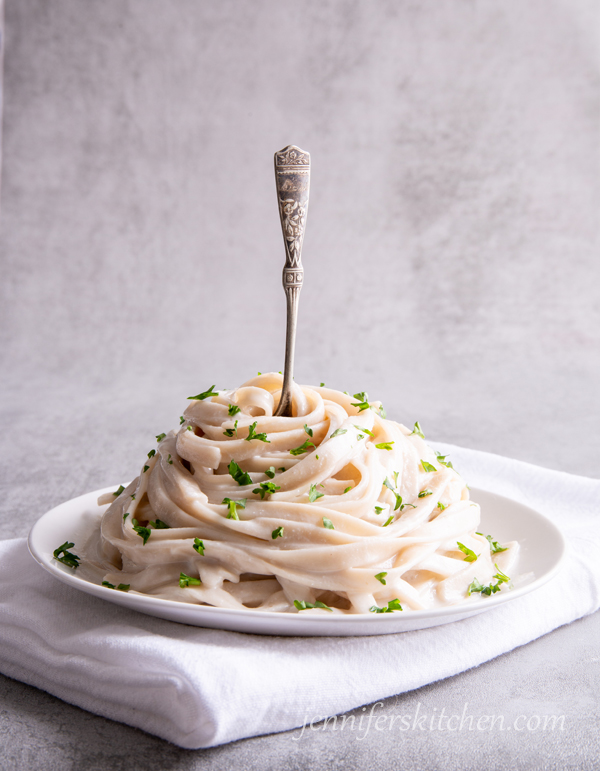 I already put the leftover sauce with the leftover pasta. What should I do?
It's okay. Just add some non-dairy milk or water when you reheat. It won't be quite as good as when stored separately, but it will still be good.
How should I reheat this Vegan Fettuccine Alfredo?
To heat the sauce, place it in a saucepan, and heat it over medium-low heat, stirring often.
To heat the pasta, place approximately 1/4 to 1/2 cup water (depending on how much pasta you have) in a pot. Cover, bring to a boil over high heat, then immediately add your cold, cooked pasta. Cover and allow to cook for about 2 minutes or until pasta is hot. (For best results, do not stir.)
How should I serve this vegan Fettuccine Alfredo?
This vegan Fettuccine Alfredo goes great with cooked kale, spinach, or broccoli on the side. And a nice piece of crusty bread.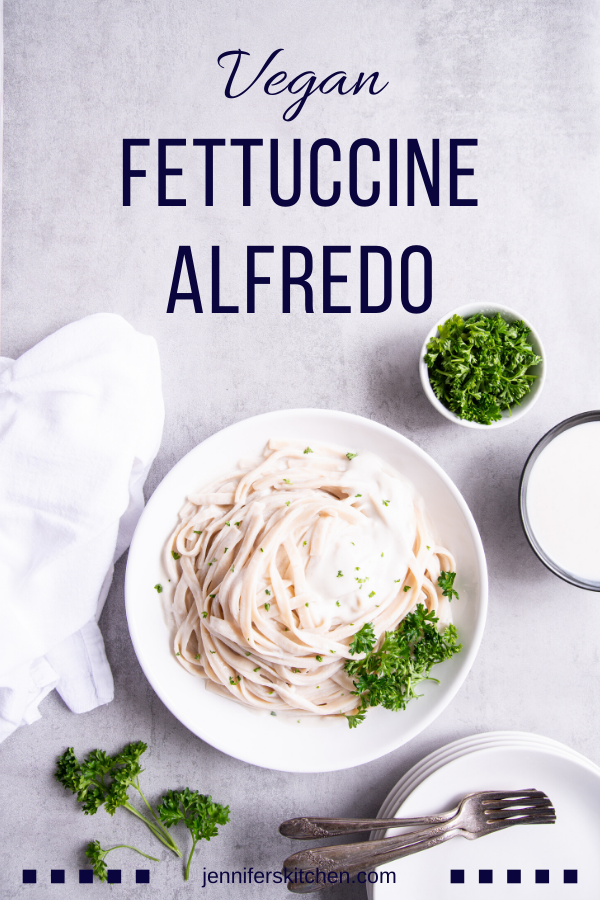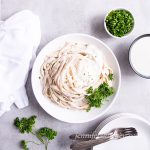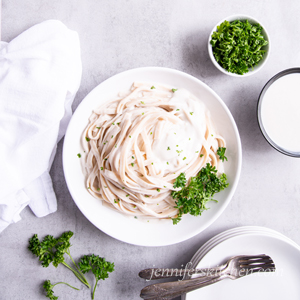 Healthy Fettuccine Alfredo
Fettuccine that is rich and creamy – without all the fattening cream.
Instructions
Cook pasta according to package directions.

Meanwhile, wash cashews in a colander under very hot water. Place drained cashews, 1 1/2 cups water, seasonings (except parsley), lemon juice, and tahini in blender. Blend on high-speed until smooth. Mixture should be very smooth with no graininess.     

Add cornstarch or arrowroot and blend until well mixed. Add olive oil and blend until well mixed.

Pour mixture into a saucepan. Rinse blender out with remaining 2 cups water and pour into saucepan.

Bring mixture to boil over medium to medium-high heat, stirring constantly. Using a heat-proof spatula against the bottom of the pan will help prevent mixture from scorching.When mixture is thick and bubbly, remove from heat. Stir in parsley.

Drain pasta. Combine pasta and sauce and toss until well coated.

Season to taste. Serve hot.
Notes
A heat-proof spatula is a handy tool for stirring the sauce while it is cooking.
* * * This recipe for Fettuccine Alfredo is … gluten-free, plant based, sugar-free, high in fiber, dairy free, egg-free, vegetarian, vegan, and made from real, whole foods.
>> One quick request: if you like this recipe, please leave a rating and a comment. Ratings help more people find these healthy recipes!
Print Recipe
Want More?
For more healthy and delicious recipes like this one that will simplify your journey to a healthier and thinner you, check out my
Healthy Weight Loss Program!
You my also like:
Before you go . . .
Did you know that you can eat all this delicious food AND lose weight? You can!
No calorie counting. No portion sizes.
Join my online weight loss program today!