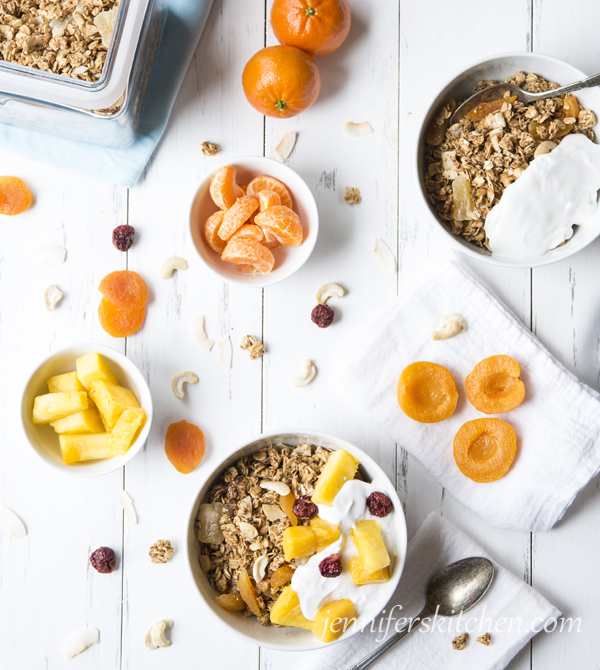 Mmmmm … homemade granola fresh from the oven!
Why not just buy granola?
Why make your own granola instead of just buying at the grocery store? Well, there are a few reasons.
One, it saves a bunch of money. Store-bought granola can cost anywhere from 3 to 9 times the price of homemade.
Second, it's healthier. Most store-bought granola is high in sugar and oil.
Third, you can make it how you like it!
And, the most important reason? It makes your house smell amazing!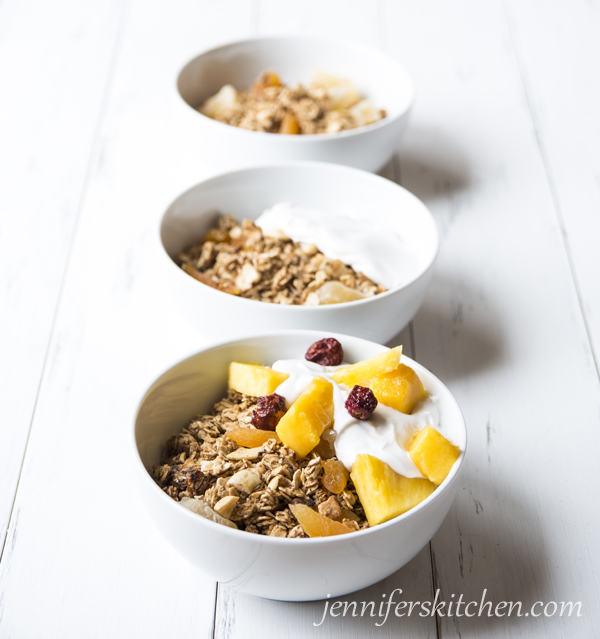 How do I run a high traffic site without ads? Some of my posts contain affiliate links. If you purchase anything through those links, your cost is the same, but I receive a small commission. Thank you for your help!
Here's what this granola is all about:
Oats
Oats are a great source of slimming fiber – which is the magic ingredient for weight loss.
I use old-fashioned (regular rolled) oats in my granola because they keep their shape better than quick oats. Oat groats and steel-cut oats are best for cooking on the stove or in a crockpot (like this Overnight Oats Deluxe recipe).
Nuts
I use flaked (chipped) coconut and cashews in this recipe. They really add to the tropical flavor of this granola.
Sweetener
To make this a low-sugar granola, I sweetened it with banana, juice concentrate, and date sugar.
Date sugar isn't really sugar at all, but rather dried dates that have been ground up. It's a really healthy sweetener to use.
Juice concentrate can be found in the freezer section of your grocery store.
This recipe does call for a small amount of sugar, but you could leave that out if you wanted a sugar-free granola.
Dried fruit
This granola also gets some natural sweetness from dried fruit. Pineapple, apricots, and bananas are perfect here. Dried mangoes are also good. These dried mangoes are my favorite because they don't have any chemicals or sugar added.
If you like your morning cereal sweeter, you can just add more dried fruit!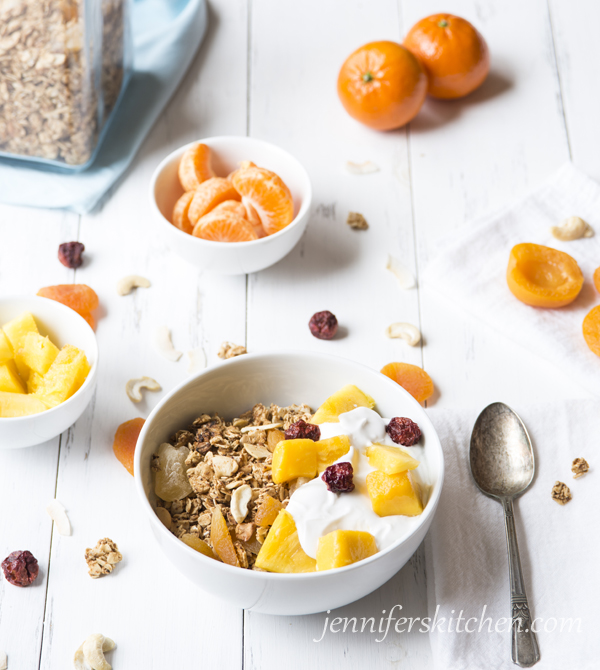 More about this yummy, low-sugar granola
How to make gluten free granola
Be sure to use certified gluten-free oats if you need gluten-free granola.
How to make nut-free granola
To make a nut-free granola, you could use seeds, like sunflower seeds, instead of nuts.
How to eat it

This granola is awesome topped with non-dairy milk, and it's even better with added sliced fresh banana and diced mangoes. (I use frozen mangoes because they're easy.)
How much this recipe makes
This Tropical Granola recipe makes about seven cups of granola.
How to store it

I like to keep my homemade granola in the freezer. That helps it keep its fresh flavor.
Oil-free granola?
Looking for an oil-free granola recipe? I have an amazing, absolutely scrumptious oil-free granola recipe in my Online Weight Loss Program.
Be sure to check out this Berry Chia Breakfast Bowl and these Sugar-Free Banana Date Bites. We also love these Wonderful Waffles!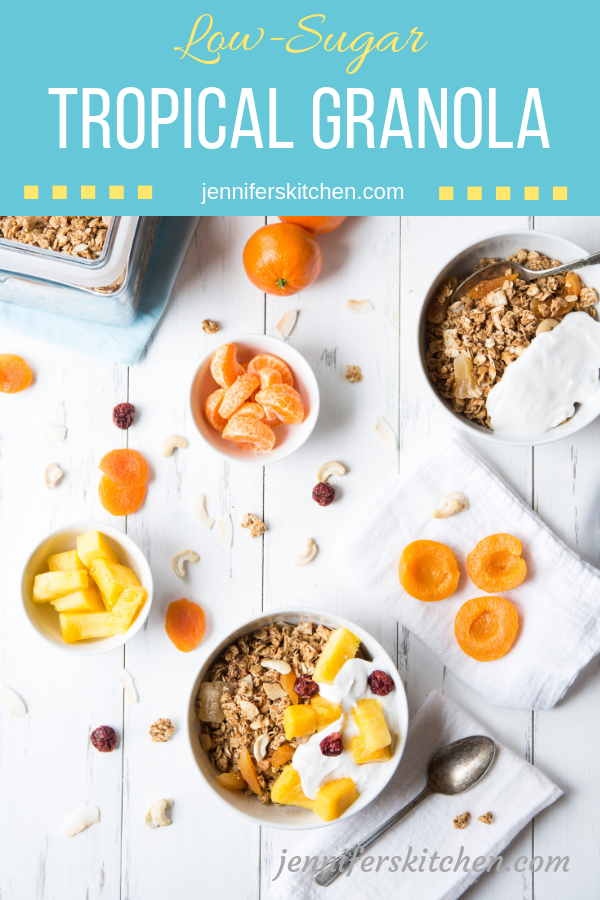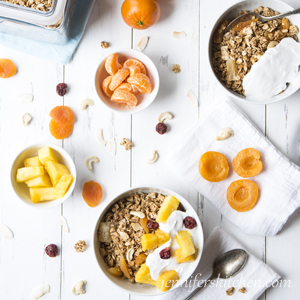 Print
Low-Sugar Tropical Granola
Yield approx 6 1/2 cups
Instructions
Mix together dry ingredients in a large mixing bowl.
Place wet ingredients in blender and blend until smooth.
Pour wet mixture into dry ingredients while mixing. Mix well.
Line 2 baking sheets with parchment paper and distribute granola evenly in a thin layer onto baking sheets.
Bake a 300°F for 20 minutes. Stir. Reduce oven to 200°F and continue baking for 60 minutes or until thoroughly dry.
Mix in dried fruit.Store in airtight container in the freezer or in a cool place.
Popular Posts