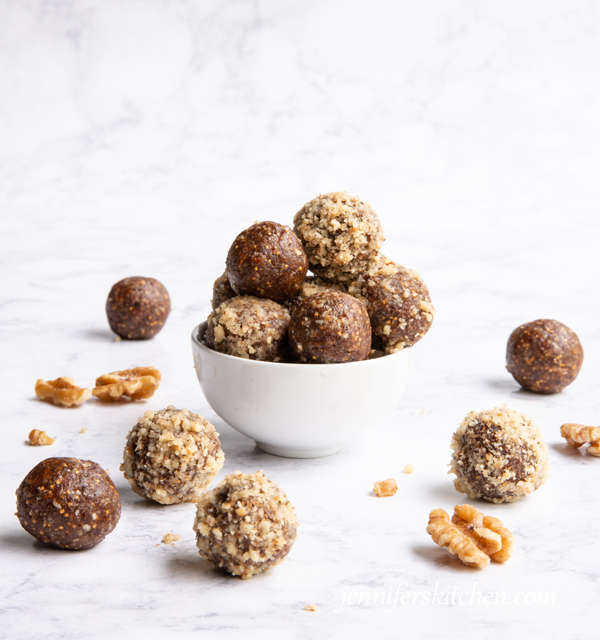 No-Bake Walnut Fig Bites
Yield 12 balls
Sugar-free, gluten-free, processed-ingredient free, vegan, raw. And delicious!
Instructions
1. If you want to roll your Walnut Fig Bites in chopped walnuts, place 1/2 cup walnuts in food processor and process until walnuts are very finely chopped. Transfer to a bowl and set aside.
2. Place all remaining ingredients in a food processor. Process until ingredients are well chopped and begin to stick together. (This takes about 1 minute in my food processor.)
3. Roll into (approximately 1-inch) balls. Roll in chopped walnuts if desired.
Chill (or freeze) and enjoy!
One quick request: if you like this recipe, please leave a rating and a comment. Ratings help more people find these healthy recipes!
Notes
* * * This Recipe for No-Bake Walnut Fig Bites is … gluten-free, plant based, oil-free, sugar-free, high in fiber, dairy free, egg-free, vegetarian, vegan, and made from real, whole foods.
Recipe by JennifersKitchen at https://jenniferskitchen.com/2021/11/no-bake-walnut-fig-bites.html