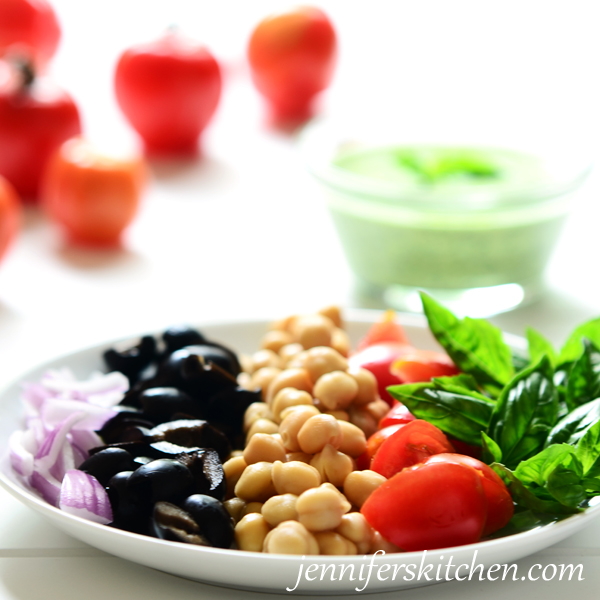 Ten minutes – 1,2,3,4,5,6,7,8,9,10 – and you're ready to introduce your taste buds to this full-of-flavor, I'm-gonna-miss-you-summer, super-healthy Garbanzo Pesto Salad!
So easy to make, so tasty, and so good for you.  Perfect.
One note: I tried making this salad with canned chick peas for convenience sake, and, I just want to tell you, "No." Pull out your crock pot, rinse some dry garbanzos, and throw 'em in.  Come morning, you'll have a pot full of oh-so-tender, melt-in-your-mouth beans just begging to be bathed in luscious basil dressing.  And the extra four minutes it took you to get those beans in the crock pot?  It's worth it. Those dry and crunchy canned chick peas just don't work here.
Want to know how to cook beans in your sleep? Here's how to make tender, delicious beans every time.
This website is brought to you without annoying ads because we can better live healthier lives without the influence of marketing. But running a high-traffic site is expensive. How can you help? If you purchase anything through the affiliate links on my site, your cost is the same, but I receive a small commission. Thank you!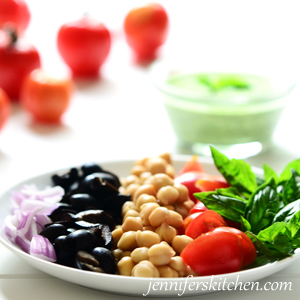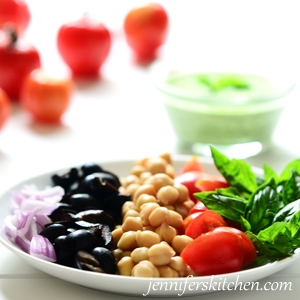 Print
Garbanzo (Chickpea) Pesto Salad
Yield 4 servings
A quick and easy main dish salad takes less than 10 minutes to make. This dish tastes best with crock-pot cooked garbanzo beans.
Ingredients
3 cups garbanzo beans, drained (crock-pot-cooked beans work best in this recipe)
1/2 medium red onion, diced
1/4 cup olive halves – optional
1 medium tomato, diced
2 medium cloves garlic
1 cup packed fresh basil leaves
1/4 cup packed fresh parsley leaves
2 tablespoons olive oil – optional
1/4 cup Creamy Italian Dressing
2 tablespoons lemon juice
1 teaspoon salt, or to taste (see note)
Instructions
Place drained garbanzos in a mixing bowl.
Gently mix in onion, olives, and tomatoes.
Place garlic, basil, parsley, oil, dressing, lemon juice, and salt in food processor and process until mixture is thoroughly combined and basil and parsley are chopped very, very fine.
Stir basil mixture into garbanzos.Serve immediately.
Notes
The amount of salt needed in this dish will depend on the amount already in the garbanzo beans.