Healthy Fruit Pizza Recipe
To celebrate the abundance of fresh fruit this time of year, I was thinking about making a fruit pizza to put in my weight loss program. So I took a look online for a healthy recipe. The first recipe that came up called for 1/3 cup of sugar … and that was in addition to the sugar-cookie dough crust and the sugar-laden jelly.
Oops, wrong kind of fruit pizza, I guess. I was thinking of a healthy fruit pizza to eat for breakfast. Sugar cookies at 7 a.m.? Probably not a good idea.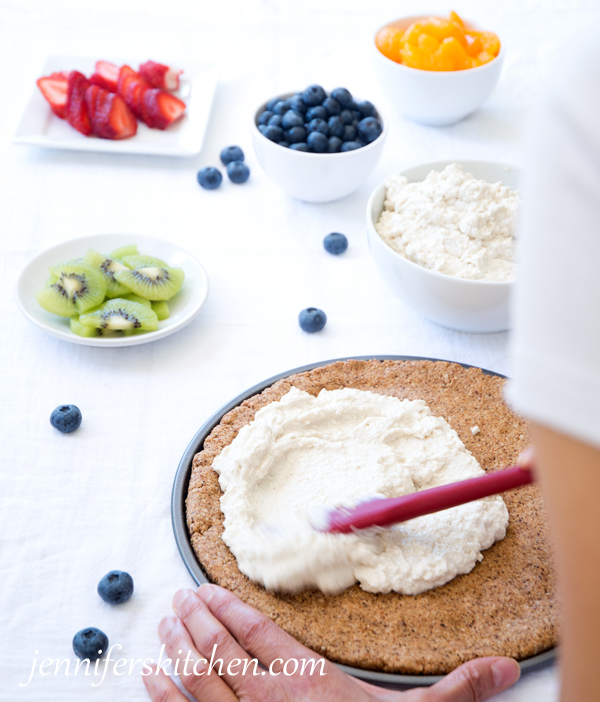 Next recipe, please, Mr. Google.
There was no sugar cookie dough in the next recipe. Just 3/4 cup + 1/2 cup of white sugar, 1/2 cup of butter, and a load of white flour. Hmmm … maybe I've been amiss all this time thinking fruit pizza was healthy.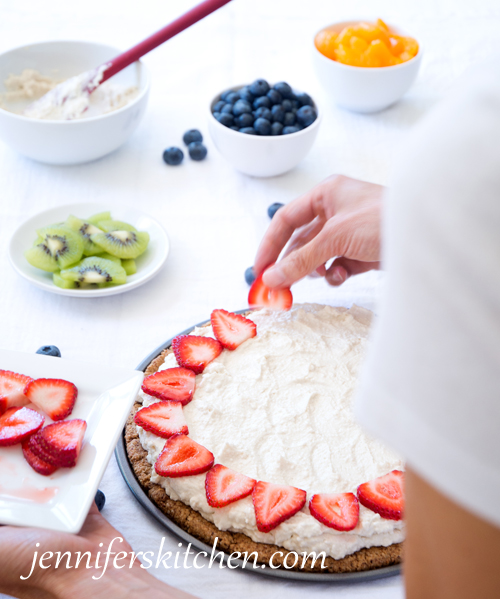 Try again ….
Next recipe … Sugar cookies make a repeat appearance.
Yep, amiss. Me.
Next 10 recipes, same story. Shooogah ovaaaahload. Apparently, I needed to come up with my own healthy version of a fruit pizza. Off to the kitchen….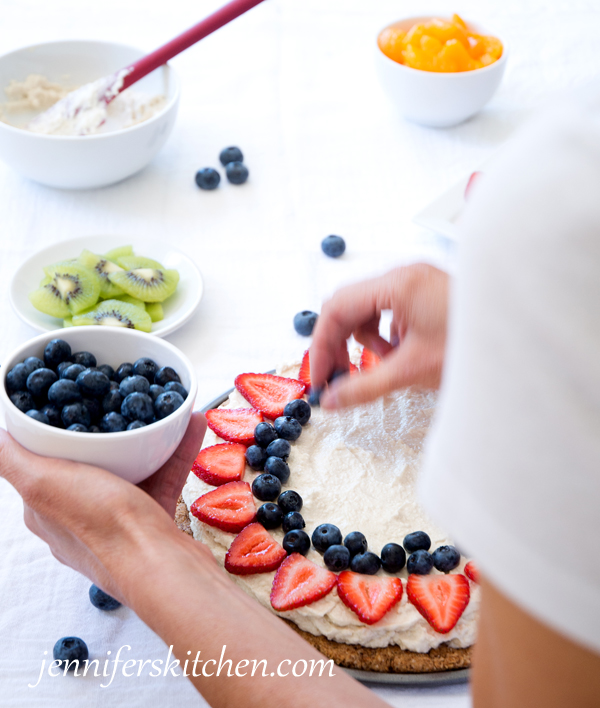 Fruit Pizza – The Healthy Version
Going from more than a cup of white sugar to sugar-free seemed like a stretch, but fruit has a delightful sweetness of its own, so I gave it a try.
I used date sugar in the crust for a natural sweetness. Date sugar isn't really sugar – just ground up dates, so it's a very healthy option.
And I used pineapple juice concentrate in the filling, which I discovered not only added a touch of sweetness but gave it just the right flavor.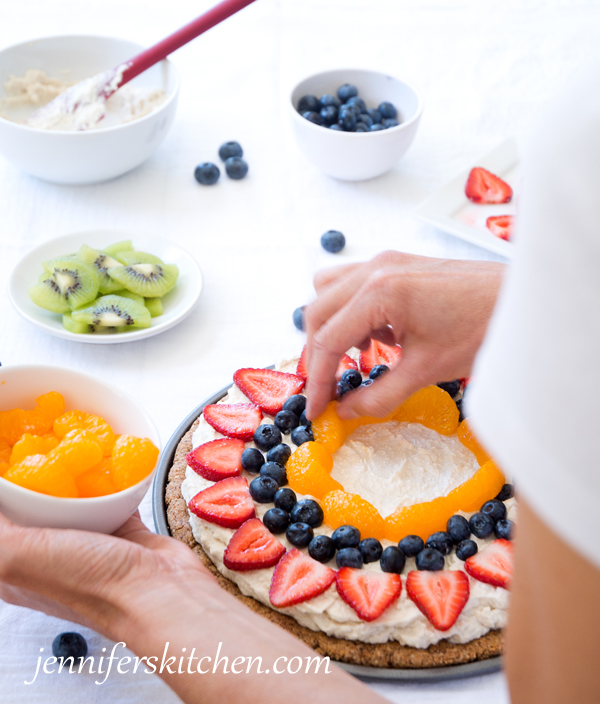 My first attempt tasted okay, but after a few more experiments, I decided it really needed a tablespoon or two of raw sugar in the filling. However, I've tried to keep it to a minimum so this can be a healthy breakfast; sooo … if you have a sweet tooth, you may want to add one to two additional tablespoons of sugar to the filling. And if you are serving this as a dessert (instead of for breakfast) then you may want to add even more.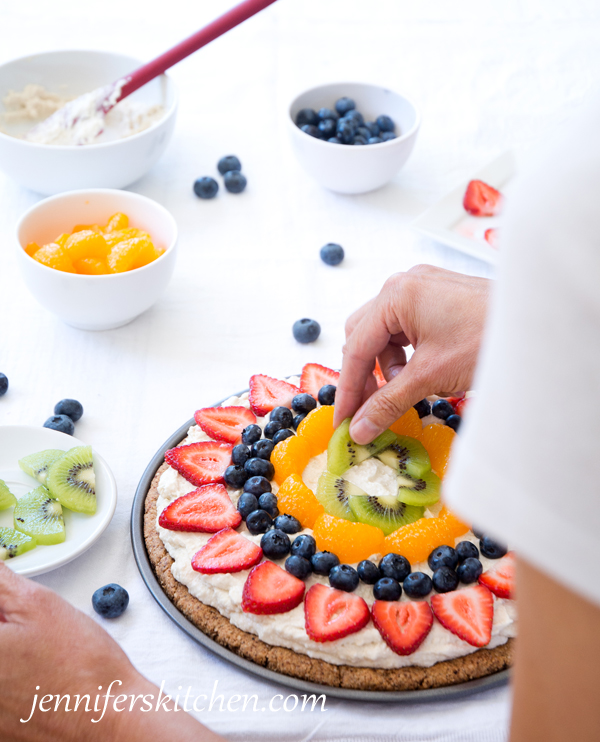 Pretty … and pretty easy
While this version is not as easy as the sugar-cookie dough version, it isn't as complicated as it looks. If you have all the ingredients on hand, it will only take you about 20 to 30 minutes of hands-on time.
However, because the filling needs to chill for several hours and the crust needs to cool before adding the filling, I recommend preparing them (the crust and the filling) the day before (or up to 3 days before) you want to serve the pizza.
Then you can assemble it in a few minutes when you are ready to serve.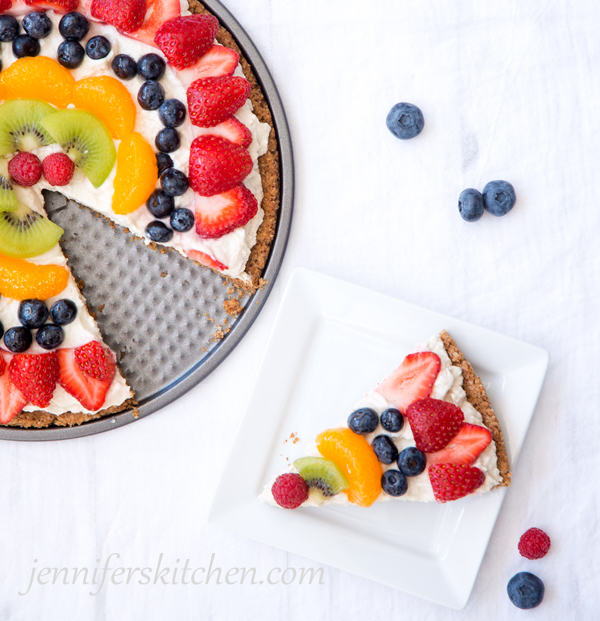 What is agar?
This recipe uses agar. If you've never used agar before, no worries.  It's easy. You just mix it with water, bring it to a boil and add it to your other ingredients. I've laid it all out in the recipes instructions, so you'll do fine.
What is agar? I wrote about it in this post.

Because foo-foo isn't my thing
When faced with practicality vs. fancy, for me, practicality wins every time. Hence, when it comes to decorating a fruit pizza, unless I'm taking a picture of it to show to the world, I am more likely to mix all the fruit together in a bowl and just spoon it on top of the pizza. If you're not into cutesy either, I give you permission to do the same 😉
But if you are one of those very creative people who can do super talented things like make hedgehogs out of watermelons, caterpillars out of grapes, and sheep out of cauliflower, I'm in awe of your amazingness and please send me pictures of your pretty fruit pizza. 🙂
Or even better …
Share it on Instagram! Tag @jenniferskitchn and hashtag it #jenniferskitchn
Leave a comment
Your comments make my day! 🙂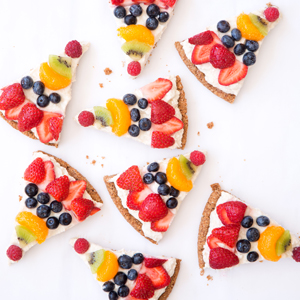 Print
Healthy, Vegan Fruit Pizza
Yield 8 servings
Luscious, fresh fruit, date sugar, and pineapple juice concentrate give this almost-sugar-free fruit pizza its natural sweetness. It's so healthy you can eat it for breakfast!
Ingredients
FILLING
1 15-ounce can full-fat coconut milk
1 cup raw cashews
3 tablespoons pineapple juice concentrate
2 tablespoons raw sugar
1/8 teaspoon salt
1 teaspoon vanilla
1/2 cup water
1 teaspoon powdered agar
CRUST
FRUIT TOPPING
1 medium kiwi
8 - 9 medium fresh strawberries
3/4 cup fresh blueberries
1 10-ounce can mandarin oranges, drained (This is more than is needed for the topping, but the pizza tastes luscious with extra mandarin oranges served along with it.)
Instructions
Place cashews in a colander and rinse well under hot water. Place cashews, coconut milk, pineapple juice concentrate, sugar, salt, and vanilla in blender and blend until very smooth. A heavy-duty blender works best for this recipe; other blenders may not get the mixture smooth enough.
Meanwhile, place water and agar in small saucepan. Cover, and bring to boil over high heat. Reduce heat and cook at a low boil for 60 seconds. Immediately pour agar mixture into blender mixture. Scrape pan with a rubber spatula to get all the agar mixture. Blend until thoroughly combined. Pour blender mixture into a container and chill in refrigerator for at least 4 hours or up to 18 hours.
Meanwhile, prepare crust. Preheat oven to 350°F.
Place almonds in food processor and process until very fine and powdery.
Add walnuts and coconut and process until the fine. Stop processor and scrape sides. Continue processing until crumbs start to stick together a little and form slightly larger, moister crumbs. This should take about 1 to 2 minutes. Do not process too long or it will turn into nut butter.
Add oats, date sugar, and salt and process until oats are finely ground.
Add coconut oil and process until thoroughly incorporated.
Add applesauce at little at a time, mixing after each addition, until mixture can be formed into a soft, but not sticky, ball. See note.
Press mixture evenly into a 10-inch diameter circle on a baking sheet or the bottom of a 9-inch to 10-inch springform pan.
Bake at 350°F for 12 to 14 minutes. Remove from oven and allow to cool completely.
When filling is thoroughly chilled, remove from refrigerator and mash with a fork or pastry cutter to transform mixture into a spreadable consistency. Mixture will not be completely smooth. Spoon filling evenly over crust.
Arrange fruit over filling. (Or, to save time, mix all fruit together and spoon over top pizza.)
One quick request: if you like this recipe, please leave a rating and a comment. Ratings help more people find these healthy recipes!
Notes
1. It's easy to add too much applesauce and make the crust mixture too sticky. To prevent this, I add a little applesauce at a time, mix well after each addition, and then gather some of the mixture together with my hands. If it sticks together well and can be formed into a ball, then it's ready.
2. Although this recipe doesn't take a great deal of time to prepare, it isn't one that can be started 20 minutes before you want to eat it. Because the filling needs to chill for several hours and the crust needs to cool before adding the filling, I recommend preparing these 1 to 3 days before you want to serve the pizza. Then you can assemble it in a few minutes when you are ready to serve.
* * * This recipe for Vegan Fruit Pizza is . . . gluten-free, plant based, low-sugar (or potentially sugar-free), high in fiber, dairy free, egg-free, vegetarian, vegan, and made from real, whole foods.