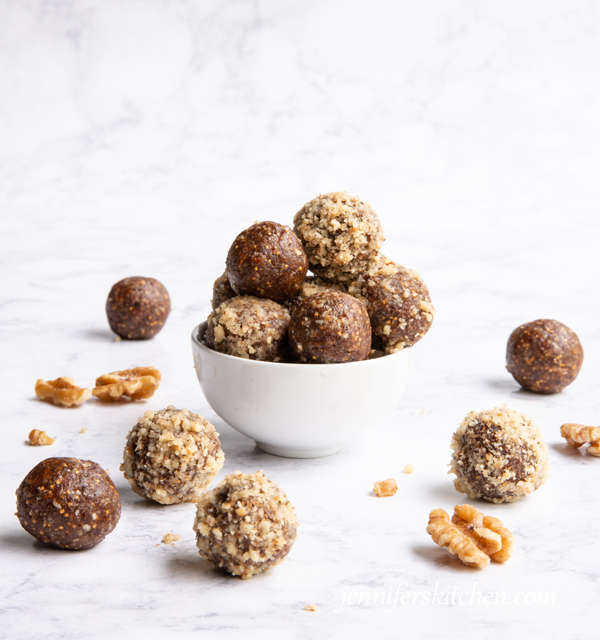 My son was in California earlier this year and brought back a gift for me – fresh California walnuts! I've been savoring every single one. They are absolutely delicious. But then!

But then! Then! I made these Walnut Fig Bites! The rest of the walnuts went really fast!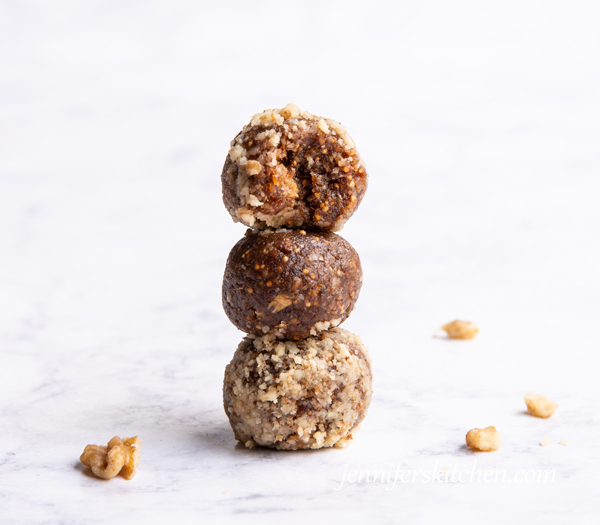 This website is brought to you without annoying ads because we can better live healthier lives without the influence of marketing. But running a high-traffic site is expensive. How can you help? If you purchase anything through the affiliate links on my site, your cost is the same, but I receive a small commission. Thank you!
Introducing Walnut Fig Bites – a healthy treat that is gluten-free, sugar-free, plant-powered (vegan), a good source of calcium, fiber, and other important nutrients.
Sold. Sign me up. And can I have more please?
So Simple! So Easy!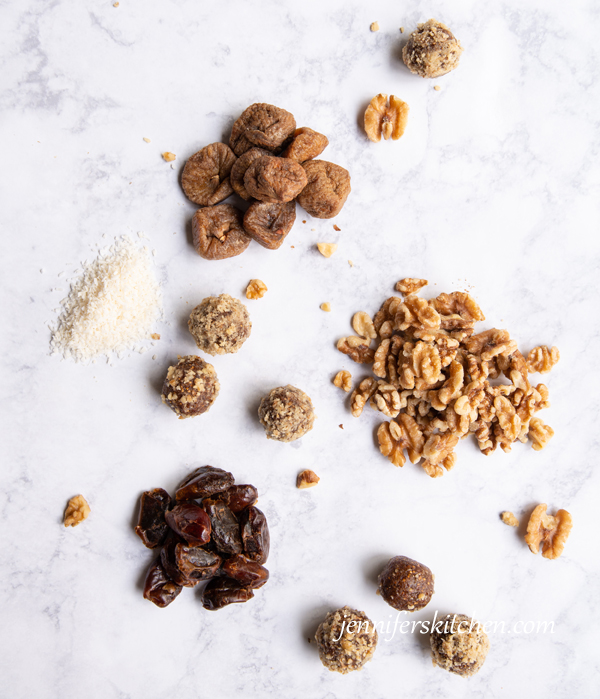 These Walnut Fig Bites are super easy to make. 4 ingredients. 10 minutes.
All you need are some walnuts, figs, dates, and coconut. And the coconut is optional. Add a little vanilla and maple if you'd like. Blend the ingredients in a food processor. Roll into cute little bites. And you have yourself a healthy, sugar-free treat.
Walnut Fig Bite Nutrition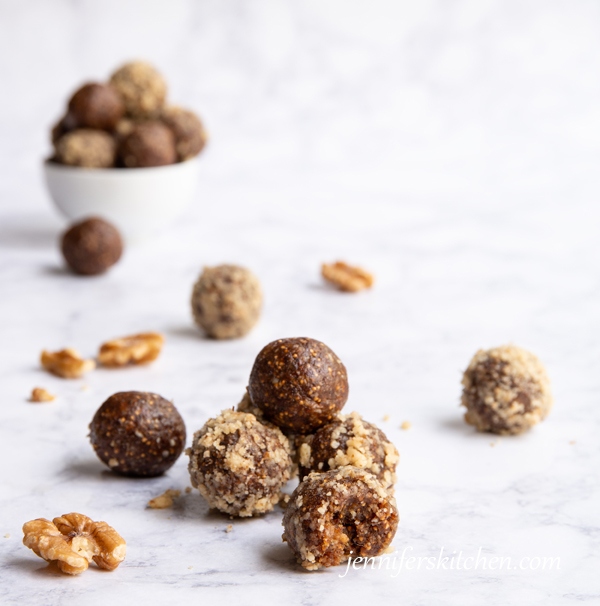 These little Walnut Fig Bites pack a huge nutritional punch!
First, the walnuts. Research suggests walnut consumption may be associated with improved cognitive function – in other words, they're good for your brain!
Walnuts are also the only nut with a significant source of essential omega-3 ALA.
And walnuts are high in fiber and very satisfying – which makes them a good addition to a healthy weight loss program.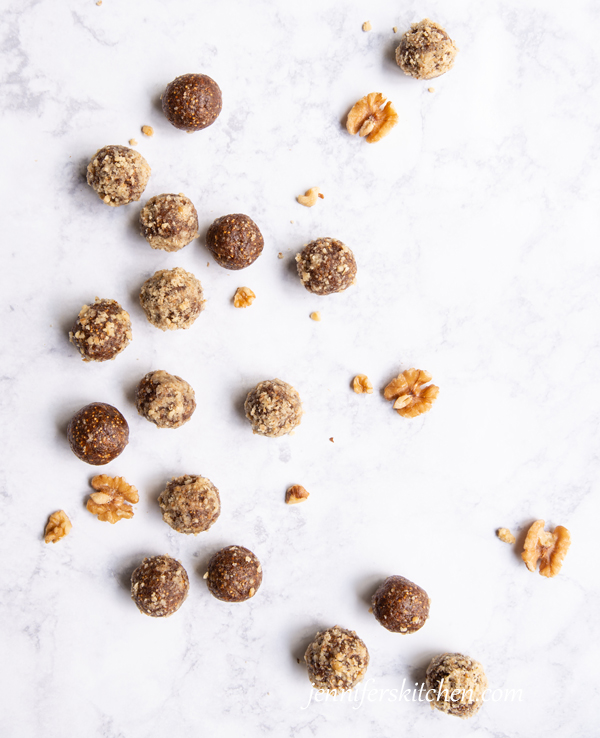 Those luscious, chewy figs are also a great source of fiber. And they're a good source of potassium, a mineral that helps to control blood pressure.
And those naturally sweet dates. I love using dates as a sweetener instead of sugar, because they are a whole, unrefined source of sweetness that also is loaded with fiber and other nutrients, including vitamin K and manganese.
The Perfect Match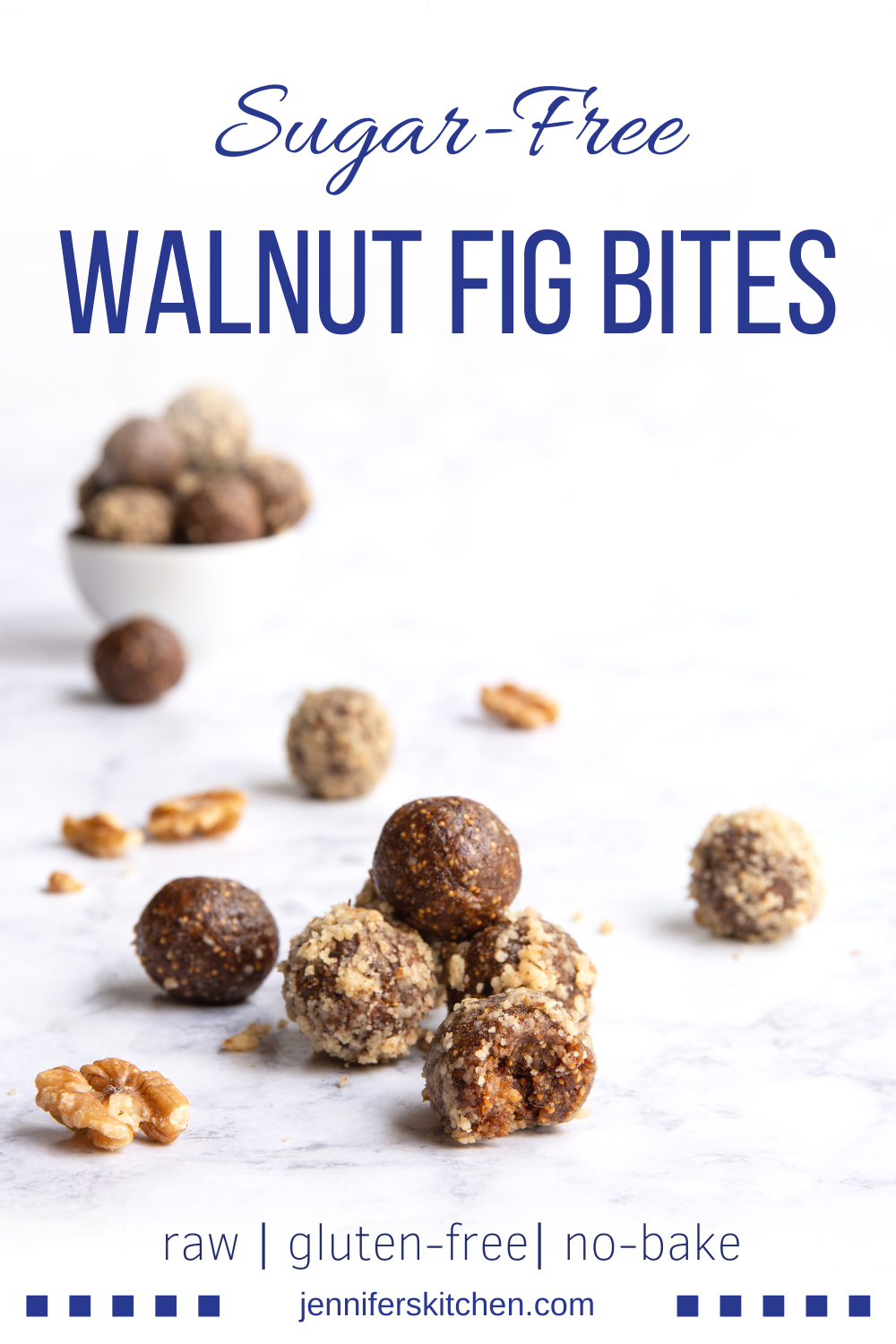 Fig + walnut: I don't think there could be a more perfect match.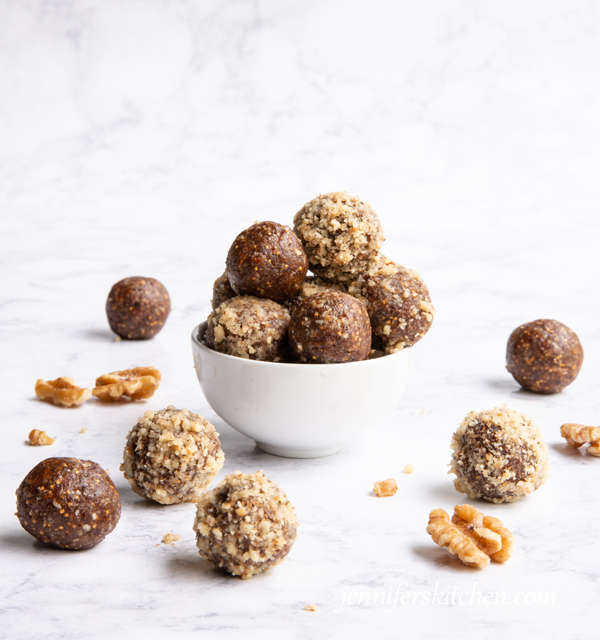 No-Bake Walnut Fig Bites
Sugar-free, gluten-free, processed-ingredient free, vegan, raw. And delicious!
Instructions
If you want to roll your Walnut Fig Bites in chopped walnuts, place 1/2 cup walnuts in food processor and process until walnuts are very finely chopped. Transfer to a bowl and set aside.

Place all remaining ingredients in a food processor. Process until ingredients are well chopped and begin to stick together. (This takes about 1 minute in my food processor.)

Roll into (approximately 1-inch) balls. Roll in chopped walnuts if desired.

Chill (or freeze) and enjoy!
Notes
* * * This Recipe for No-Bake Walnut Fig Bites is … gluten-free, plant based, oil-free, sugar-free, high in fiber, dairy free, egg-free, vegetarian, vegan, and made from real, whole foods.
>> One quick request: if you like this recipe, please leave a rating and a comment. Ratings help more people find these healthy recipes!
Print Recipe
Want More?
For more healthy and delicious recipes like this one that will simplify your journey to a healthier and thinner you, check out my
Healthy Weight Loss Program!
You my also like:
Before you go . . .
Did you know that you can eat all this delicious food AND lose weight? You can!
No calorie counting. No portion sizes.
Join my online weight loss program today!