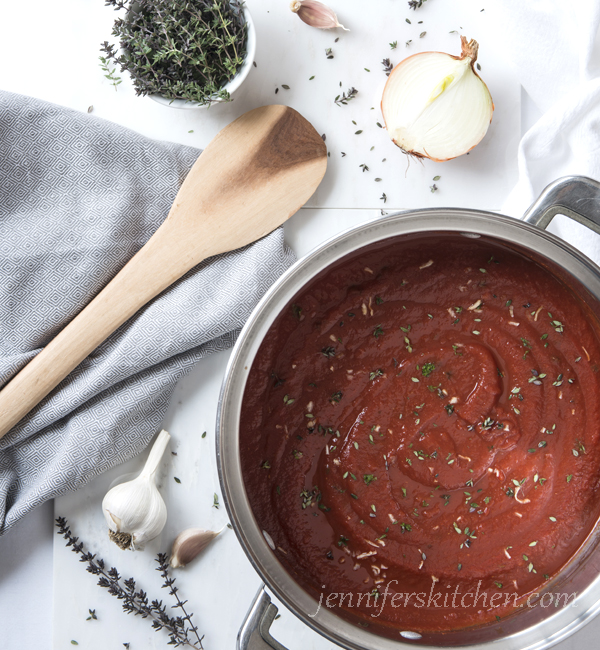 If making your own homemade marinara sauce intimidates you, fear no more.
This homemade marinara is so easy and quick to make and requires only 7 basic ingredients that you probably already have in your pantry: canned tomatoes, onion, garlic, olive oil, dried basil, granulated onion, and dried oregano.
Why is this tomato sauce a healthier option than store-bought sauce?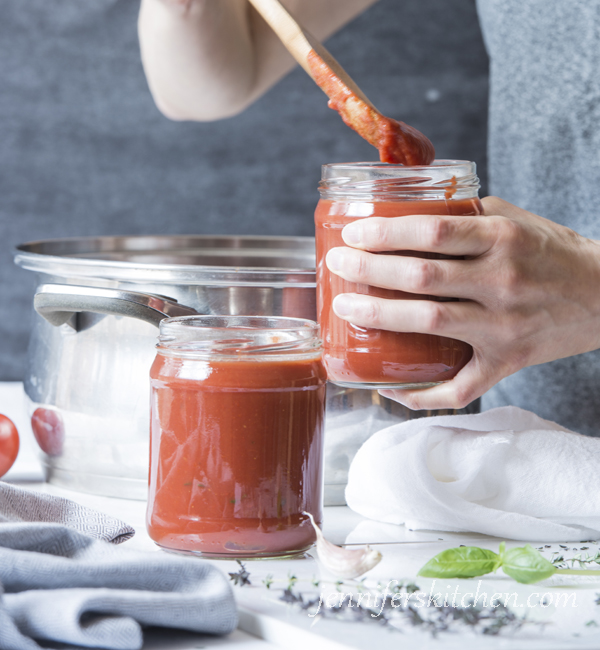 How do I run a high traffic site without ads? Some of my posts contain affiliate links. If you purchase anything through those links, your cost is the same, but I receive a small commission. Thank you for your help!
Most marinara you can buy in the store have a lot of sugar and way too much oil in them – some of them get over 70% of their calories from added oil.  Making your own homemade marinara sauce means you can control what goes in it.
Bonus Tip: If you'd like to add some sweetness to your sauce (which helps balance the acidity of the tomatoes) without adding sugar, you can use grated carrots. Just add 1/4 cup or so along with the onions.
How to use marinara sauce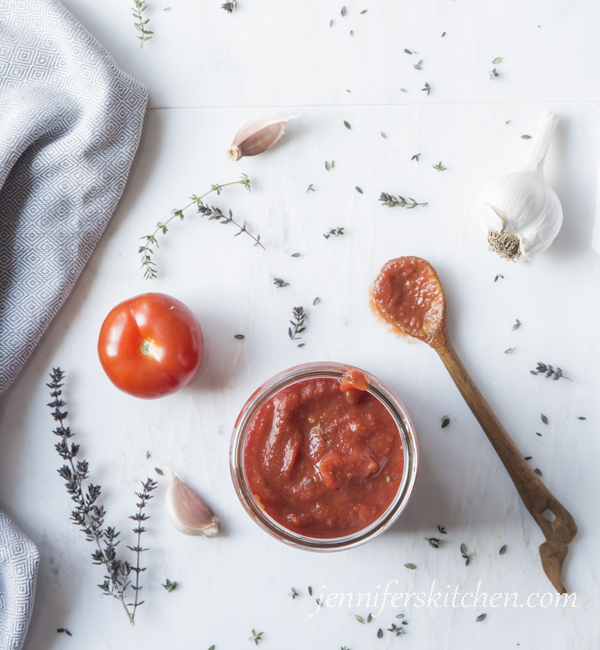 This recipe yields six cups of sauce – perfect for this Amazing Vegan Lasagna. It also freezes well – so you can have some over your spaghetti today and save the remainder in your freezer for pizza or No-Meatballs next week.
Note: If you are trying to find a good gluten-free pasta brand, I gotcha covered. We tested 21 varieties and rated them from the worst gluten-free pasta to the best gluten-free pasta. Check it out!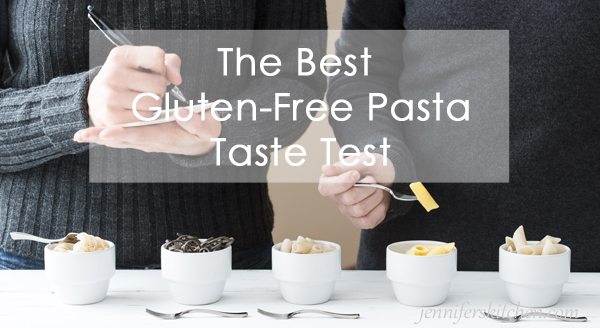 How long will this marinara sauce keep in the refrigerator?
This marinara sauce will keep for about 5 days in the frig.
How long will this marinara sauce keep in the freezer?
I love to make a double batch of this and keep it in the freezer for quick meals later when I'm busy. This sauce will keep well in the freezer for about 6 months if kept in a sturdy, air-tight container.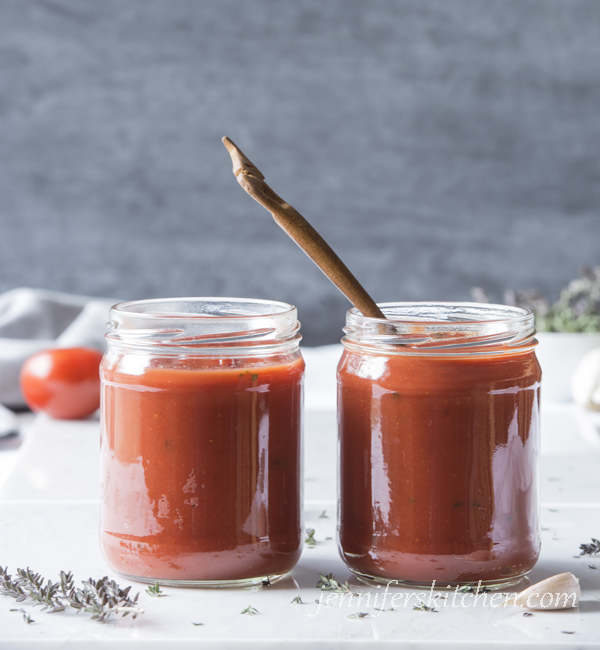 Plump your pantry. Slim your waistline.
One of the tips I give in my Weight Loss Program is to stocked up on healthy ingredients so you are less likely to turn to fattening convenience foods when you are in a rush. Keep a few cans of good crushed tomatoes in your cupboard, and, with this easy recipe, you'll never need to buy jarred sauce again.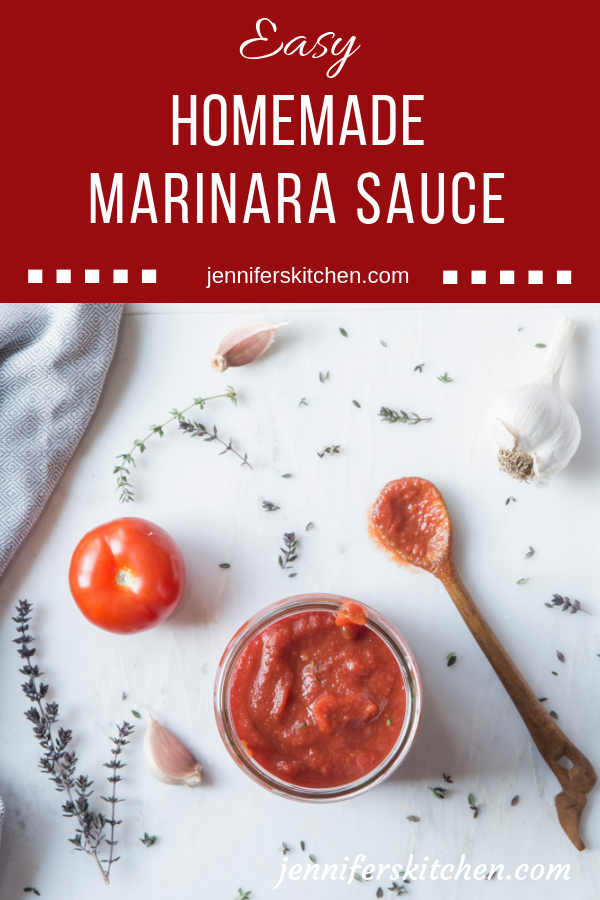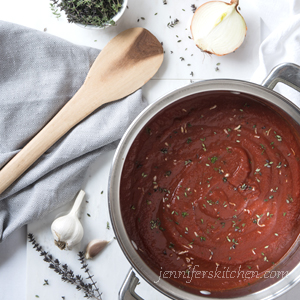 Print
Healthy Marinara Sauce
Yield 6 cups
Rich, authentic Italian flavor without spending hours in the kitchen.
Ingredients
2 tablespoons olive oil
1 1/2 cups diced yellow onion
3 tablespoons fresh garlic, minced
6 cups (two 28-ounce cans) crushed tomatoes
2 1/2 teaspoons dried basil
2 teaspoons granulated onion
1 teaspoon salt (more or less depending on how much salt is in tomatoes)
1 teaspoon turbinado sugar – optional
1/2 teaspoon dried oregano
Instructions
In a large, wide-bottom pot, sauté onion in oil over low to medium heat until onions begin to brown.
Add garlic and sauté for 2 more minutes.
Stir in tomatoes and seasonings.
Cook for 5 to 45 minutes at a slow simmer. Longer simmering time will thicken the sauce and give it a deeper flavor, but the sauce is still delicious even if only simmered for a few minutes.
Popular Posts