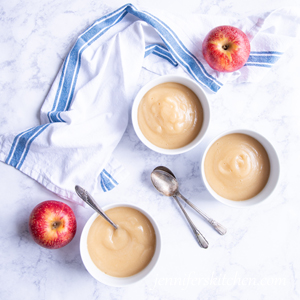 The Best Homemade Applesauce
The best applesauce you've ever had in 5 easy steps.
Instructions
1. Wash apples. Do NOT peel.
2. Pour a small amount of water or apple juice into a large, thick-bottomed, nonreactive pot or Dutch oven. You want just enough water or juice to barely cover the bottom of the pot. Cover pot and turn heat to low.
3. Cut the apple off the core and add to pot.
You can use a sharp knife and a cutting board for this or you can use an apple slicer.
(Replace lid on pot after each addition.)
4. After all your apples are in the pot, turn the heat to medium-high and cook apples (covered) until soft - about 10 to 20 minutes depending on how many apples you have in the pot and what type of apples you use.
Stir often to prevent apples from sticking to the bottom of the pot.
5. Once apples are soft, transfer to blender (3 to 4 cups at a time) and blend on high speed until very, very smooth.
Recipe by JennifersKitchen at https://jenniferskitchen.com/2019/10/how-to-make-the-best-homemade-applesauce-ever.html