Roasted Sweet Potato Coins with Creamy Lime Dip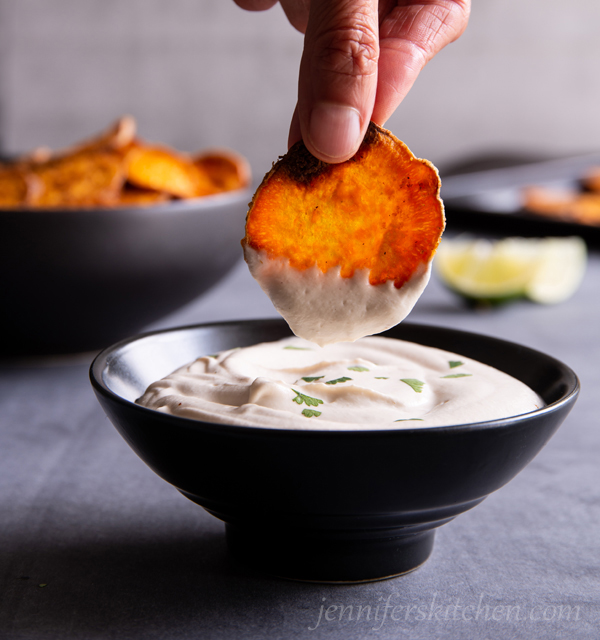 It's sweet potato season and that makes my mouth happy.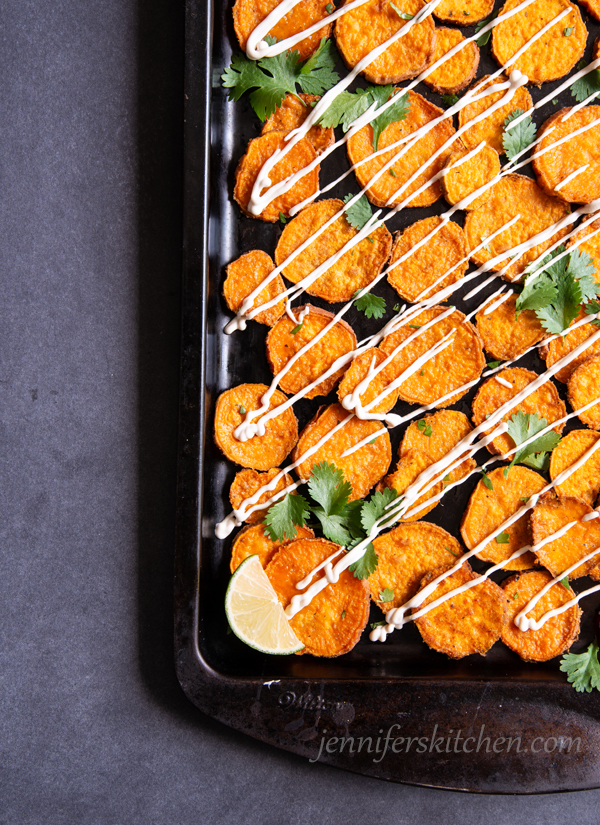 While I never got into sweet, marshmallow-topped sweet potatoes, I love me some savory sweet potatoes! A simple baked sweet potato drizzled with this homemade, vegan Creamy Italian Dressing … oh yum!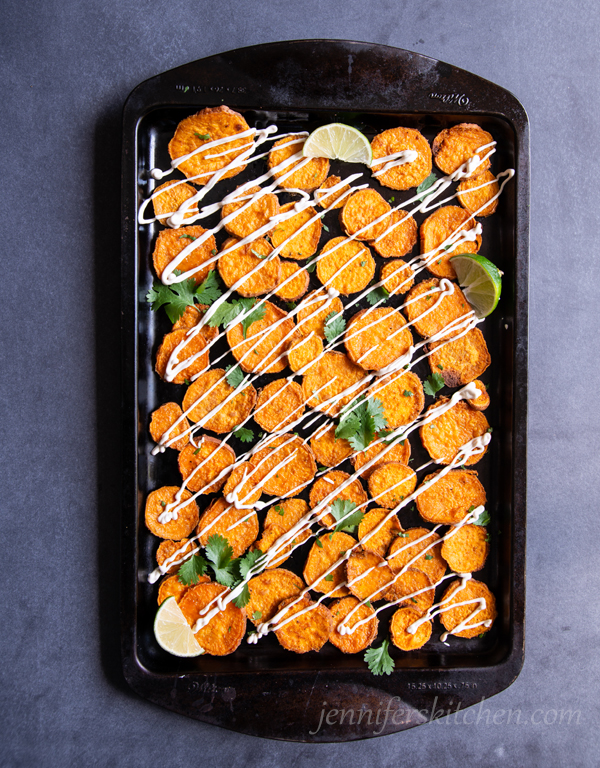 And my new favorite are these very flavorful Roasted Sweet Potato Rounds with Creamy Lime Dip. This recipe is oil-free, easy to make, and so good for you – you may want to eat them every day.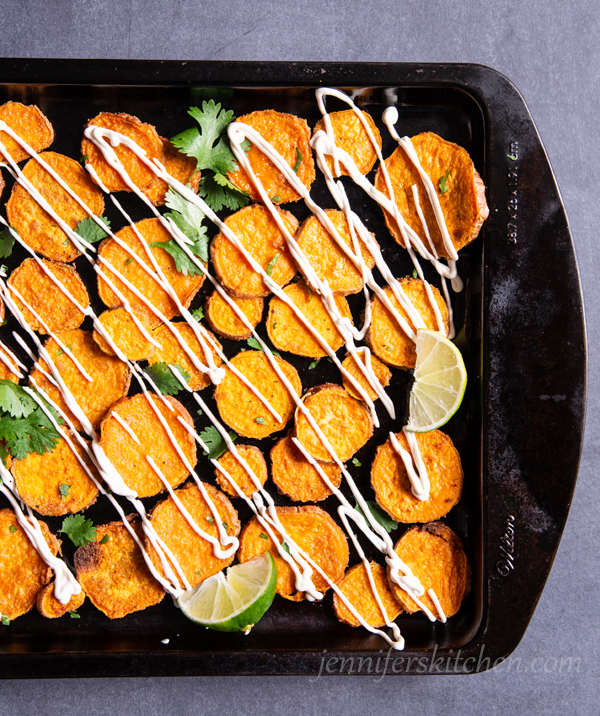 Sweet Potatoes and Your Health
One of the best ways to get vitamin A — a nutrient that is essential for healthy eyes, skin, and intestinal tract — is from delicious sweet potatoes.
A half-cup serving of these sweet taters has only 130 calories but delivers 80% of the DV of vitamin A.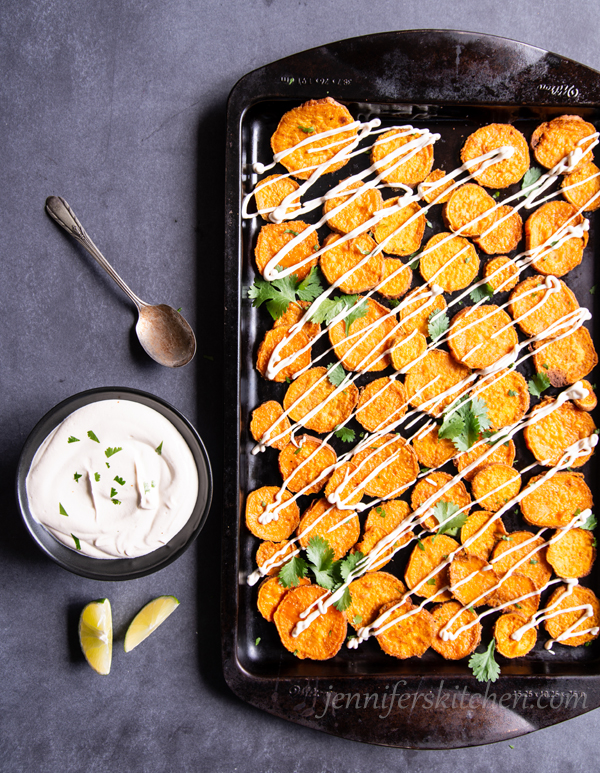 Sweet Potatoes and Weight Loss
Sweet potatoes contain carotenoids that help stabilize blood sugar levels and lower insulin resistance, which helps with weight loss. And because these Roasted Sweet Potatoes Coins are oil-free, they are a healthy and slimming substitute for fattening French fries.
For more delicious help with weight loss, check out my online weight loss program.
Looking to reduce the amount of oil in your diet? Check out my oil-free recipes.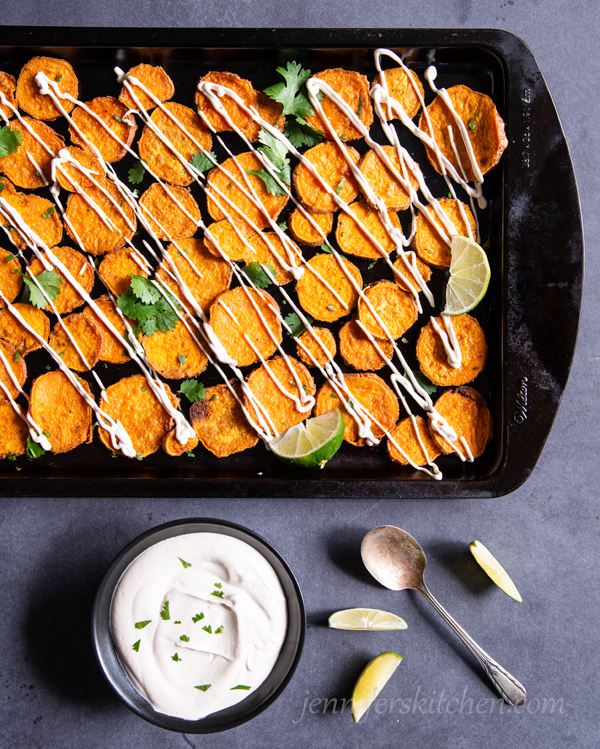 This website is brought to you without annoying ads because we can better live healthier lives without the influence of marketing. But running a high-traffic site is expensive. How can you help? If you purchase anything through the affiliate links on my site, your cost is the same, but I receive a small commission. Thank you!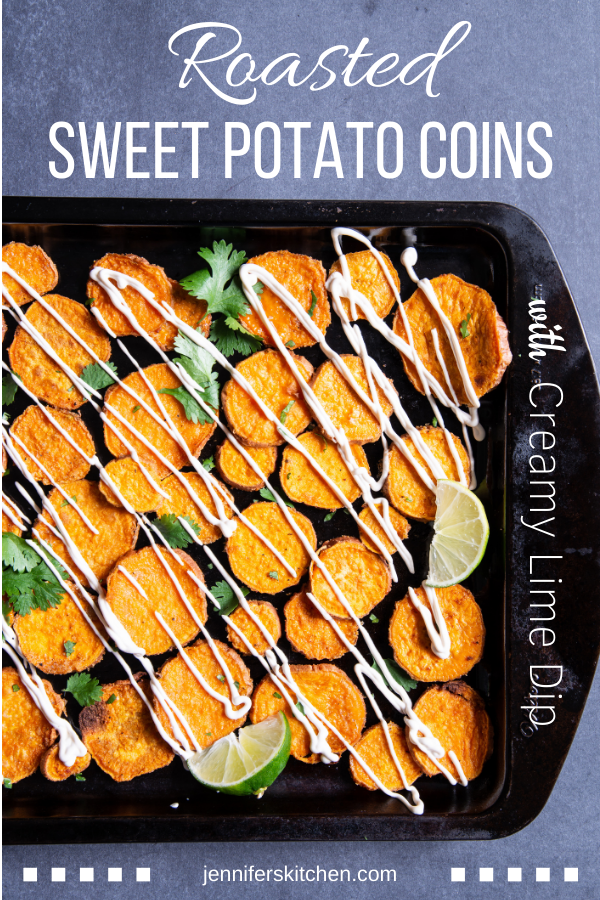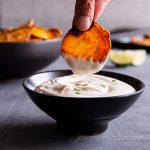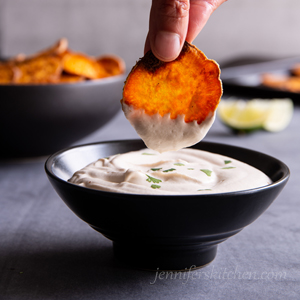 Oil-Free Roasted Sweet Potato Coins with Creamy Lime Dip
These deliciously-seasoned, roasted sweet potatoes are oil-free and irresistibly delicious.
Instructions
Scrub sweet potatoes under running water. (Peeling is optional. I don't peel mine.)

Slice the sweet potatoes into rounds just under 1/4-inch thick.

Put slices in a bowl and cover with cold water. Sprinkle 2 teaspoons of the salt over the top. Gently mix. Allow to soak for 1 hour or up to overnight.

When ready to roast the sweet potatoes, pour the water and sweet potatoes into a colander, and rinse with fresh water.

Pat sweet potato slices dry. (They don't need to be perfectly dry, but excess moisture should be gone.)

Preheat oven to 425°F

Line two large baking sheets with parchment paper. Spray with cooking spray. Set aside.

Place half of the sweet potato rounds into a very large, rimmed baking pan (a very large, wide bowl will also work).

Combine seasonings and starch in a small bowl or container. Dust sliced sweet potatoes with half of the seasoning/starch mix. Mix with hands to distribute starch mixture evenly over sweet potato rounds. The idea is to get a whisper thin coating of the starch on the potatoes, not to cover them in starch. The starch should be barely visible on them.

Distribute sweet potato coins single layer onto parchment paper. Spray tops of sweet potato rounds lightly with cooking spray or a mist of water.

Repeat with remaining sweet potato rounds.

Bake at 425°F for 15 to 25 minutes or until sweet potatoes are soft and beginning to brown. Amount of time depends on your oven and how thick the slices are. Serve hot with Creamy Lime Dip.
>> One quick request: if you like this recipe, please leave a rating and a comment. Ratings help more people find these healthy recipes!
Print Recipe
And luscious Creamy Lime Dip to go with those Roasted Sweet Taters.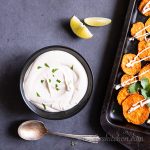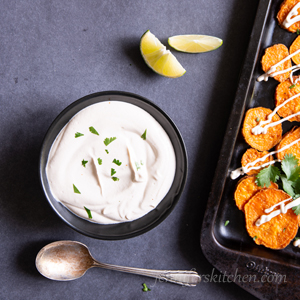 Creamy Vegan Lime Dip
The perfect dip for sweet potatoes.
Ingredients
1/2

teaspoon

lime zest

-

scant

1/4

cup

FRESH lime juice

-

(from about 4 limes)

3/4

cup

raw cashews

1 – 2

tablespoon

water

-

depending on how thick you want the dip to be

1

cup

mashed silken tofu

-

scant, (about 7 ounces)

1 1/4

teaspoons

granulated onion

1/2

teaspoon

granulated garlic

1 1/4

teaspoons

salt

-

scant

1

tablespoon

coconut oil

-

optional
Instructions
Using a citrus zester, zest fresh limes taking care to only use the green part of the skin, not the white part.

Place cashews in a colander or mesh strainer and rinse under hot water. Drain well.

Place all ingredients except lime zest in blender and blend until very smooth and creamy.

Add lime zest and blend to mix.

Chill.
Notes
Be sure to buy only fresh cashews and store them in the freezer until ready to use. Old cashews make this dip taste terrible.
For best results, place cashews in a colander and rinse under hot water before using. This will ensure cleanliness and help them blend smoother.
Yield: 1 3/4 cups
>> One quick request: if you like this recipe, please leave a rating and a comment. Ratings help more people find these healthy recipes!
Print Recipe
You my also like:
Before you go . . .
Did you know that you can eat all this delicious food AND lose weight? You can!
No calorie counting. No portion sizes.
Join my online weight loss program today!