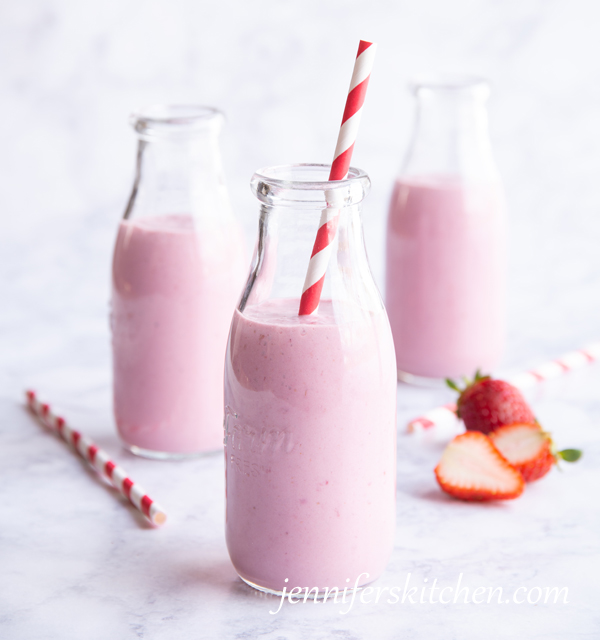 This creamy, homemade strawberry milk is naturally sweet and full of fresh strawberry flavor without the sugar, artificial flavors, or artificial colors of store-bought strawberry milk.
(Happily revisiting this recipe from from a few years back with some fresh, new photos.)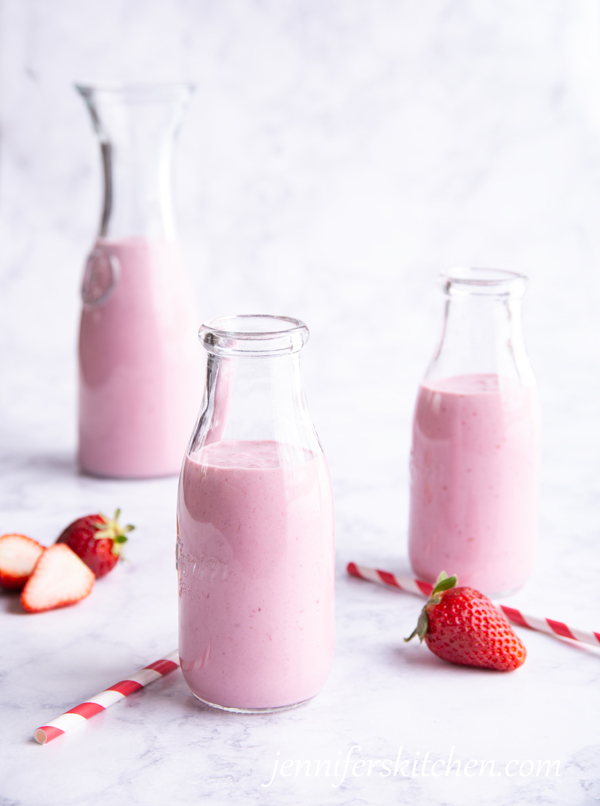 So Much Sugar!
Did you know that the average Americans downs about 22 teaspoons of sugar per day?
But most people don't think they're eating this much. How do we consume so much sugar without realizing it? Sugar is hidden in many foods – energy bars, peanut butter, yogurt (especially yogurt!), protein bars, crackers, bread, cereal, salad dressings, snack mixes, and more.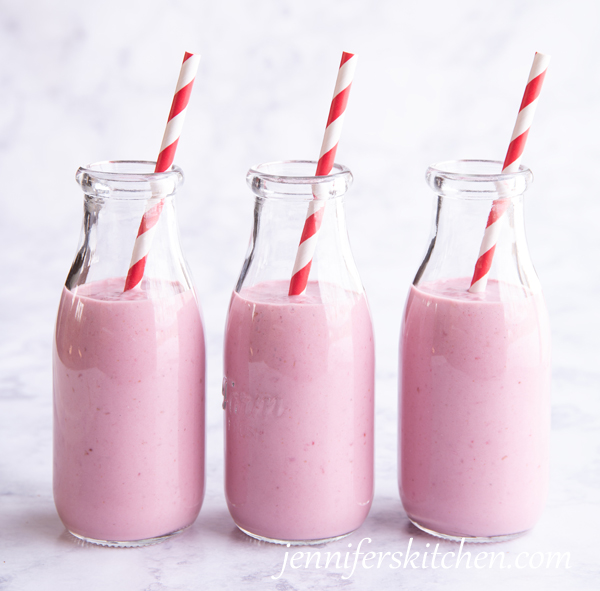 This website is brought to you without annoying ads because we can live healthier lives without the influence of marketing. But running a high-traffic site is expensive. How can you help? If you purchase anything through the affiliate links on my site, your cost is the same, but I receive a small commission. Thank you!
And this added sugar comes in many different forms, which means it's listed under many different names like agave, barley malt, brown rice syrup, cane juice, coconut sugar, corn syrup, demerara, honey, maple syrup, molasses, panela, rapdura, raw sugar, Sucanat, and more.
Childhood Obesity
And the typical diet fed to children increases a child's risk for obesity and other diseases. AND it conditions their tastes, making it more difficult for them to break the sugar habit when they are older.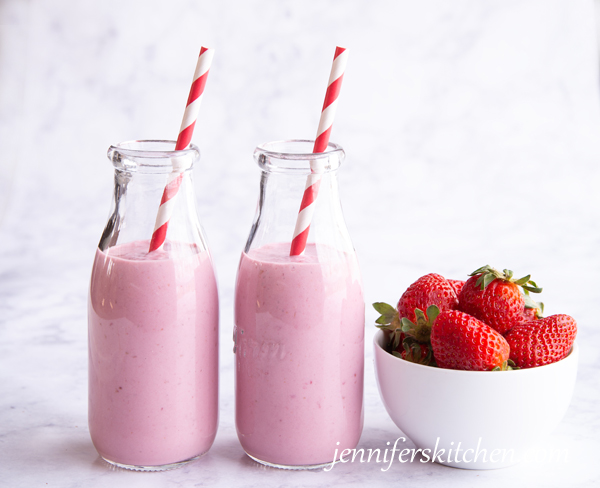 The Biggest Killer
Diet related disease is the biggest killer in the United States. Cleaning up our diet can prevent illnesses – everything from cancer to irritable bowel syndrome to autoimmune issues.  And one of the key factors in cleaning up our diet is to ditch the sugar.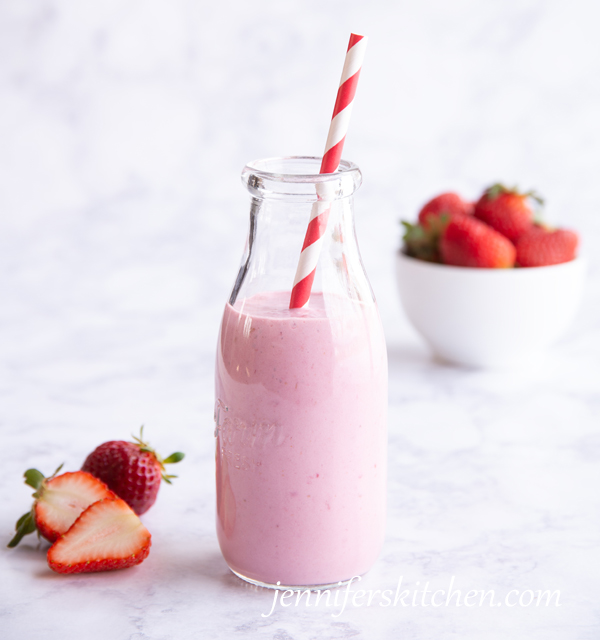 Naturally-Sweet, Sugar-Free Strawberry Milk
And this strawberry milk is just the help you needed.
This creamy, homemade strawberry milk is naturally sweet and full of fresh strawberry flavor without the sugar, artificial flavors, or artificial colors of store-bought strawberry milk.
That pretty pink hue is from fresh strawberries – not red #40.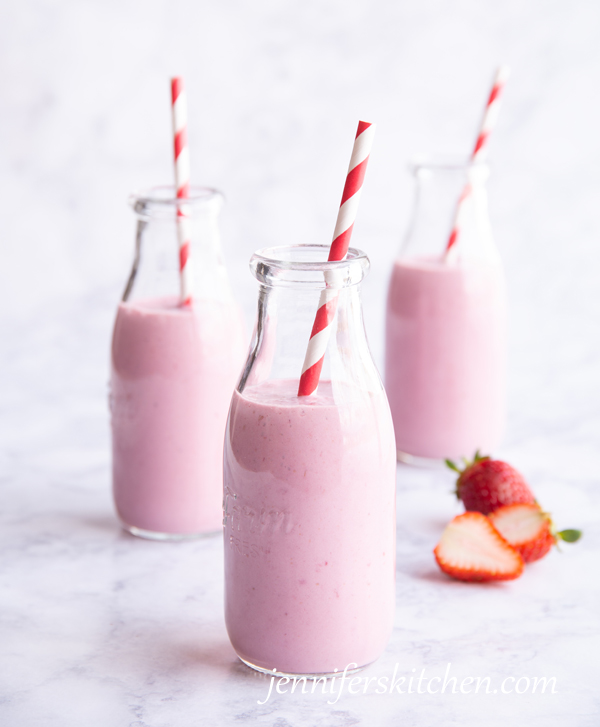 Notes about this Sugar-Free Strawberry Milk
You can make this delicious strawberry milk with fresh or frozen strawberries. And you can vary the milk used depending on your personal preference.
If your children have never tried store-bough strawberry milk, then they're sure to love this. If they are already hooked on the artificially-flavored, artificially-colored store stuff, then you may want to add some sweetener to this recipe to closer mimic what they're used to. It'll still be way better for you and your kids than the store-bought strawberry milk. And every time you make it, you can add a little less sweetener.
Or you could also use a little banana or dates to sweeten the milk naturally.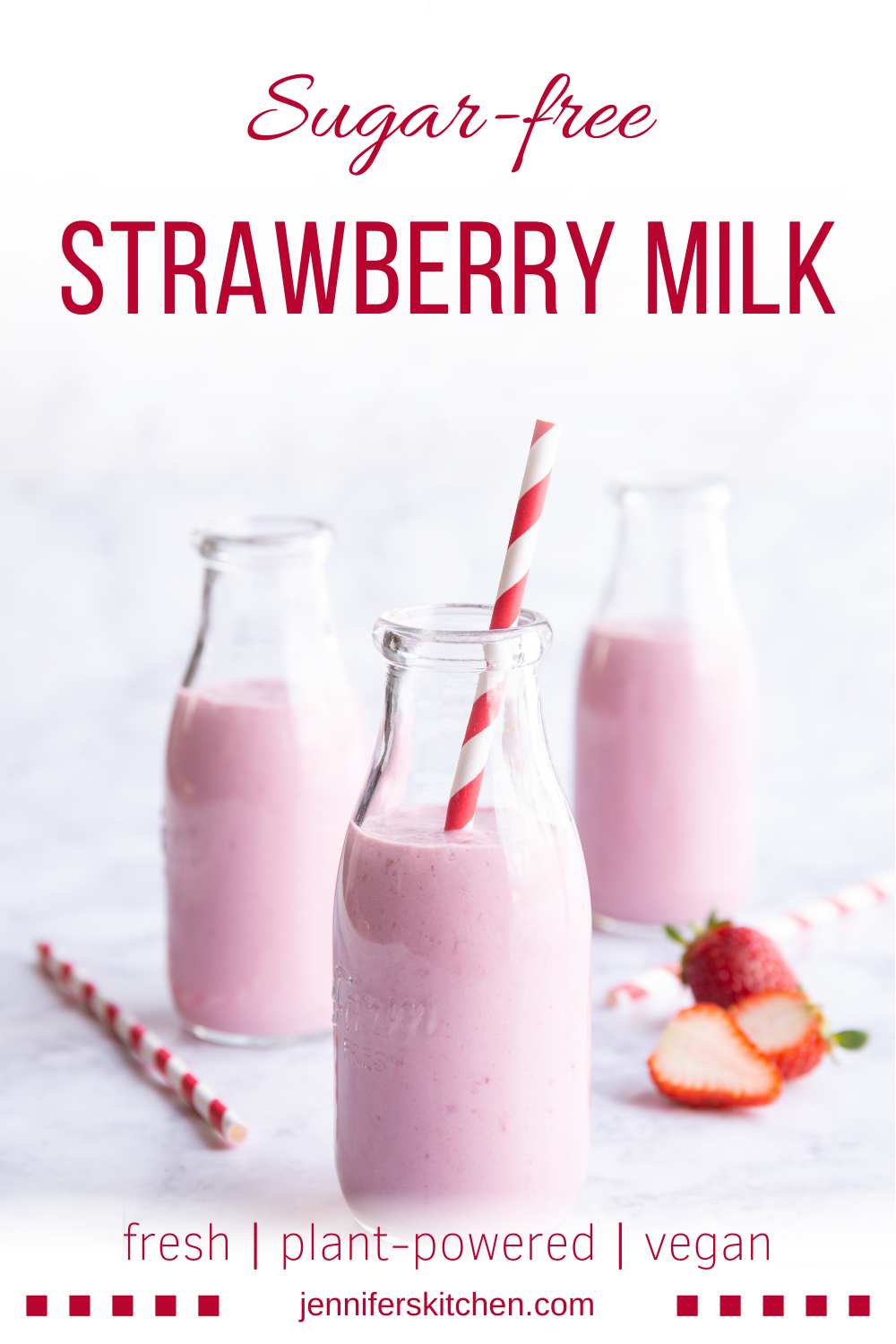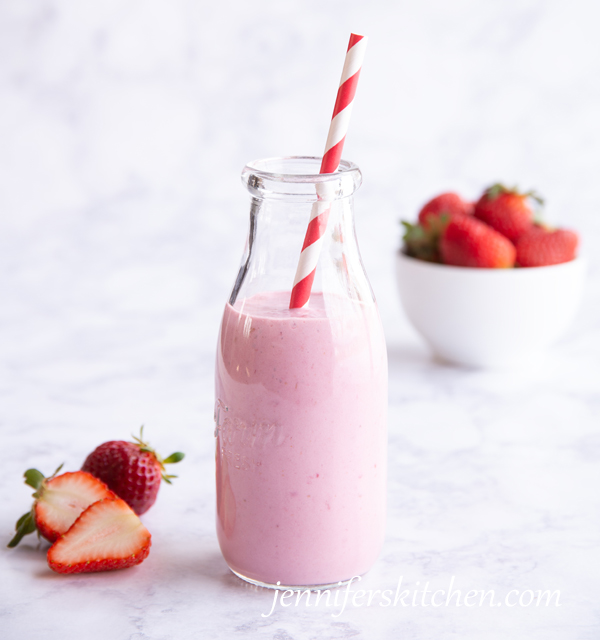 Print
Sugar-Free Strawberry Milk (no artificial colors or flavors)
Yield 2 cups
This all-natural, nutritious milk is loved by kids and can be used as a much healthier alternative to dairy milk over cereal.
Ingredients
1/3 cup blanched raw almonds or raw cashews
3/4 cup almond milk, soy milk, or coconut milk or a combination of any of these
1/4 cup pineapple juice
9 to 10 medium fresh or frozen strawberries
1/2 teaspoon vanilla
Instructions
Place nuts, milk, and juice in blender and blend until very smooth. This may take several minutes if you don't have a very powerful blender.
Add strawberries and vanilla and blend until very smooth.
Chill. (If using frozen strawberries, chilling isn't necessary.) Shake or stir before serving.
One quick request: if you like this recipe, please leave a rating and a comment. Ratings help more people find these healthy recipes!
Notes
1. Adjust consistency by using more or less milk.
2. See notes above (before recipe) about sweetness.
* * * This recipe for Strawberry Milk is … gluten-free, plant based, oil-free, sugar-free, high in fiber, dairy free, egg-free, vegetarian, vegan, and made from real, whole foods.
Popular Posts