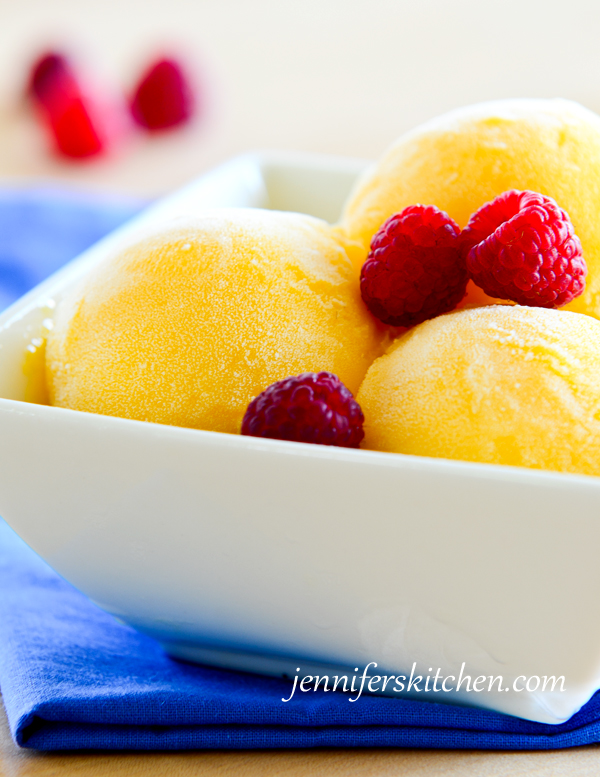 If you know me very well at all, you know my favorite season is summer. One thing that makes summertime so much fun are the sweet, frozen desserts to be enjoyed on those hot summer evenings.
Our ice cream maker can whip up some cold, rich, homemade ice cream in about 20 minutes – easy, convenient, and much, much healthier than store-bought ice cream!  But if you don't have an ice cream maker, don't despair;  there are many ice cream-like treats that can be made without one.
A simple summer sorbet is actually quite easy to make. All you need is some fruit, a sweetener, and a blender or a food processor.  One of my favorite things about fruit sorbets is they are so forgiving and flexible … you can use a variety of fruits, vary the flavors, and adjust the sweetener according to your personal taste.
Summertime is Mango Time
Earlier this summer my friend brought us a whole box of sweet, juicy mangoes, successfully reminding me how much I like this tropical fruit.  Since then, I've picked up a few when grocery shopping and have been enjoying experimenting with different ways to enjoy mangoes, like mango pudding and and sugar-free mango sorbet.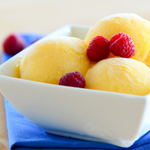 Print
Sugar-Free Mango Sorbet
This sorbet is a light, refreshing, and not-too-sweet frozen dessert. If you like your sorbet more on the sweet side, you can add some simple syrup to the ingredients before blending.
Ingredients
2 cups frozen mango chunks
1/2 cup frozen pineapple chunks
1 tablespoon white grape juice concentrate or pineapple juice (Use white grape juice if possible as it adds sweetness without detracting from the mango flavor.)
1/2 teaspoon lime juice
Instructions
Place all ingredients in food processor and process until creamy, stirring often. Don't puree too long or sorbet will be thin.
Serve immediately.
Notes
While fresh, very ripe mangoes that you freeze yourself are usually the sweetest option, you can also use frozen mango chunks from the frozen section of the grocery store.
Popular Posts