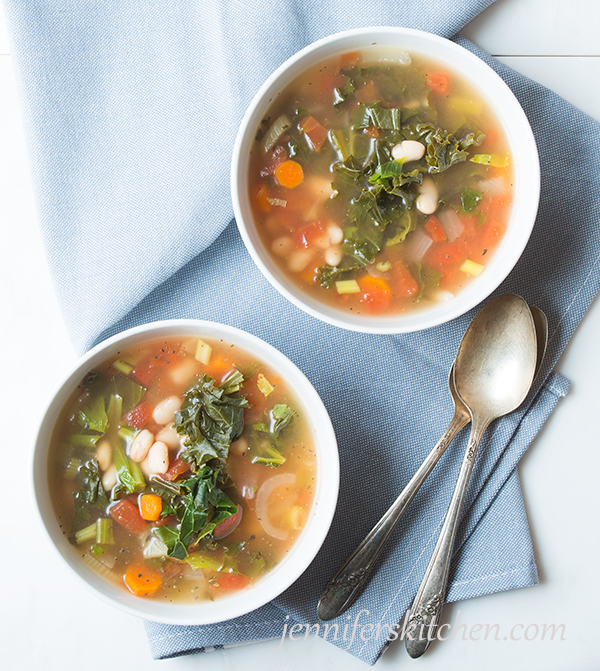 With the holidays coming up, it's a good idea to get the body stocked up on some healthier fare before the cookies start heading our way. This heart-warming, tummy-filling soup is the perfect way to do just that!
This Kale and White Bean soup is so easy to make, and, with pre-washed/pre-chopped kale (or baby kale), it can be made in less than 30 minutes.
Loaded with nutrients – protein, calcium, vitamins K, C, and A, fiber, and more – this soup is a full meal in one pot.
Fabulous Fiber
Speaking of fiber, this delicious soup gives you 15.5 grams of fiber per serving! That's more fiber than the average person eats in an entire day!
Why is this a good thing?
– Fiber is the key to weight loss.
– Fiber reduces LDL cholesterol.
– Fiber helps maintain bowel health.
– Fiber reduces the incidence of gallstones and kidney stones.
– Fiber helps helps control blood sugars level.
Check out my post here to find out more about the benefits of fiber.

Print
Kale and White Bean Soup
Yield 3 - 4 servings
With pre-washed, pre-chopped kale, this delicious soup comes together in a matter of minutes!
Ingredients
1 medium to large onion, diced
2 ribs celery, sliced
2 medium carrots, sliced
2 tablespoons olive oil (optional)
2 cloves garlic, minced
4 cups water or vegetable stock or broth
1 1/2 cups (one 14-ounce can) diced tomatoes (I prefer petite diced tomatoes.)
1 teaspoon granulated onion
1/2 teaspoon dried basil
1/2 teaspoon oregano
5 cups chopped raw kale (about 8 ounces)
1 1/2 cups (one 15-ounce can) cooked white beans, drained, but not rinsed
1/2 teaspoon salt, or to taste
Instructions
In a large soup pan, sauté onion, celery, and carrots in oil over medium heat until onions begin to look translucent (about 8 minutes). (Or, if you prefer to avoid oil, saute without.)
Add garlic and sauté for 1 additional minute.
Add water (or broth). Turn heat to high.
Stir in tomatoes and seasonings.
When soup comes to a boil, stir in kale. Return to boil and then reduce heat slightly and continue cooking, uncovered, at a low boil until kale is tender. (Cooking time will vary depending on variety of kale.)
Stir in beans. Adjust seasonings to taste. Cook until heated through. Serve hot.
Popular Posts