Sugar-Free, Fresh Strawberry Jam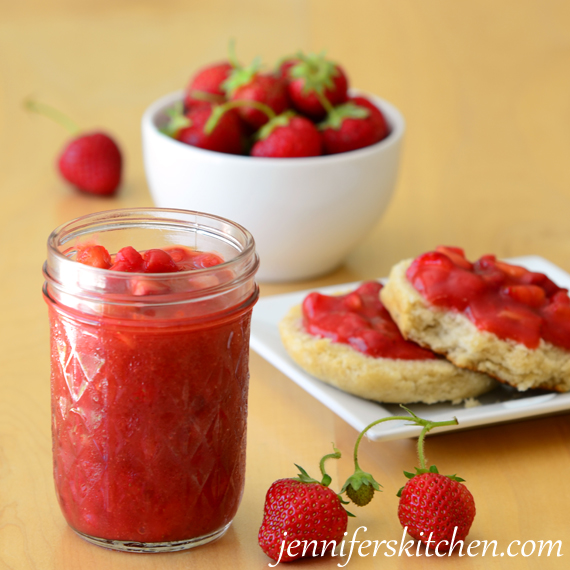 This website is brought to you without annoying ads because we can better live healthier lives without the influence of marketing. But running a high-traffic site is expensive. How can you help? If you purchase anything through the affiliate links on my site, your cost is the same, but I receive a small commission. Thank you!
The deer are spoiling us rotten by allowing us to have loads of strawberries from our strawberry patch this year. In fact, we have so many I decided to make some homemade, fresh strawberry jam. Having never made it before, I asked Papa Google for a recipe.
The first few recipes he gives me call for anywhere from 2 cups of sugar to 3 1/2 cups of sugar for only 3 cups of strawberries! Whoa! Is this for real? Does all strawberry jam have this much sugar? I'm thinking twice about what I put on my toast.
Back to Google
Figuring I just need to adjust my search terms, I type in "Low-Sugar Strawberry Jam", and he responds with recipes listing one to 1 1/2 cups of sugar for 3 cups of strawberries. Closer, but since I'll probably eat half a batch at one sitting, I better pass.
Sugar-Free Jam?
How about "No-Sugar Strawberry Jam"? Surely there's a healthy option out there. This search offers lots of recipes, but all with some sort of artificial sweetener. I hated the thought of doing that to my innocent, healthy, little berries.
Oh, and all of the recipes (sugar or no sugar) tell me to cook the berries, which is apparently the normal way to make jam, but somehow I got this fresh jam idea in my head.
No Jam
Maybe I'll just make a strawberry pie and eat it knowing that it's a dessert and not a healthy spread for my toast.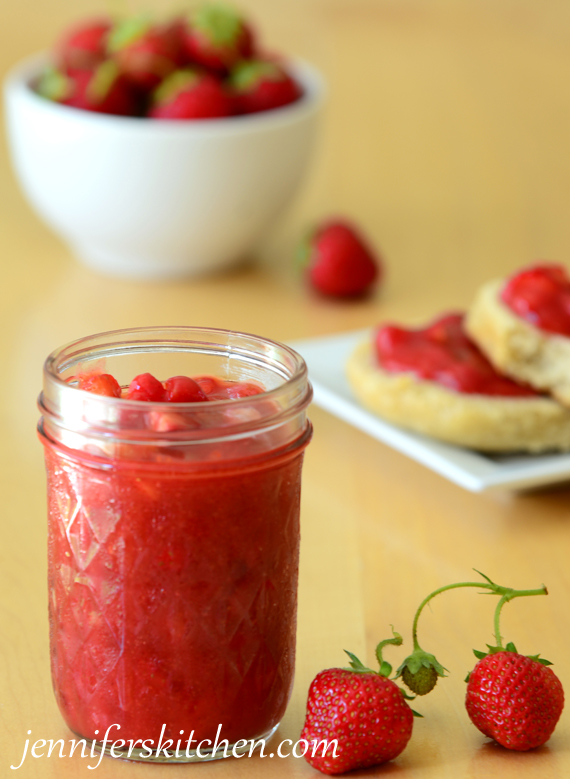 But then I remember a scribbled recipe on a tattered piece of paper stuck in an old book from over 20 years ago. I don't know where the book is, but since I used that scrap piece of paper as a bookmark for so many years, the handwritten recipe is imprinted in my mind.
Yes Jam
I try it. Mmmmmm! A truly sugar-free, fresh strawberry jam*. (*See "Or Maybe Not" after the recipe.)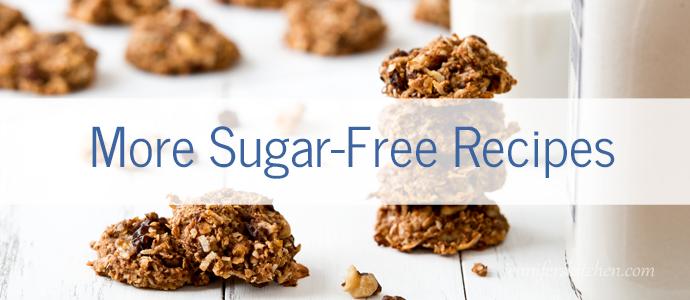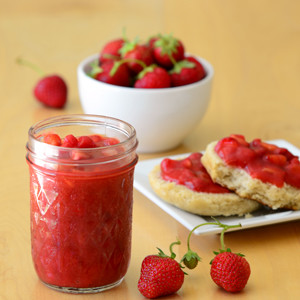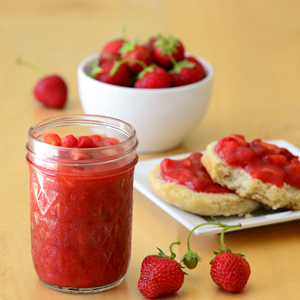 Sugar-Free, Fresh Strawberry Jam
Sugar free. 3 ingredients.
Instructions
Place grape juice and dried pineapple in a small saucepan. Cover and bring to boil. Reduce heat and simmer for 7 minutes. Remove from heat and allow to set for 5 minutes (covered).

Drain juice from pineapple.

Place 1 3/4 cup strawberries and pineapple in blender and blend on high speed until very smooth. A heavy-duty blender works best for this.

Mash or dice remaining 1 cup of strawberries and stir into blender mixture. Chill before serving.

Keeps in refrigerator for about 8 to 10 days.
>> One quick request: if you like this recipe, please leave a rating and a comment. Ratings help more people find these healthy recipes!
Print Recipe
Or Maybe Not
As I was writing this post, I got to thinking, since my recipe is so different than those I found on Google, maybe it technically isn't even jam, just like my healthy ice cream isn't really ice cream.
Back to Google.
According to Webster, jam is "a food made by boiling fruit and sugar to a thick consistency".
No boiling. No sugar. No jam. Oooops.
So I guess this recipe needs a new name (any ideas?), but in the meantime, I hope you enjoy this Sugar-Free, Fresh Strawberry Stuff that Tastes Great on Toast, Amazing Over Ice Cream, Marvelous Mixed in Oatmeal, and Spectacular Spread on Waffles.
You my also like:
Before you go . . .
Did you know that you can eat all this delicious food AND lose weight? You can!
No calorie counting. No portion sizes.
Join my online weight loss program today!