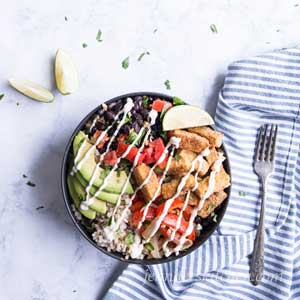 Lime Rice, Bean, and Tofu Bowl
Yield 3 to 4 servings
This naturally gluten-free dish is so flavorful and filling and taste fabulous topped with guacamole.
Ingredients
TOFU
14  ounces super-firm tofu (See note.)
4  teaspoons granulated onion
1  teaspoon cumin
1/2  teaspoon paprika
1  teaspoons salt
RICE
BEANS AND VEGETABLES
2  medium to large onions, cut into strips
1/2  red bell pepper, cut into strips
1 tablespoon olive oil
7  cloves garlic, minced or diced small
1 1/2  cups (one 15-ounce can) black beans, rinsed and drained
1  cup diced fresh tomatoes
1/3  cup chopped fresh cilantro
TOPPINGS
Instructions
Press water out of tofu. Cut into 1/2-inch x 1/2-inch strips.
Preheat oven to 375°F.
Mix together tofu seasonings in wide-bottom bowl. Add all of the tofu at once to the bowl and shake bowl from side-to-side to distribute seasonings onto tofu.
Place tofu onto an oiled baking sheet. (If desired, spritz with oil or cooking spray to help it brown more.)
Place in oven and bake at 375°F for 15 minutes.
Meanwhile, in a medium pan, sauté onion and pepper in oil over medium heat until onions begin to look translucent (about 7 minutes).
While vegetables are sautéing, chop cilantro and tomatoes. Set aside.
Rinse and drain beans. Set aside.
Add garlic to onions and sauté for 1 additional minute. Remove from heat.
Place hot rice in bowl. Spoon vegetables over rice.Optional step: If you want your beans hot, you can heat them in the pan that the onions were sautéed in now.
Spoon beans over rice.
Add tomatoes and cilantro.
Add baked tofu.
Top with avocado (or guacamole) and serve with lime wedges.
Notes
I use super-firm tofu for this recipe because it makes a chewier, meatier final product and it doesn't fall apart like other tofu.  It's available at Trader Joe's, Meijer, and other major grocery stores.
Recipe by JennifersKitchen at https://jenniferskitchen.com/2019/09/lime-rice-beans-and-tofu-bowl.html