Basil Flax Salad Dressing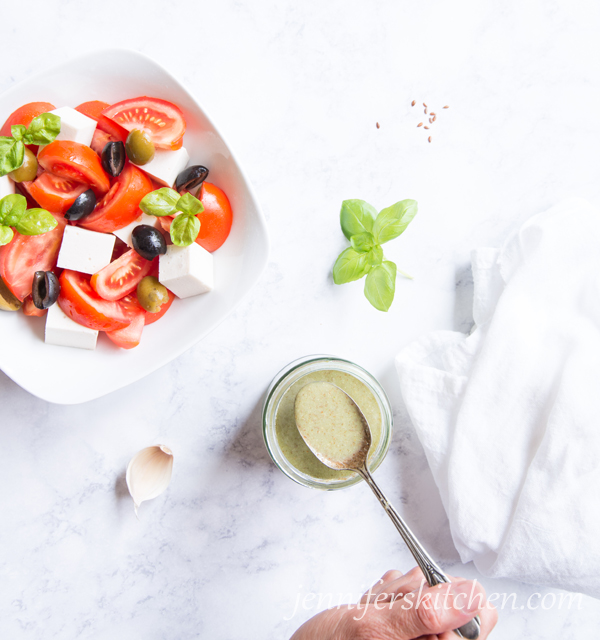 It's summerrrrrrrrrrr!! Finally, finally summer! I have been waiting for this for … well … ever since the first snowflakes fell last November. No more fleeces and long johns. Just warm sunshine (not hot, just warm … I'm in Michigan guys), flip flops, and fresh basil.
And by fresh basil I mean the REAL stuff, not the $6.00 package of three wilty basil leaves that grocery stores carry the rest of the year.
Fresh basil is one of my favorite gifts from the garden. There's nothing quite like Fresh Basil Pesto. And New Potatoes and Summer Squash with Fresh Herb Sauce. And this Basil Avocado Dressing is also really, really yummy. And now, this delicious nut-free, oil-free, vegan Basil Flax Dressing can join the summer basil party too.
Don't judge a book by its cover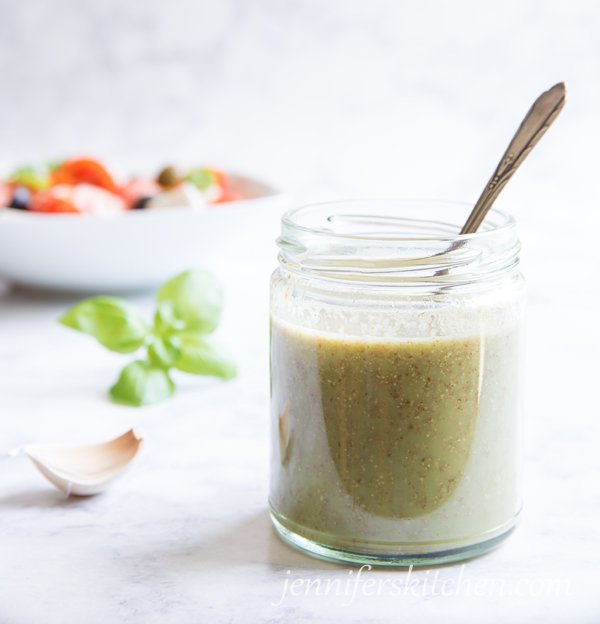 You know, sometimes the most humble-looking recipes are the most delicious. This quick and easy salad dressing likely won't win any beauty contests and will probably never be famous on Instagram. (Actually none of my recipes will ever be famous on Instagram since I haven't quite figured out exactly how I'm supposed to use the thing. Someone please just do the Instagram thing for me.) But don't judge this humble dressing by its cover because if you do, you'll miss out on a tangy, summer flavor party in your mouth.
The healthiest salad dressing recipe
I prefer to make my own salad dressing so I can keep it healthy, but this vegan/nut-free/oil-free salad dressing recipe takes things to the next level. It uses nutrient-rich flax seeds to give it an ever so slight creaminess and to load you up with a healthy dose of both omega-3s and fiber. Then we add lemon for some zip and zing and fresh basil for a lovely, rich, summer flavor.
Oh, and that basil – just 1/4 cup fresh basil gives you over 30% of your daily needs for vitamin K!
More Omega-3s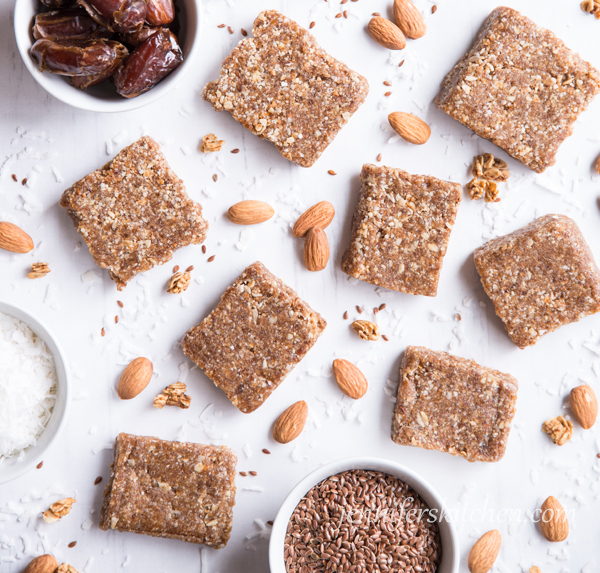 Omega-3 are essential for a healthy heart and have also been shown to significantly reduce inflammation.
This nutrient can be found in abundance in chia seeds, radish sprouts, flax seed, walnuts, fresh basil, Chinese broccoli, and spinach.
Be sure to store your flax seed in the refrigerator or the freezer to keep it fresh and protect it from oxygen damage.
Dressing on Call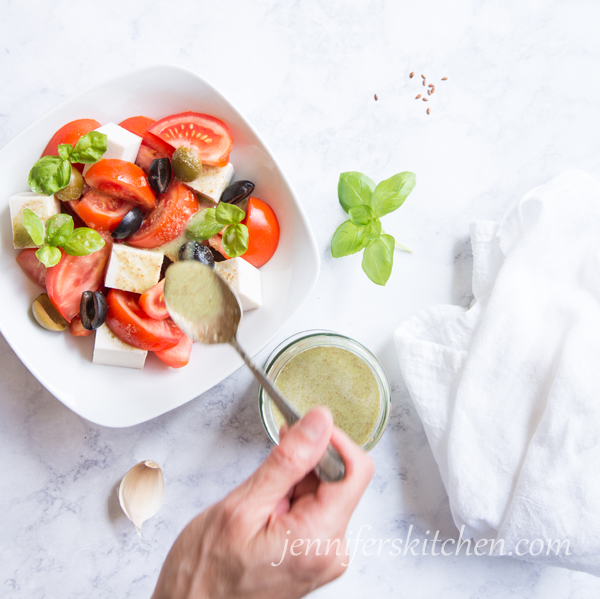 I'm not a huge fan of vegetables, and that's why you'll almost always find a large container of dressing (or dip) in my refrigerator. These luscious dressings can make the most boring veggie taste amazing!
Healthy dressing in the refrigerator = I eat more veggies.
Notes about this dressing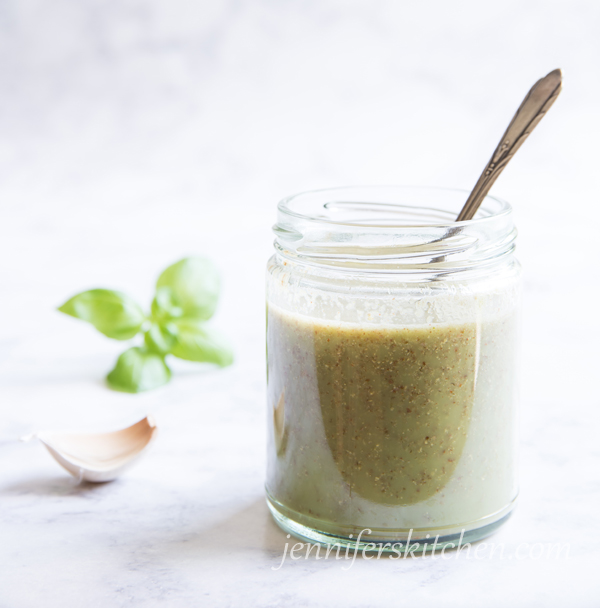 How do I run a high traffic site without ads? With your help! Some of my posts have affiliate links. If you purchase anything through those links, your cost is the same, but I receive a small commission. Thank you for helping to keep this blog running!
I make this with brown flax seed meal, but golden flax works just as well.
Be sure to use flax meal for this recipe. I tried varying amounts of whole flax seed and the dressing always ended up gloppy and stretchy instead of salad-dressing-like.
How to use this delicious dressing
We love this light and flavorful dressing on salad, but it also taste great on steamed or raw veggies – especially broccoli and cauliflower.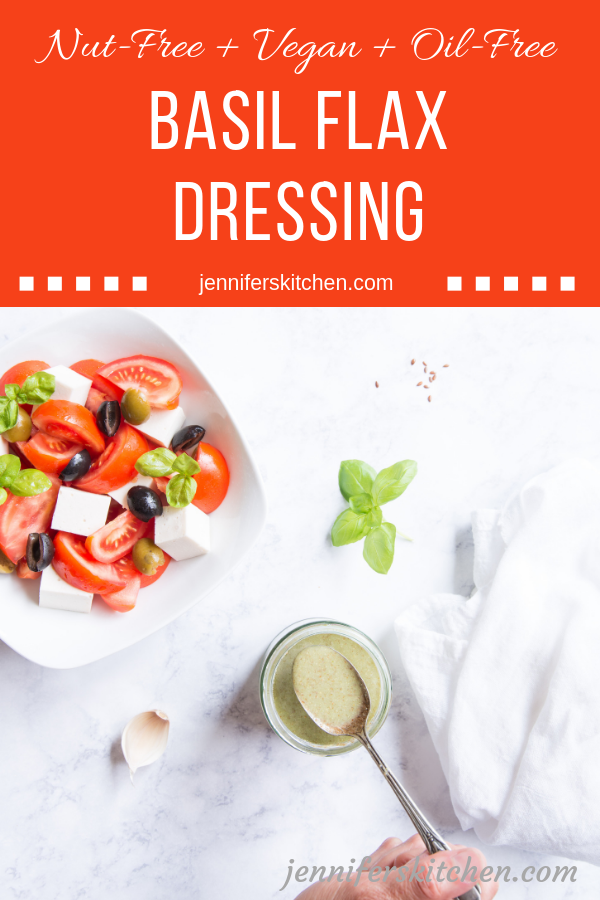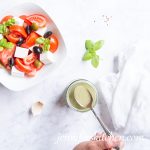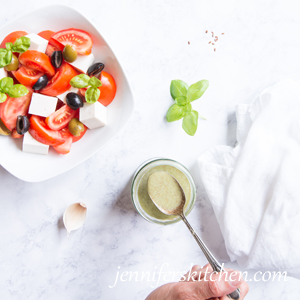 Basil Flax Salad Dressing
A delicious vegan, nut-free, oil-free salad dressing made with fresh basil.
Ingredients
1

cup

water

1/2

cup

lemon juice

2

cloves

fresh garlic

1

teaspoon

salt

1

teaspoon

granulated onion

1/4

cup

packed fresh basil

-

about 30 fresh basil leaves

1/4

cup

flax seed meal

- (finely ground flax seed)
Instructions
Place all ingredients except flax seed meal in blender and blend until smooth.

Add flax seed meal and blend until thoroughly mixed.

Chill.
Notes
Be sure to use flax seed meal and not whole flax seed. I like to grind my flax seed in my coffee grinder.
Yield: 1 1/2 cups
>> One quick request: if you like this recipe, please leave a rating and a comment. Ratings help more people find these healthy recipes!
Print Recipe
You my also like:
Before you go . . .
Did you know that you can eat all this delicious food AND lose weight? You can!
No calorie counting. No portion sizes.
Join my online weight loss program today!