Herb Gravy (Vegan, Gluten-Free, Oil-Free)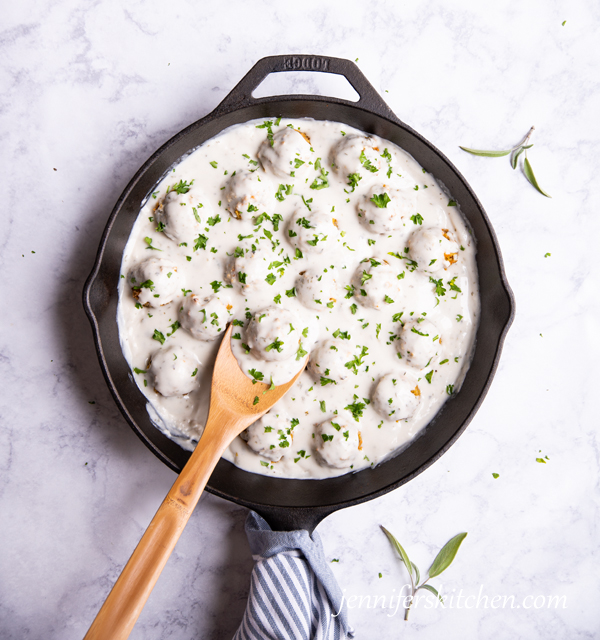 Gravy is known for its ability to take an otherwise healthy meal and beset it with fat and calories. But no worries with this rich and creamy gravy. It's made with healthy, whole food ingredients and will only add delicious flavor and abundant health to your meal.
This easy-to-make herb gravy is the perfect sauce for any holiday meal, like Thanksgiving or Christmas; but it's so easy, you can serve it every single day.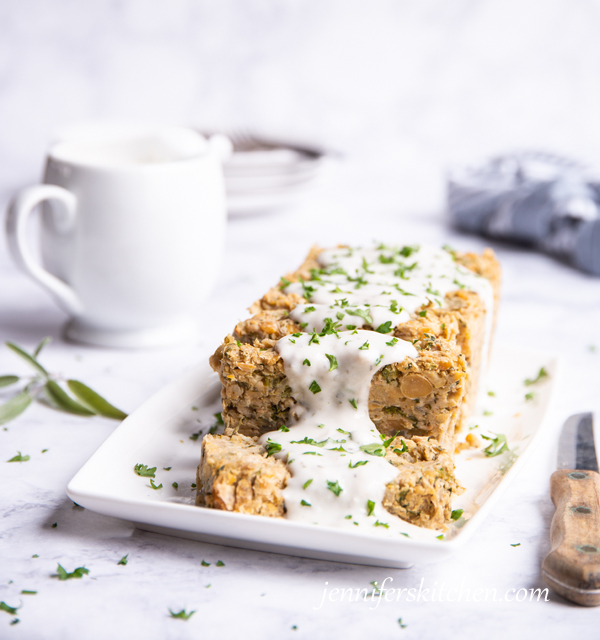 This website is brought to you without annoying ads because we can live healthier lives without the influence of marketing. But running a high-traffic site is expensive. How can you help? If you purchase anything through the affiliate links on my site, your cost is the same, but I receive a small commission. Thank you!
How to Serve this Gravy
This healthy herb gravy is scrumptious on a loaf (like this Chickpea Loaf), meatballs (or no-meatballs), and mashed potatoes (like these BEST MASHED POTATOES EVER).
Gravy Made Simple
Some vegan gravy recipes are rather complicated, with their caramelized onions, mushrooms, and/or homemade vegan sausage, but this gravy is simple, quick, easy, delicious, and healthy.
A Crowd-Pleaser
Aunt Sally is gluten-free. Olivia just decided she wanted to go vegan. David is allergic to corn and soy. Lily is doing great on her oil-free diet. And Sam won't eat anything refined or processed.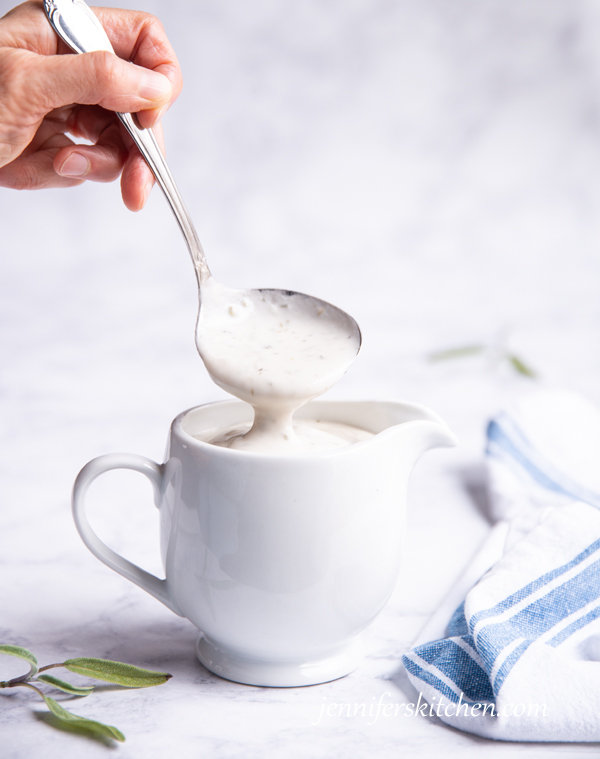 How do you serve a meal at a family gathering with all these individual preferences and allergies?!?

This healthy herb gravy is the perfect solution because it works for nearly all dietary preferences. It contains:
No gluten
No oil
No vegan butter
No white flour
No cornstarch
No soy sauce
No Braggs liquid aminos
No nutritional yeast
Plus it defied all gravy rules in that it is actually a good gravy for weight loss!
Just simple, delicious gravy made with healthy, whole-food ingredients.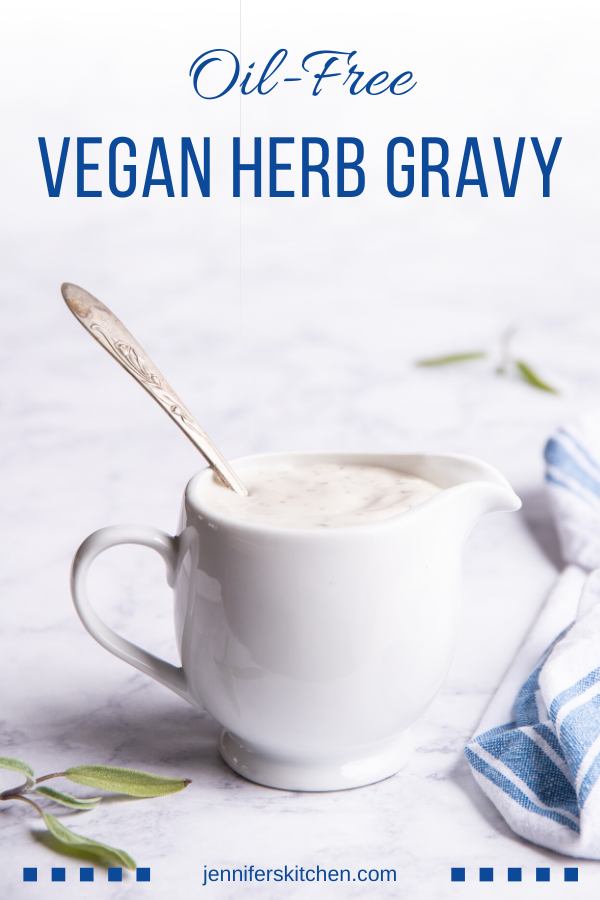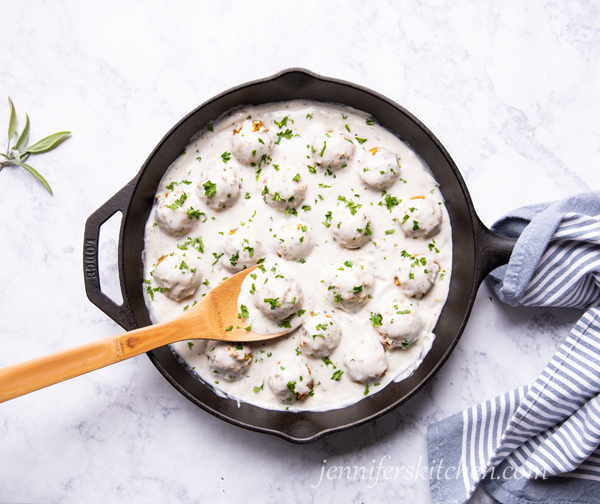 Herb Gravy (Vegan, Gluten-Free, Oil-Free)
A simple, herb gravy made from healthy, whole-food ingredients
Instructions
Over medium-low heat, lightly toast flour in a dry pan for about 5 to 8 minutes or until flour becomes very lightly golden. Stir often to ensure even toasting. Set aside to cool.

Place cashews and 1 cup water in blender. Blend until smooth.

Add flour and remaining 1 1/4 cups of water and blend until smooth.

Pour mixture into a saucepan. Whisk in salt and herbs.

Heat over medium-high heat, stirring constantly until gravy comes to a boil and is thickened.  I use a heat-proof spatula for this.

Serve hot.
Notes
This recipe makes a thick gravy. If you prefer a thinner gravy, increase water amount by 1/4 cup.
Make Ahead Tip:
Gravy may be made ahead and refrigerated. It will thicken slightly more when refrigerated. To reheat, place in a saucepan, add a couple tablespoons of water, whisk to combine and then heat slowly, stirring occasionally, until hot.
This gravy can be frozen. When ready to serve, place thawed or partially-thawed gravy in a saucepan and heat over medium heat. Whisk gravy often while heating.
* * * This recipe for Herb Gravy is … gluten-free, plant based, oil-free, sugar-free, high in fiber, dairy free, egg-free, vegetarian, vegan, and made from real, whole foods.
>> One quick request: if you like this recipe, please leave a rating and a comment. Ratings help more people find these healthy recipes!
Print Recipe
You my also like:
Before you go . . .
Did you know that you can eat all this delicious food AND lose weight? You can!
No calorie counting. No portion sizes.
Join my online weight loss program today!