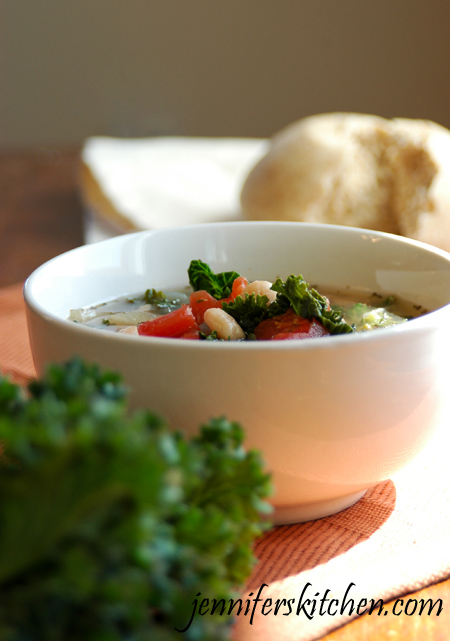 I think it was Abraham Lincoln who said, "Am I not destroying my enemies when I make friends with them?"
Although we love black beans, pintos, garbanzos, and lentils, white beans aren't exactly our favorite. I consider that an invitation – a challenge – to try to find a way to make friends with those little white villains.
Usually this involves pureeing or otherwise hiding the offending food. However, this project was surprisingly easy. Put the beans in a great tasting soup and voila! We devoured them.
Eat Your Greens
This recipe is also a super way to eat greens, which, by the way are an excellent source of bone-building calcium. Oust the milk with only 237 mg of calcium per 100 calories and bring on the greens at 459 (!) mg per 100 calories.
Wow! What a tasty way to build those bones!
Weight Loss Tip:
You probably already knew this, but with all the fiber and veggies in this soup, of course it's a good weight loss food. Help yourself to seconds!
Packed Lunch Tip:
Put some hot Savory Bean and Kale Soup in a warmed thermos to take with you to work or school for a delicious and filling lunch.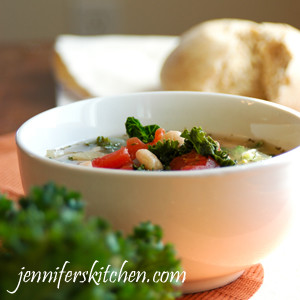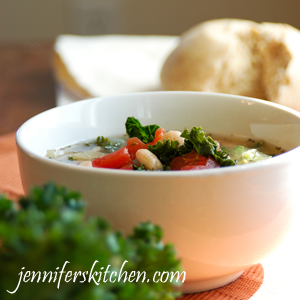 Print
Savory Bean and Kale Soup
Kale provides more nutrition per calorie than just about any other food. This leafy vegetable is an super source of calcium, vitamin A, iron, fiber, vitamin K, and more!
Ingredients
1 large onion, diced
1 tablespoon olive oil
2 cloves garlic, minced
1 1/2 cups canned diced tomatoes
3 cups water, stock, or broth
2 teaspoons dried basil
2 teaspoons granulated onion
1 1/2 teaspoons dried oregano
1 teaspoon dried parsley
1/4 teaspoon granulated garlic
pinch dried sage
5 cups coarsely chopped raw kale
2 1/2 cups cooked Great Northern beans, drained
1 teaspoon salt, scant
Instructions
In a large pot, over medium (not high) heat, sauté onions in oil for one minute. Add garlic and sauté for an additional minute.
Add tomatoes, water (or stock or broth), and seasonings. Cover, increase heat to high, and bring to boil.
Meanwhile, prepare kale.
When soup comes to a boil, stir in kale. Boil uncovered for one minute, and then reduce heat to a low boil. Cook, uncovered, stirring occasionally, until kale is tender (about 15 minutes).
Stir in beans and simmer until thoroughly heated. Season with salt to taste.
Serve hot.
Notes
When purchasing kale or picking it from your garden, choose the smaller leaves as they are more tender and often sweeter than the larger leaves.
Popular Posts