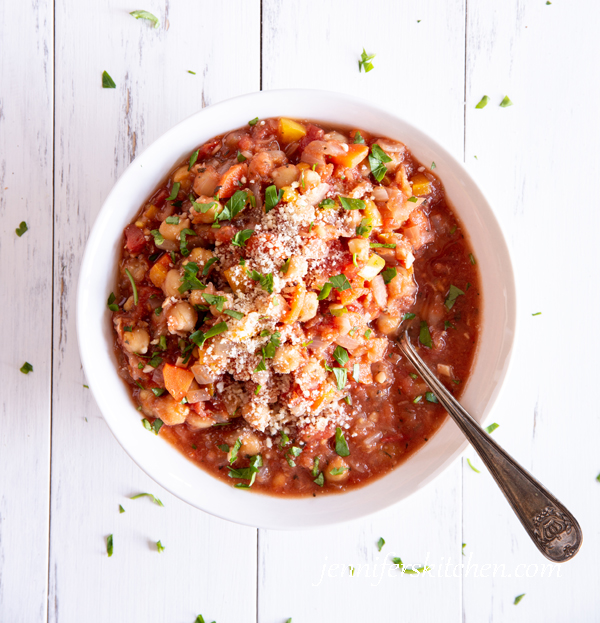 You know, sometimes the simplest recipes are the most delicious. This Chickpeas Italiano recipe is one of them.
This savory Italian stew takes humble chickpeas and combines them with luscious tomatoes, sauteed onions, carrots, and peppers and perfectly seasons them with just the right herbs. Simmer this lusciousness on your stovetop and the mouth-watering aroma coming from your kitchen may have all the Italians in your neighborhood knocking at your door.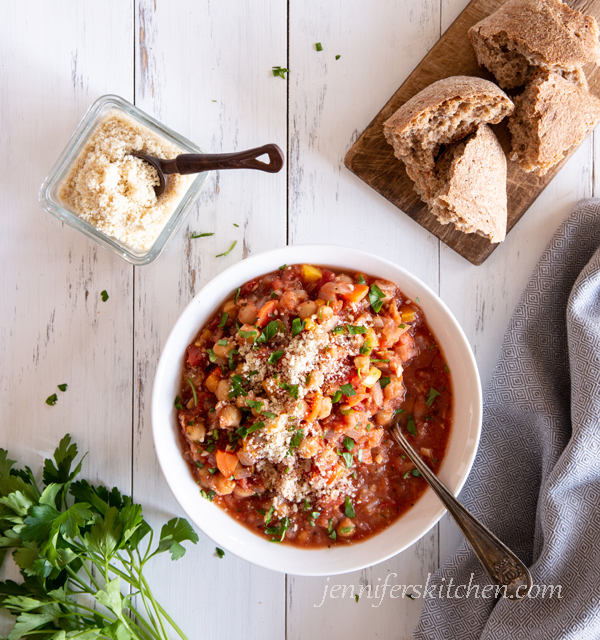 Chickpea Italiano is a simple, healthy, vegan, and gluten free dish that is so easy to make. It's delicious served with crusty, whole-grain bread, or over rice or quinoa. I absolutely love Chickpeas Italiano with my homemade vegan Parmesan cheese.
Chickpeas vs Garbanzo Beans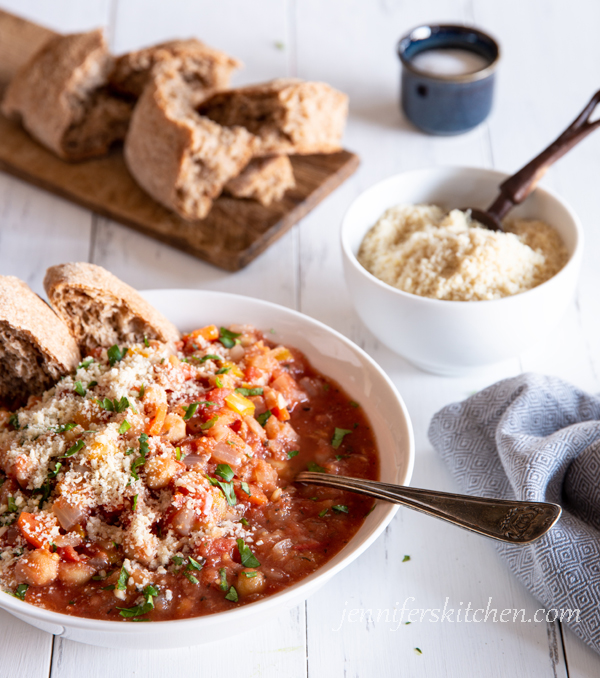 What's the difference between chickpeas and garbanzo beans? Absolutely nothing. Two different names, but chickpeas and garbanzo beans are in fact the same thing.

This website is brought to you without annoying ads because we can better live healthier lives without the influence of marketing. But running a high-traffic site is expensive. How can you help? If you purchase anything through the affiliate links on my site, your cost is the same, but I receive a small commission. Thank you!
Tip for making Chickpeas Italiano
While canned chickpeas can be really convenient, you don't want to use them in this dish. This Chickpeas Italiano recipe calls for the tenderness that you get when you cook your own chickpeas (garbanzo beans).
Never cooked your own? No problem! Cooking your own chickpeas is simple and easy and only takes a few minutes of your time. Go to this post for step-by-step instructions for the most lusciously tender chickpeas.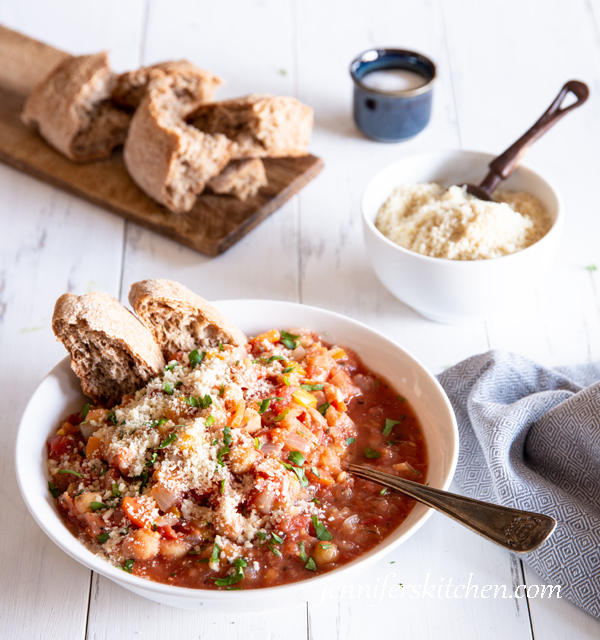 Where to buy the best dried chickpeas (garbanzo beans)?
I used to buy my chickpeas from the grocery store or Amazon, but I wasn't always happy with them. Sometimes they were old and didn't cook up nicely and other times they didn't have the freshest flavor.
Then I try chickpeas from Azure Standard. I could hardly believe how amazingly tender and delicious they were! Chickpeas from Azure are, hands-down, the BEST chickpeas I have ever tasted! They are super fresh and flavorful and always cook up tender and buttery. Once you try them, you'll never want garbanzo beans from anywhere else.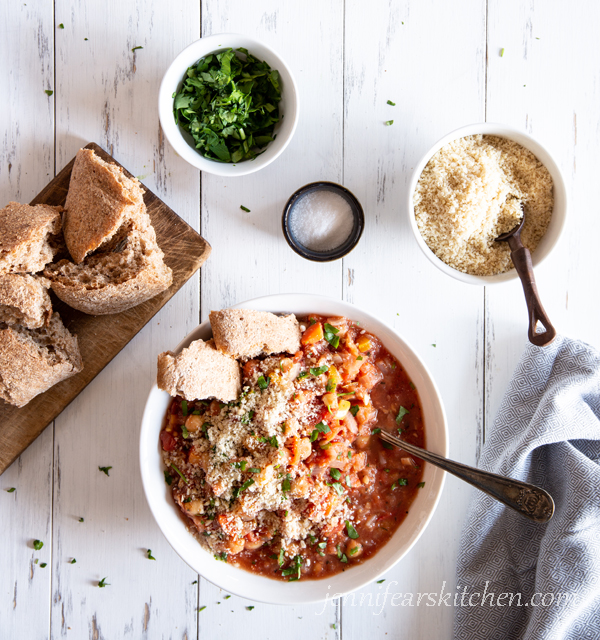 Can Chickpeas Italiano be made ahead of time?
Absolutely! Chickpeas Italiano keeps very well in the fridge for 4 to 5 days and can be easily reheated for a for a quick lunch or dinner.
After cooking, cool the Chickpeas Italiano, cover, and refrigerate. Add a small amount of liquid before reheating.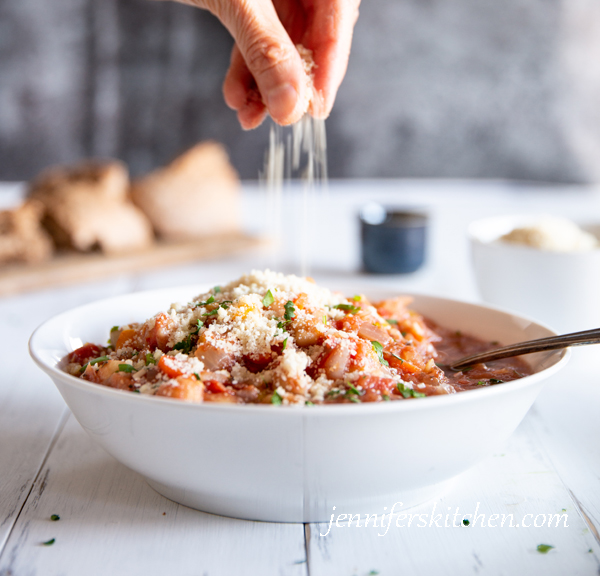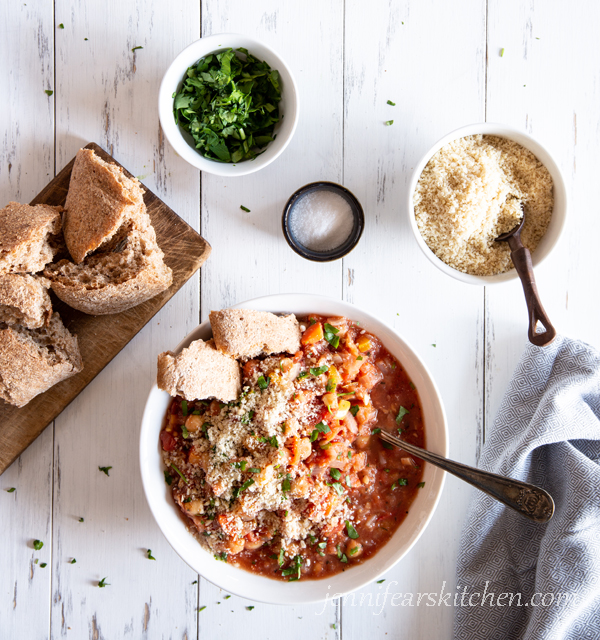 Chickpeas Italiano
A savory and full-of-flavor thick Italian stew. Delicious served over brown rice or crusty bread.
Ingredients
2

large

onions, diced

3/4

cup

diced (about 1 small) orange or yellow pepper

1

medium

carrot, diced

6

cloves

garlic, minced

2 1/2

cups

cooked chickpeas (garbanzo beans)

1

(14-ounce) can

petite diced tomatoes, not drained

1

(14-ounce) can

crushed tomatoes

1 1/2

teaspoon

dried oregano

1 3/4

teaspoon

dried basil

1 3/4

teaspoons

granulated onion

1

teaspoon

salt

-

scant

1/4 – 3/4

cup

broth from cooking the garbanzos

-

(Amount needed depends on how thick you want the final product to be)
Instructions
Sauté onions, pepper, and carrot over medium heat for about 5 – 6 minutes or until just begin to soften. (You can use a tablespoon or two of olive oil to sauté the onions or you can use this method to sauté without oil.)

Add garlic and sauté for one more minute.

Add remaining ingredients. Cook until thoroughly heated. If desired, simmer for 10 minutes to allow flavors to meld.

Serve hot over brown rice, toast, or pasta.
Notes
* * * This Recipe for Chickpeas Italiano is … gluten-free, plant based, oil-free, sugar-free, high in fiber, dairy free, egg-free, vegetarian, vegan, and made from real, whole foods.
>> One quick request: if you like this recipe, please leave a rating and a comment. Ratings help more people find these healthy recipes!
Print Recipe
Want More?
For more healthy and delicious recipes like this one that will simplify your journey to a healthier and thinner you, check out my
Healthy Weight Loss Program!
You my also like:
Before you go . . .
Did you know that you can eat all this delicious food AND lose weight? You can!
No calorie counting. No portion sizes.
Join my online weight loss program today!