Lime, Rice, and Beans Bowl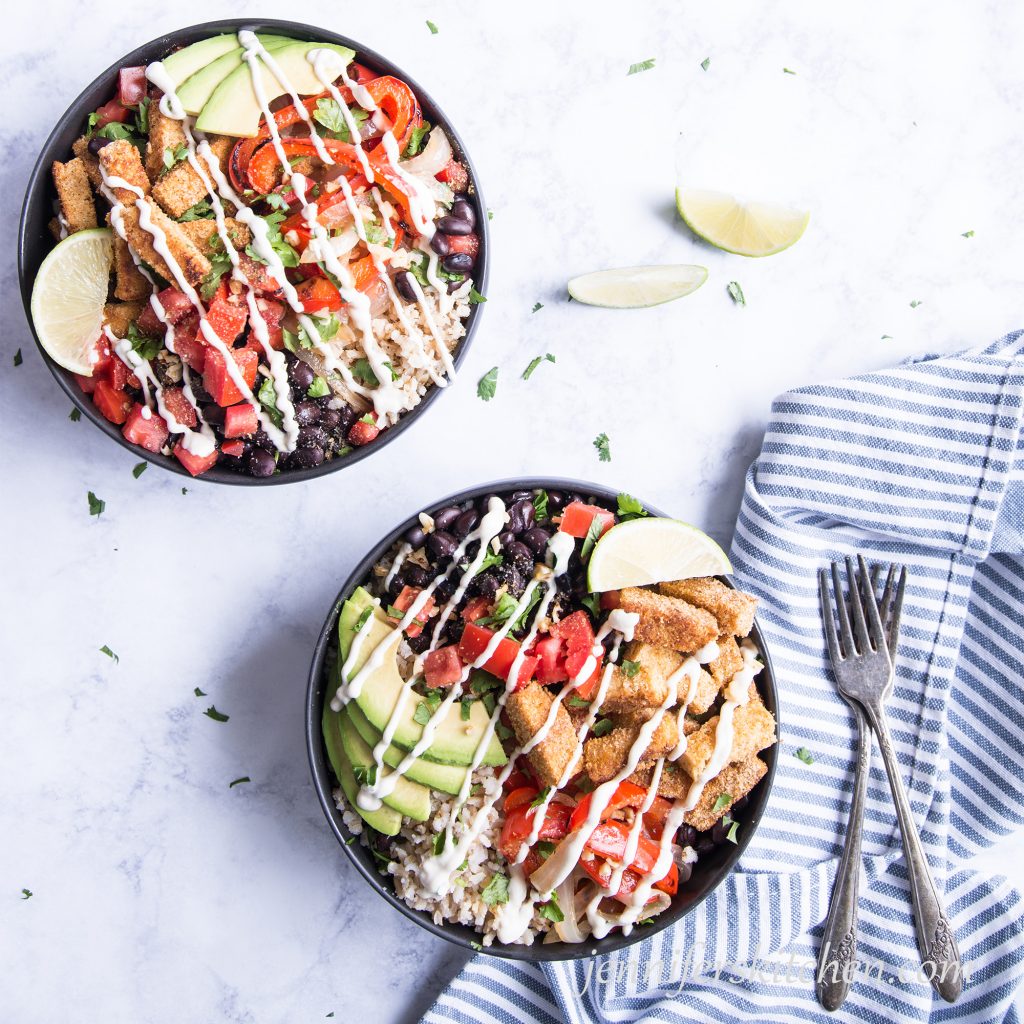 Rice is the perfect choice when you're really hungry and want to eat 1,896 of something.
And this Lime Rice, and Bean Bowl is the perfect choice when you want something delicious, filling, slimming, and inexpensive.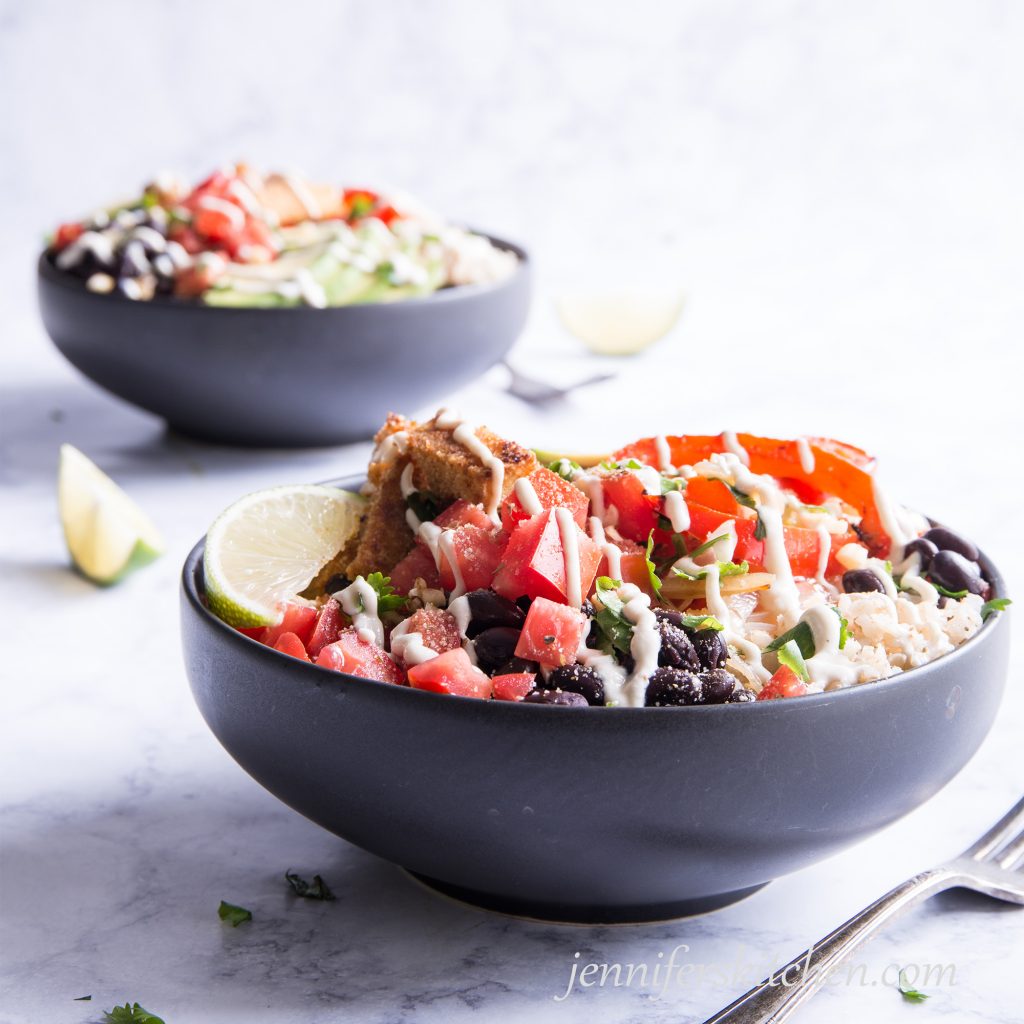 Slimming
Let's start with the slimming.
Not all calories are created equal. Different foods go through different metabolic pathways in your body and can have vastly different effects on your hormones, metabolism, and satiety and hunger levels.
This Lime Rice, and Beans Bowl is chock full of nutrients that help balance hormones, rev metabolism, and keep you satisfied for hours. Just watch those extra pounds just melt away. We're talking loads of fiber, phytonutrients, and antioxidants. (For more delicious and slimming recipes, check out my Weight Loss Program)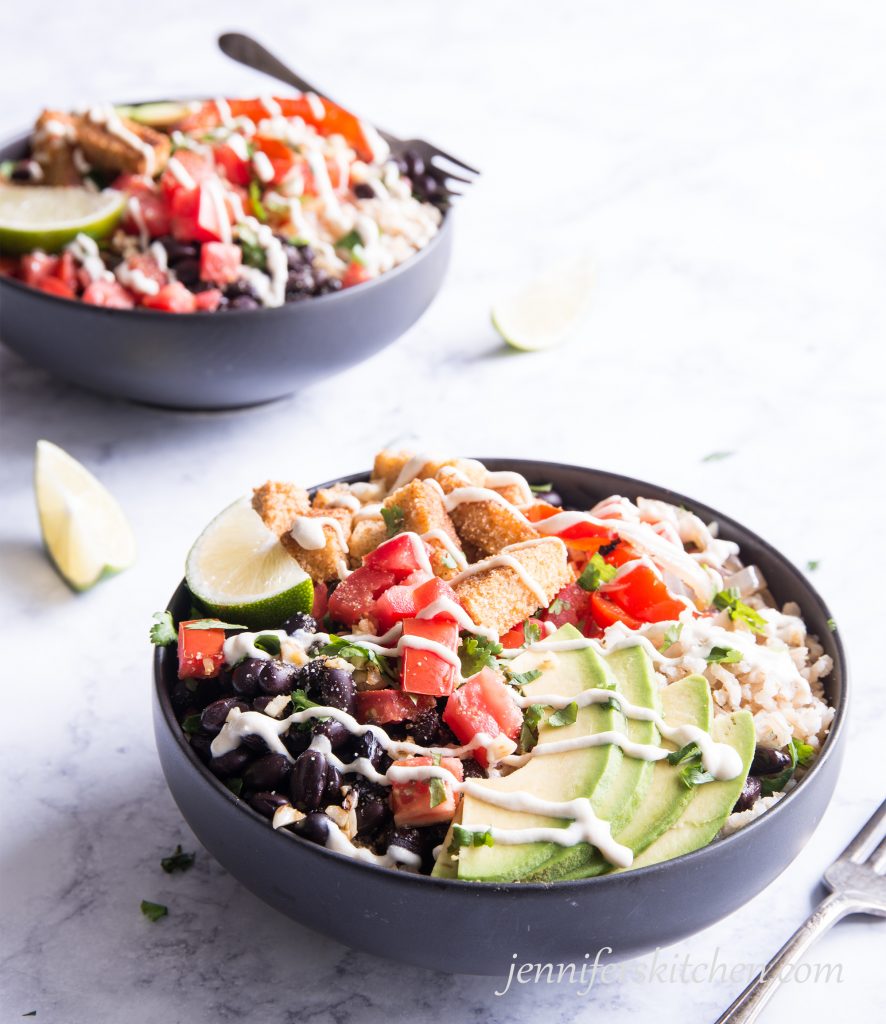 Filling
Unlike typically diet food (I'm looking at you, lettuce) which leaves you feeling hungry an hour later – (ha! Who are we kidding? I would be hungry 5 minutes later), this luscious Rice, and Beans Bowl is amazingly filling and will leave you satisfied for hours.
Inexpensive
At just pennies (literally) per serving, you can get much more economical than rice and beans. We're talking cheap.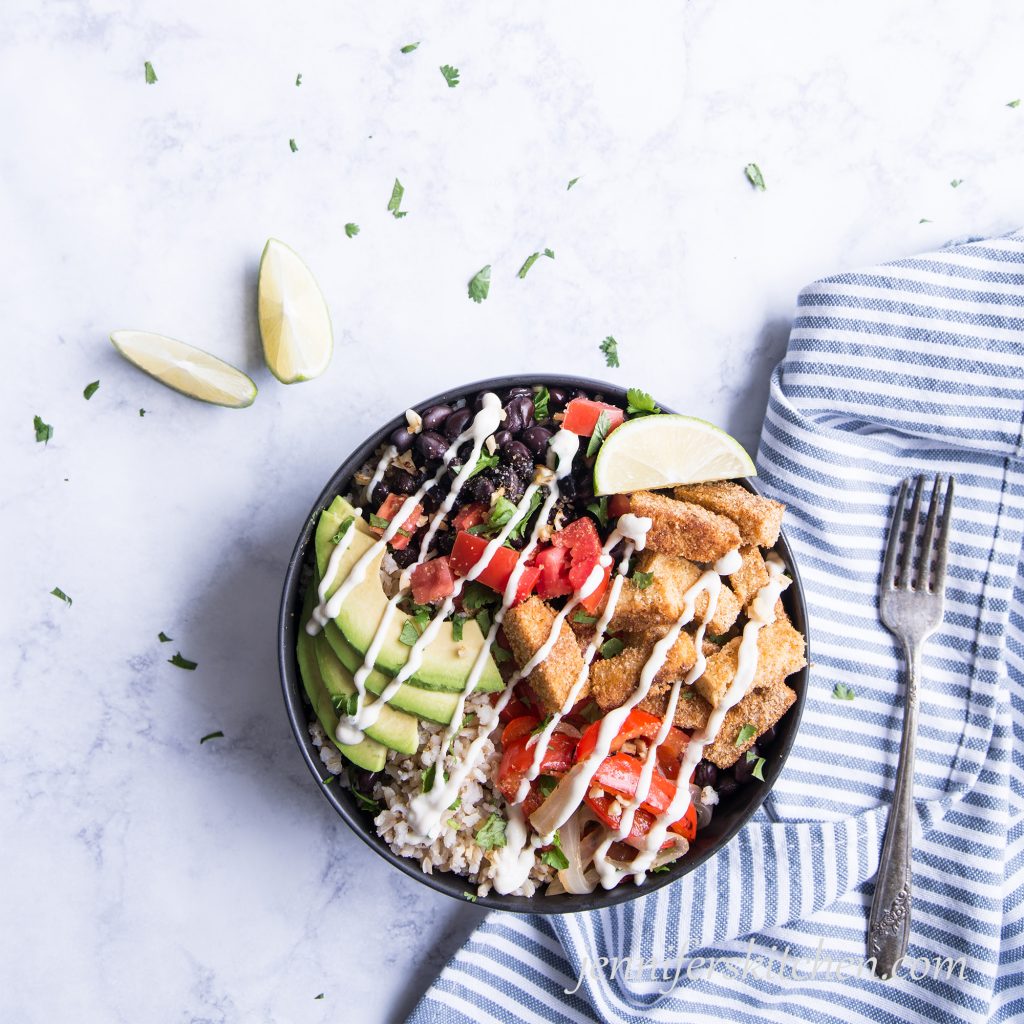 This website is brought to you without annoying ads because we can better live healthier lives without the influence of marketing. But running a high-traffic site is expensive. How can you help? If you purchase anything through the affiliate links on my site, your cost is the same, but I receive a small commission. Thank you!
Delicious
We've got perfectly seasoned rice, zippy peppers and onions, delicious black beans, fresh and tangy tomatoes, creamy avocado, aaaaaannnnnnddd ……… the most amazing tofu ever! Even if you don't like tofu, you'll probably like it prepared this way. In fact, truth be told, I might make this dish just so I could eat the tofu.
Mix that all together, squeeze some fresh lime over top, add a few slices of avocado (or some yummy guacamole), and you are set for the most satisfying, flavorful, and clean-eating experience you've had in a long time.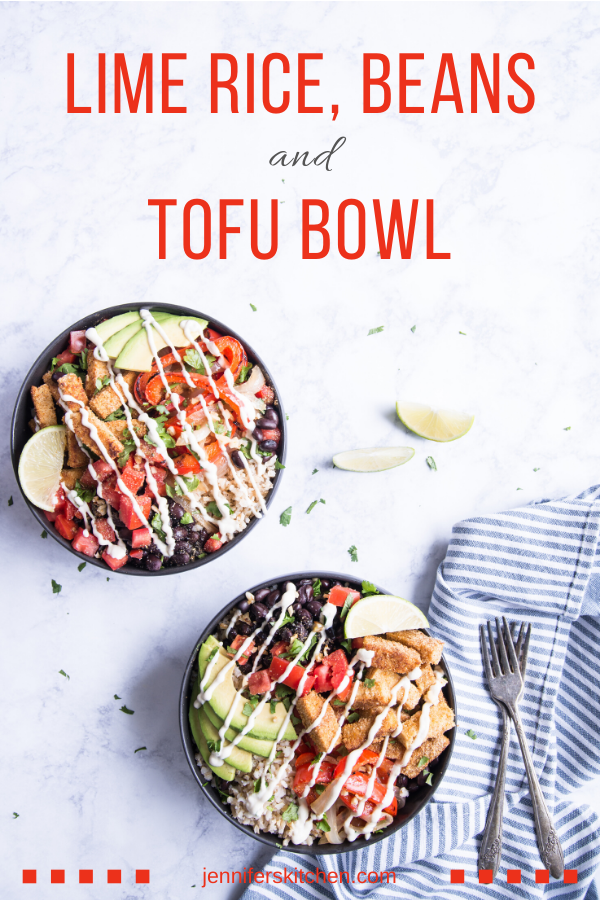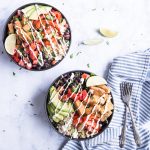 Lime Rice, and Beans Bowl
This naturally gluten-free dish is so flavorful and filling and taste fabulous topped with guacamole.
Ingredients
Tofu
14

ounces

super-firm, water-packed tofu

-

see note

4

teaspoons

granulated onion -

(1 tablespoon + 1 teaspoon)

1

teaspoon

cumin

1/2

teaspoon

sweet paprika

1

teaspoon

salt
Beans and Vegetables
2

medium to large

onions, cut into strips

1/2

medium

red bell pepper, cut into strips

1

tablespoon

olive oil

7

cloves

garlic, minced or diced small

1 1/2

cups

cooked black beans

-

rinsed and drained, (one 15-ounce can)

1

cup

diced fresh tomatoes

1/3

cup

chopped fresh cilantro
Toppings
1

ripe avocado

1

fresh lime
Instructions
Press water out of tofu. Cut into 1/2-inch x 1/2-inch strips.

Preheat oven to 375°F.

Mix together tofu seasonings in wide-bottom bowl. Add all of the tofu at once to the bowl and shake bowl from side-to-side to distribute seasonings onto tofu.

Place tofu onto an oiled baking sheet. (If desired, spritz with oil or cooking spray to help it brown more.)

Place in oven and bake at 375°F for 15 minutes.

Meanwhile, in a medium pan, sauté onion and pepper in oil over medium heat until onions begin to look translucent (about 7 minutes).

While vegetables are sautéing, chop cilantro and tomatoes. Set aside.

Rinse and drain beans. Set aside.

Add garlic to onions and sauté for 1 additional minute. Remove from heat.

Place hot rice in bowl. Spoon vegetables over rice.

Optional step: If you want your beans hot, you can heat them in the pan that the onions were sautéed in now.

Spoon beans over rice.

Add tomatoes and cilantro.

Add baked tofu.

Top with avocado (or guacamole) and serve with lime wedges.
Notes
I use super-firm tofu for this recipe because it makes a chewier, meatier final product and it doesn't fall apart like other tofu.  It's available at Trader Joe's, Meijer, and other major grocery stores.
>> One quick request: if you like this recipe, please leave a rating and a comment. Ratings help more people find these healthy recipes!
Print Recipe
Want More?
For more healthy and delicious recipes like this one that will simplify your journey to a healthier and thinner you, check out my
Healthy Weight Loss Program!
You my also like:
Before you go . . .
Did you know that you can eat all this delicious food AND lose weight? You can!
No calorie counting. No portion sizes.
Join my online weight loss program today!