The Secret to Great-Tasting Quinoa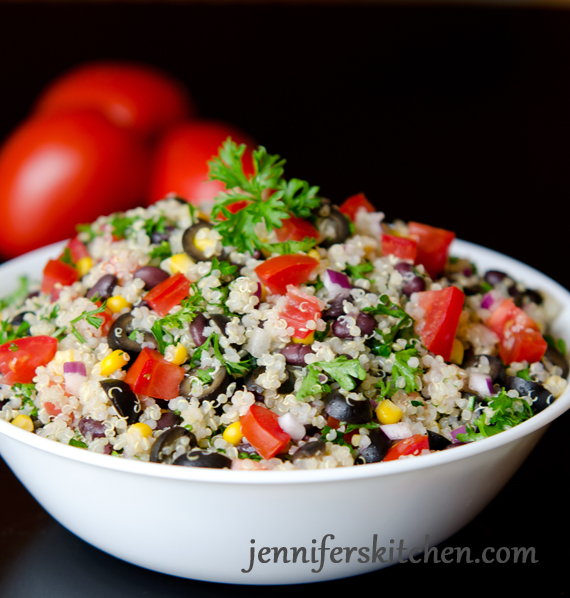 The first time I tried quinoa (pronounced KEEN-wuh) I was not impressed. It had an unpleasant bitter taste that tainted everything I mixed it with. After that initial try, I put what was left of the uncooked quinoa in the back of my freezer and forgot about it for a while.
But then I came across some instructions that explained that quinoa has a coating on the outside of each tiny grain-like seed which can be removed by rinsing the quinoa several times before cooking. This will get rid of the bitter taste.
Armed with this new information, I decided to give quinoa a second chance.
Much. Better.
And I'm glad I did. Quinoa that's been rinsed before being cooked is quite good. No bitter taste.
But still that bag of quinoa gradually got pushed to the back of the freezer again only to be eventually forgotten … again. I really didn't want to take the time and trouble to rinse quinoa every time I wanted some. Those tiny seeds are just not that easy to wash. You either have to change the water many times to get all the bitterness out or you have to rinse them for several minutes under running water and they tended to slip right through even my very-fine mesh strainer.
But now all that is changed.

Pre-Rinsed Quinoa
Apparently, quinoa suppliers have wised up and just about all commercially-available quinoa now comes with the bitter, outer shell already removed – which means I don't have to rinse my quinoa!
How to Cook Quinoa
To cook quinoa, place 2 cups of water or vegetable stock or broth (scant) in a wide-bottom pan and bring to a boil. Stir in 1 cup uncooked quinoa, cover with a tight-fitting lid, and return to a boil.
When liquid comes to a boil, reduce heat, and simmer for 15 to 20 minutes or until all water is absorbed. I use my pan with glass lid so I can see when the liquid is absorbed without lifting the lid (which can affect the cooking time and results). When quinoa is properly cooked, you can see little curled "tails" emerged from the grains/seeds.
Remove from heat, fluff with a fork, and season to taste. Or use it to make this yummy Mexican Quinoa Salad or in these awesome Gluten-Free Quinoa Patties.
Cook Once, Eat Twice
We like quinoa so much I cook double what we need and keep what's left over in the refrigerator for a tasty addition to just about any meal. I've read that quinoa will keep for about 4 days in the refrigerator, but I've never been able to test this personally as the leftovers in our frig get eaten pretty fast.
Leftover quinoa makes a great base for a quick and easy main-dish salad. Just mix together cold, cooked quinoa, drained beans, diced tomatoes and olives (or your choice of vegetables), lemon juice, olive oil, and seasonings. In only 5 to 10 minutes you have a fabulously nutritious, amazingly delicious meal!
Where to Buy Quinoa
You can buy quinoa from most grocery stores, but (because I enjoy shopping about as much as I enjoy pulling my toenails off one-by-one) I like to get mine from Azure Standard. It's always fresh and delicious. They carry white quinoa, red quinoa, black quinoa, and even quinoa flakes!
I have also purchased quinoa from Amazon and it's usually decent quality. One click and it's at my door in two days.
I've never been really happy with quinoa from the grocery store; it's not only more expensive, but it usually isn't fresh.
Nutrition
Quinoa is low in calories, high in protein, (it has all the essential amino acids) and high in fiber. And one cup of quinoa provides 58% of your daily requirements for manganese and 19% of the folate. It's also gluten-free.
Go on a Quinoa Adventure
Quinoa can be used in so many ways. It is the ultimate in versatility. If you have never heard of quinoa, here's the perfect recipe to start with!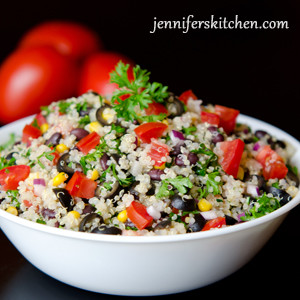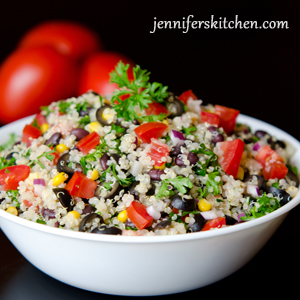 Mexican Quinoa Salad
Made from fresh vegetables and whole grain quinoa, this dish is highly-nutritious and makes a delicious picnic dish.
Ingredients
3

cups

cooked quinoa

-

(3/4 cup uncooked)

1/3

cup

diced red onion

1

clove

garlic, crushed

3/8

cup

lemon juice

1/2

cup

minced fresh parsley

1/4

cup

finely chopped fresh cilantro

1

teaspoon

dried oregano

1

teaspoon

granulated onion

1/2

teaspoon

dried basil

1/2

teaspoon

cumin

1/4

teaspoon

granulated garlic

1

teaspoon

salt

-

or to taste

1 1/2

cups

cooked black beans

-

rinsed and drained, (one 15–ounce can)

1 1/2

cups

organic corn kernels

-

drained, (one 15-ounce can)

1/2

cup

sliced black olives

-

(one 2.25-ounce can)

2 – 4

tablespoons

olive oil

1

medium

fresh tomato, diced small

1/2

medium

red bell pepper

-

optional
Instructions
Mix together cooked and cooled quinoa, diced onion, garlic, and lemon juice in a large mixing bowl.

Finely chop parsley and cilantro. (A food processor works well for this.)

Stir into quinoa along with seasonings, black beans, corn, and olives.

Stir in oil, tomato, and pepper immediately before serving.

Serve at room temperature or chilled.
Notes
For a heartier dish, add an additional 1 1/2 cups (one 15-ounce can) black beans.
>> One quick request: if you like this recipe, please leave a rating and a comment. Ratings help more people find these healthy recipes!
Print Recipe
You my also like:
Before you go . . .
Did you know that you can eat all this delicious food AND lose weight? You can!
No calorie counting. No portion sizes.
Join my online weight loss program today!