Simply Delicious Tomato-Free Guacamole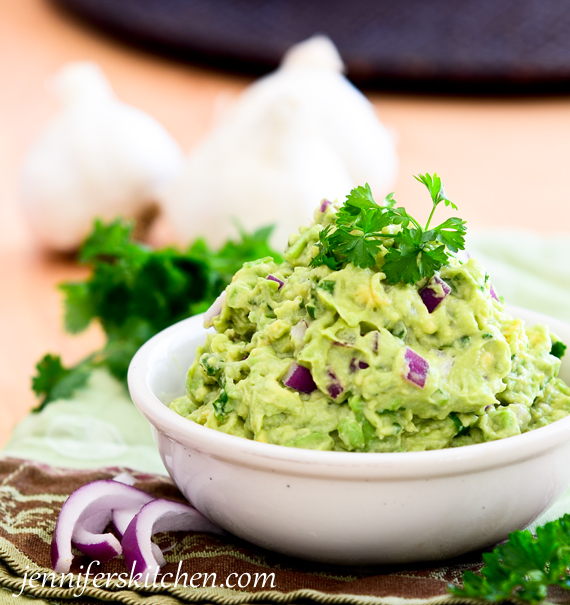 I am definitely a dip-kinda-girl. I don't really like raw vegetables, but give me a dip to go with them and that's a different story.
Beyond Dipping …
And have you noticed you can use dips for more than just dipping? On sandwiches, over potatoes, mixed into pasta, on top of beans, stirred into soup….
My Favorite Dip
My favorite dip, hands down, is guacamole. I could eat it every day … and if avocados were a little less expensive, I probably would. Hmmm … maybe I could grow my own avocados. (Why does my brain always go in this direction?) Does anyone know how to grow an avocado tree? Not the kind you start by sticking toothpicks into an avocado pit and putting it into a glass of water on the window sill, but a real one that produces real avocados.
My kids say we should eat guacamole every day, and lots of it. Their reasoning? "If we lived in South America we would eat it every day and we'd even eat it for breakfast."
Sounds logical.
There are lots of ways to make guacamole. My favorite is also the simplest: avocados, onion, cilantro, lime, garlic, and salt. Five minutes – start to finish. Mild, yet full of flavor.
This guacamole is actually tomato-free. My thinking is, avocados are soooo good, why "water down" the fabulous avocado taste with tomatoes? Especially the plastic-y, winter-time tomatoes? But if you like tomatoes, go ahead and add a few. Enjoy! : )
Want some more avocado yumminess?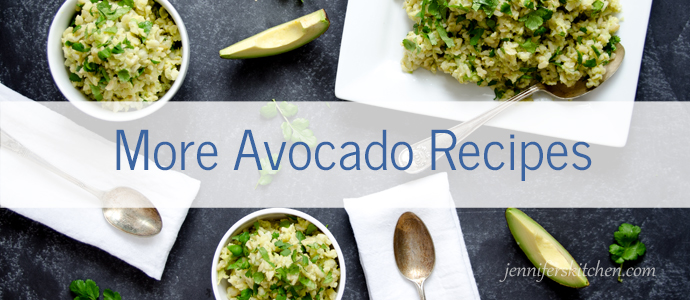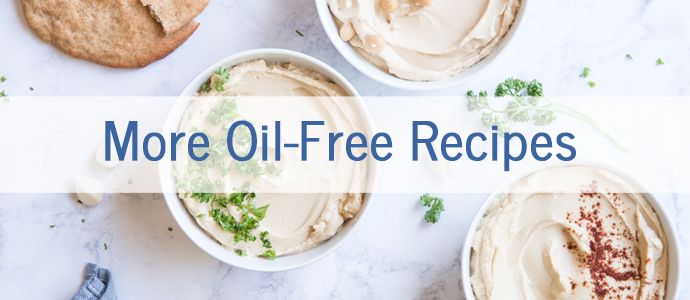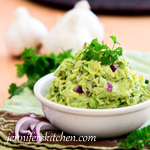 Simply Delicious Guacamole
Simply delicious guacamole.
Ingredients
1/4

small to medium

red onion, diced

1

small

clove garlic, crushed

1

tablespoon

lime juice -

or to taste

3

tablespoons

fresh chopped cilantro

1/2

teaspoon

salt

2

medium

ripe Hass avocados, peeled and pit removed
Instructions
Dice onion and place in mixing bowl.

Crush garlic using a garlic press and place in mixing bowl with the onion.

Add lime juice, cilantro, and salt to bowl.

Add avocado and mash with a fork. Guacamole should have some lumps left; it should not be perfectly smooth.

Add more lime juice to taste if desired.

Serve immediately.
Notes
Be sure to use very ripe avocados for the best tasting guacamole.
>> One quick request: if you like this recipe, please leave a rating and a comment. Ratings help more people find these healthy recipes!
Print Recipe
Leave a comment
Your comments make my day! 🙂
You my also like:
Before you go . . .
Did you know that you can eat all this delicious food AND lose weight? You can!
No calorie counting. No portion sizes.
Join my online weight loss program today!