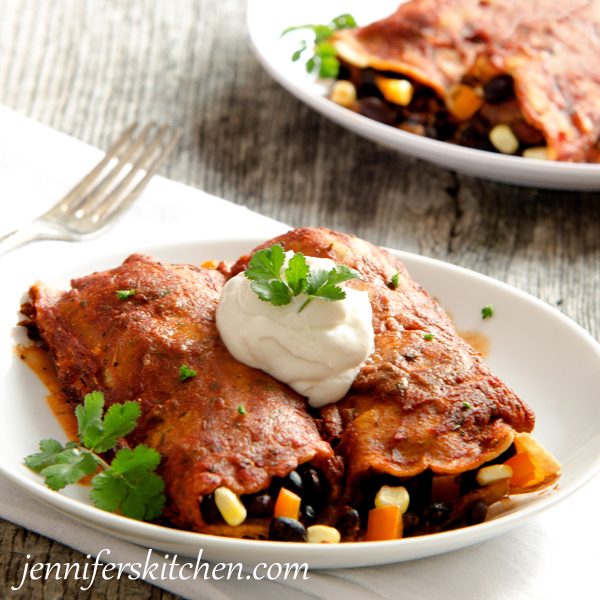 Sour cream. When I was young, I loooooved sour cream.  I liked it so much I could eat it plain straight out of the container.
I ate in on my baked potatoes, fried potatoes, and tater tots.  The sole purpose of burritos, enchiladas, and tacos was to be able to eat sour cream (and guacamole).  I mixed extra into my stroganoff.  I dipped everything from chips to apples to carrots to crackers to granola bars in it.  I topped fruit salad, soup, and chili with it. I ate it on just about everything.
(Side note: You may notice that all my recipes are assigned to categories – Artichoke-Stuffed Potatoes under Side Dishes, Maple-Nut Granola under Breakfast, and so forth. I really had a hard time limiting this sour cream recipe to only Dips. I mean, what's better than a dollop of sour cream on your morning granola?)
Sour Cream was definitely one of my top ten.  It tasted soooo good … but, alas, it was soooo fattening.
Is There a Healthier Sour Cream?
Since then I've tried other less-fattening sour cream options.  But even low-fat sour cream gets more than 50% of its calories from fat, and much of that fat is saturated fat, which has been shown to be a contributor to heart disease, dementia, diabetes, and obesity.  And some brands of low-fat sour cream include ingredients like gums, modified starch, and Propylene Glycol Monoester in it. (What is that anyway?)
I've also tried some vegan versions, but it seems like the ones that taste good were still fattening and the ones that weren't fattening, tasted just ok.
My friend says this is an inconvenient fact of life.  But I disagree.
So I set out to find a way to have the same cool, creamy, rich, and, well, fattening taste as full-fat dairy sour cream … without the heart-attack producing, hip-hugging fat.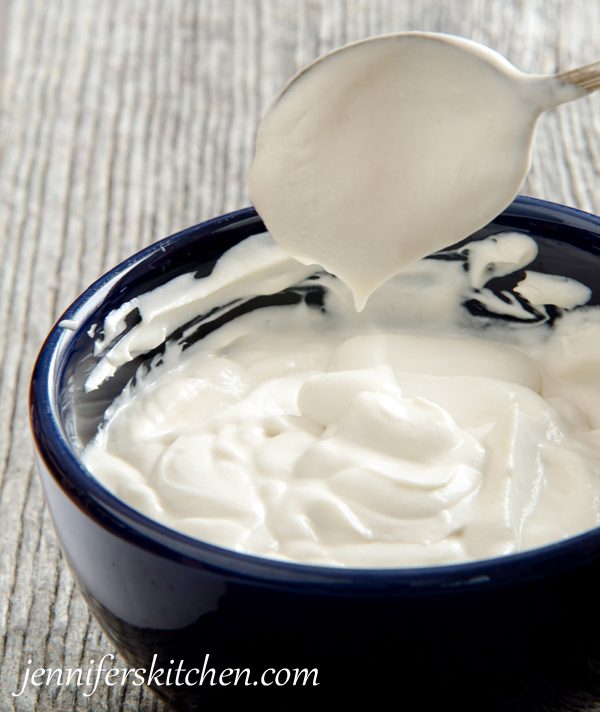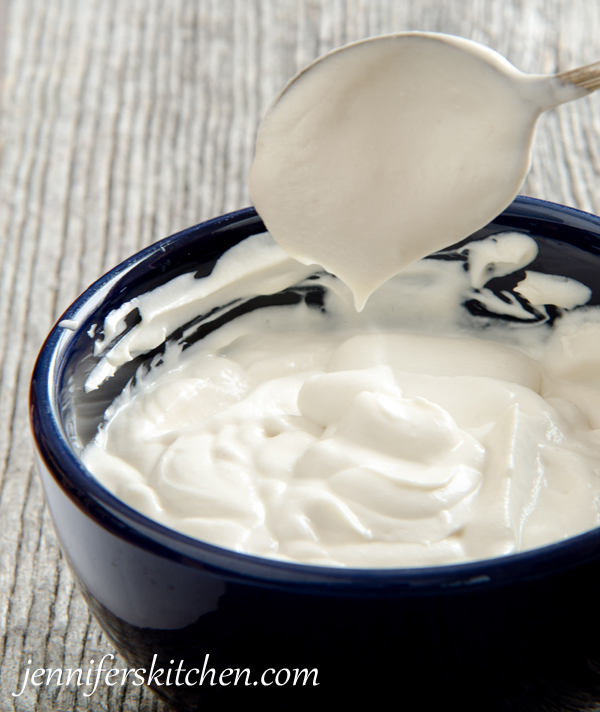 This website is brought to you without annoying ads because we can better live healthier lives without the influence of marketing. But running a high-traffic site is expensive. How can you help? If you purchase anything through the affiliate links on my site, your cost is the same, but I receive a small commission. Thank you!
And this is what I came up with.  It's easy to make – takes me about 10 minutes of actual working time – and is very healthy.
Why It's Better
This Soy-Free, Vegan Sour Cream contains about half the calories, half the total fat (and the fat from the nuts is a healthy fat), and less than half the saturated fat as regular sour cream.  It has no cholesterol (regular sour cream has about 15 mg of cholesterol per serving) and it even has some fiber (something sour cream can never claim).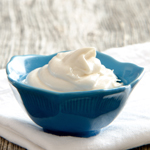 Print
Vegan Soy-Free Sour Cream
Yield 2 cups
Thick, rich, and creamy, but not fattening.
Ingredients
3/4 cup raw cashews
2 cups water, scant – divided
1 1/4 teaspoons agar powder  (What is agar? This post I wrote about it tells what it is, how to use it, and where to find it.)
2 tablespoons mild-tasting coconut oil - See note
2 tablespoons lemon juice, scant
1 teaspoon granulated onion, scant
1/8 teaspoon garlic powder or granulated garlic
1 teaspoon salt
Instructions
Place cashews in a colander and rinse under hot water. Set aside to drain.
Place 1 cup water and agar in a small saucepan, cover, and bring to boil. Reduce heat and simmer for one minute.
Meanwhile, place drained cashews, remaining 1 cup water (scant), oil, lemon juice, and seasonings in blender and blend until very smooth and creamy. (A heavy-duty blender works best for this recipe; other blenders may not get the mixture smooth enough.)
Add agar mixture to blender. Scrape pan out with a rubber spatula to be sure to get all of mixture. Blend until thoroughly mixed.
Place mixture in refrigerator to chill for at least two hours.
When mixture is thoroughly chilled and set, blend again until smooth and creamy.
Return to refrigerator to thicken.
Notes
1. Increase oil to 1/4 cup for a richer sour cream that tastes a little bit more like dairy sour cream.
2. One reader tried avocado oil instead of coconut oil and said that it turned out great.
3. I don't recommend making any less than a full recipe; the smaller amount won't blend well in the blender jar. If you don't need a full recipe (like for these Burritos), just make a full batch and bring the leftovers to me. I'll eat it.
Popular Posts