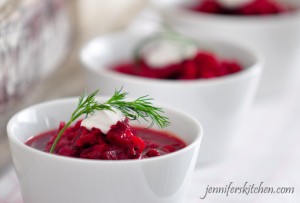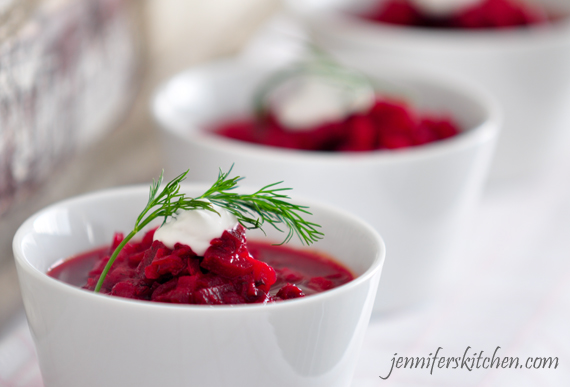 Borscht
Be sure to use only fresh beets in this recipe. Canned beets won't produce the same results.
Ingredients
2 medium onions, finely diced
2 medium carrots, coarsely shredded or finely diced
1/2 head of cabbage, coarsely shredded or diced small
4 medium FRESH beets, peeled and shredded or finely diced
3 tablespoon olive oil
2 cloves garlic, minced
2 teaspoons dried dill weed or 2 tablespoons fresh
1 tablespoon granulated onion
2 teaspoons dried parsley
1/2 teaspoon celery salt
1/2 teaspoon dried basil
1/2 teaspoon granulated garlic
4 cups broth
2 medium potatoes, peeled and diced small
2 bay leaves
2 cups tomato puree
1/4 cup lemon juice, scant
1 tablespoon honey or 2 teaspoons sugar – optional
salt to taste
Instructions
Prepare vegetables. (I use my veggie chopper for this.)
In a soup pan, sauté onion, carrots, cabbage, and beets in oil over medium heat until vegetables are slightly tender, but not soft.
Add garlic and sauté for 2 more minutes.
Add seasonings and stir.
Add remaining ingredients, turn heat to high, and bring to boil. Reduce heat and simmer until all vegetables are tender.
Remove bay leaves.
Serve hot topped with sour cream.
Notes
Variation: Omit the diced potatoes and add 1 1/2 cups white beans along with the tomato pure
Recipe by JennifersKitchen at https://jenniferskitchen.com/2013/05/borscht.html