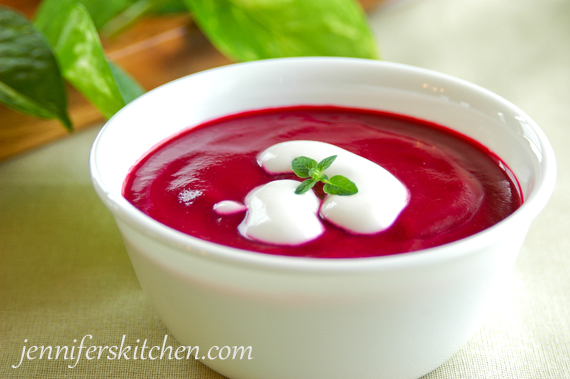 Before I share this recipe with you, there are a few things I need to tell you first.
1. When I told you I didn't like beets, I wasn't lying.  They're gross.
But I really like this soup.  Why?  Ya got me.
2. This soup is not a quick, last-minute-throw-it-together soup.  Unless you have some amazing kitchen skills that I don't know about.  In which case, could you please stop by my house tomorrow and fill me in?   Those kinds of things would come in handy for me.
No, this soup requires a little bit of time and effort. We've been known to start this for lunch, then 30 minutes later wonder, "What were we thinking?", grab something easier, and eat the soup the next day.
But when we did finally get to enjoy … oh, was it delightful!
And just look at that spectacular color!  Beautiful.
3. Don't wear your brand new, pretty white shirt while making this soup.
That's all.  Now go enjoy this yummy soup.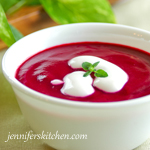 Print
Beet Soup
Ingredients
3 medium fresh beets (Be sure to use fresh beets. Canned beets don't work in this recipe.)
2 - 3 cloves garlic
3 tablespoons olive oil
1 leek
1 stalk celery
1 small carrot
1 small onion
1 medium potato
2 cups water or broth
1 bay leaf
1 tablespoon onion powder
1 tablespoon dried parsley
1/2 teaspoon dried basil
1/4 teaspoon dried thyme
1/4 teaspoon dried dill
3 tablespoons Skinny Mayo from my weight loss program
2 tablespoons lemon juice
1/2 teaspoon salt, or to taste
Instructions
Scrub beets. Cut each beet into quarters, but don't cut all the way through the skin on the bottom. Wrap each beet in foil and bake in oven at 350°F for 25 to 35 minutes or until tender. Don't over bake.Baking time will vary depending on size and age of beets.
Peel garlic cloves and wrap in foil. Bake at 350°F for 10 minutes.
When beets are done, remove from oven and carefully open foil packets. Allow beets to cool enough to handle and slip off skins.Set aside.
In a large pot, sauté leeks, celery, carrot, and onion in oil over medium heat for 8 to 10 minutes or until onions begin to appear translucent.
Meanwhile, peel potato and dice into small pieces (1/2- to 1-inch dices).
When onions are translucent, turn heat to high and add 2 cups of water or broth, seasonings, diced potato, and peeled beets. Cut garlic cloves in half and add to pan.
Cover and bring to boil. When soup comes to a boil, reduce heat and simmer until potatoes are very tender (about 4 to 5 minutes).
Remove from heat, remove lid, and allow to cool slightly. Remove bay leaf.
Puree soup in blender until very smooth and creamy. (Work in batches if necessary.) This may take several minutes without a powerful blender.
Blend in mayonnaise, lemon juice and salt to taste.
This soup tastes best if eaten the next day but can be gently rewarmed and served immediately. Otherwise, keep in refrigerator until ready to serve. Reheat before serving.
Notes
1. Variation: Instead of roasting garlic, sauté 4 cloves minced garlic separately in olive oil over very low heat until golden. Stir into soup before serving.
2. Be sure to use fresh beets.
Popular Posts