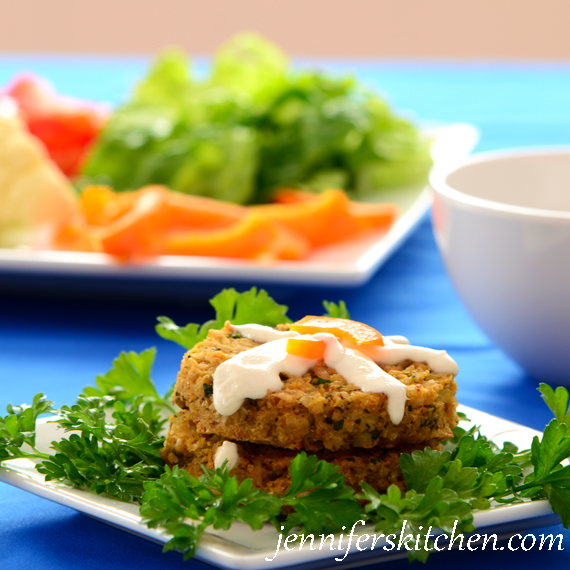 This website is brought to you without annoying ads because we can better live healthier lives without the influence of marketing. But running a high-traffic site is expensive. How can you help? If you purchase anything through the affiliate links on my site, your cost is the same, but I receive a small commission. Thank you!
Friends, Romans, and countrymen, lend me your heads of cauliflowers … because, if you do, I will make these yummy cauliflower patties out of them.  And then I will eat them for lunch every day.
Healthy veggies, good-for-you whole grains, high-fiber-very-slimming chick peas, and amazing yumminess.  All without dirtying a mixing bowl.
Ok, these patties do require a number of ingredients, which eliminates them from the "simplest recipes ever" list – even with the no-dirty-mixing-bowl advantage.  But if you have all the ingredients on hand, do make these!  They are so very good!  Or you can do like I do,  and make sure you have all the ingredients on hand because these delicious Cauliflower Rice Patties are so worth it!
Recipe Notes:
I created this recipe so the patties would be slightly flaky and fall apart a little because that's how I like them.  The texture is lovely.  Loooovelllyyy.  But if you don't want your patties to be so flaky (read: slightly more challenging to eat with a fork), then simply process them a bit more in the food processor.  But not too much or they'll be mushy. Or you can use freshly cooked, hot rice in the recipe and this will  make the patties hold together more.  (But really, the flakiness makes them really good in my opinion.)
I rarely use canned beans because cooking beans in a crock pot is so easy, but these patties do taste just a little bit better with canned beans. That said, you can use either canned or home-cooked beans in this recipe with good results.
Here's my no-fail method for making perfect brown rice every time. I like to have rice on hand in the frig so I can make Pineapple Coconut Rice, Tex Mex Beans and Rice, Mazidra oooooorrrrr these super yummy Cauliflower Rice Patties!!
Nutrition Facts:
Cauliflower is low in calories and high in fiber, making it a great food for weight loss. Some studies have also shown that cauliflower may help reduce the risk of cancer and decrease inflammation.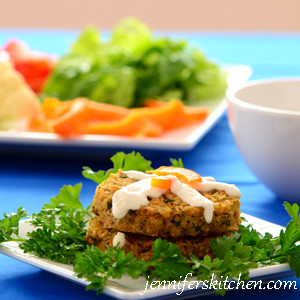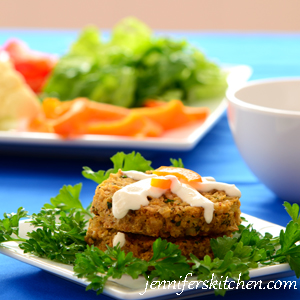 Print
Cauliflower Rice Patties
Ingredients
1 large sweet onion, diced small (approximately 1 1/4 cups diced)
3 tablespoons olive oil
1/2 cup breadcrumbs (use gluten-free bread crumbs if you want patties to be gluten-free)
1/2 cup (packed) chopped fresh parsley
1 1/2 cups cooked brown rice
2 cups fresh, raw cauliflower florets (approximately 1-inch pieces)
3/4 cup cooked garbanzo beans, drained well but not rinsed
1 tablespoon tahini
1 1/2 tablespoons lemon juice
2 teaspoons granulated onion
3/4 teaspoon cumin
1/2 teaspoon dried basil
1/4 teaspoon granulated garlic
1/4 teaspoon dried oregano
1/4 teaspoon dried dill
1/4 teaspoon paprika
1/8 teaspoon celery salt
1/2 teaspoon salt (see note)
Instructions
In a large pan, sauté onion in oil over medium (not high) heat until onion just begins to turn translucent (about 3 minutes). Do not brown onions.
Meanwhile, if making your own bread crumbs in food processor or chopping parsley in the food processor, prepare them now.
Place 1/2 cup bread crumbs, 1/2 cup chopped fresh parsley, and cooked rice in food processor. Do not process yet.
Using a rubber spatula, scrape sautéed onions into processor.
Place pan that onions were sautéed in back on stove and add cauliflower and enough water (about 1/3 cup) to steam cauliflower. Turn heat to high and cook until cauliflower is just tender. Don't overcook; you don't want the cauliflower to be soft and mushy.
While cauliflower is cooking, add remaining ingredients to food processor. Do not process yet.
When cauliflower is tender, add it to food processor. Pulse a couple times. Remove lid and stir with a spoon. Pulse again until mixture is well chopped but not pureed. (See note in post above this recipe.)
Shape mixture into patties and place onto oiled baking sheet.
Bake at 350°F for 45 to 50 minutes or until well browned.For the Sauce:
Combine mayo and tahini in a bowl.
Whisk together until well mixed. For a thinner sauce, mix in 1 to 2 tablespoons water.
Notes
See the notes in the post above.
Makes 11 to 12 2-1/2-inch patties.
Popular Posts