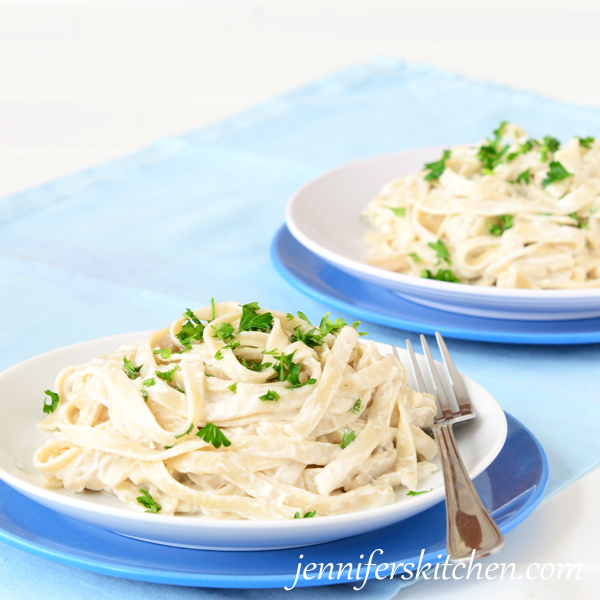 Fettuccine Alfredo.
Creamy.  Rich.  Luscious.
The ultimate comfort food  fattening food.
Unfortunately, most comfort foods are notorious for packing the pounds, but I've given this classic comfort food a total makeover.  Not only is this creamy fettuccine not fattening, but it's actually a very slimming meal option now – especially if made with delicious Tinkyada pasta.
By replacing the butter, heavy cream, and cheese typically used in Fettuccine Alfredo with this rich, but slimming, sauce you can completely eliminate the cholesterol, greatly reduce the saturated fat, and up the super slimming fiber!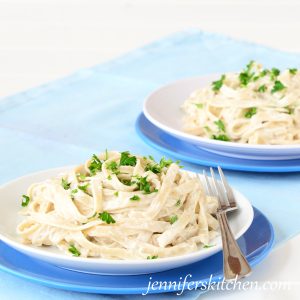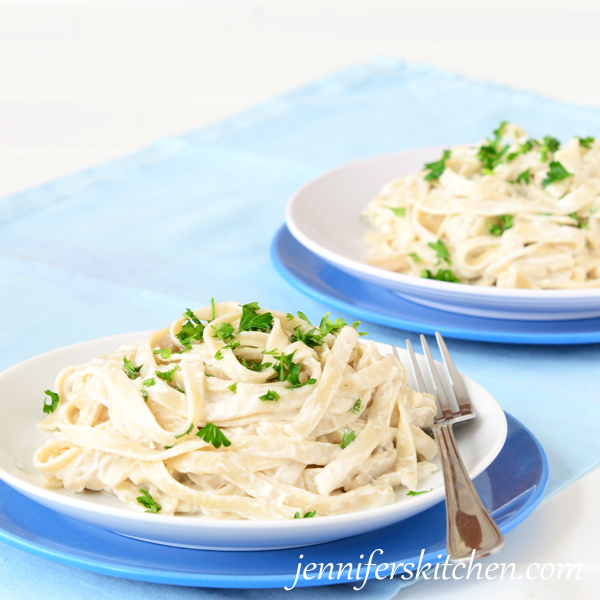 Print
Creamy Fettuccine - The Slimming Version
Fettuccine that is rich and creamy - without all the fattening butter and cream.
Instructions
Cook pasta according to package directions.
Meanwhile, wash cashews in a colander under very hot water.
Place drained cashews, 1 1/2 cups water, seasonings (except parsley), lemon juice, and tahini in blender and blend until very smooth. This may take several minutes if you don't have a powerful blender. Mixture should be very smooth with no graininess.
Add cornstarch and blend until well mixed.
Add olive oil and blend until well mixed.
Pour mixture into a saucepan. Rinse blender out with remaining 2 cups water and pour into saucepan.
Bring mixture to boil over medium to medium-high heat, stirring constantly. Using a heat-proof spatula against the bottom of the pan will help prevent mixture from scorching.
Allow to boil for 10 to 15 seconds. Remove from heat. Stir in parsley.
Drain pasta. Combine pasta and sauce and toss until well coated.
Season to taste. Serve hot.
Notes
1. I recommend Tinkyada brand pasta for effective weight loss.
2. A heat-proof spatula is a handy tool for stirring the sauce while it is cooking.
3. This makes quite a bit of sauce. If you like your pasta not-quite-so-saucy, simply reserve some of the sauce for another use. (It's great over vegetables!)
What's your favorite comfort food?  Or which one of your favorite comfort foods would you like to see get a make-over?
Popular Posts