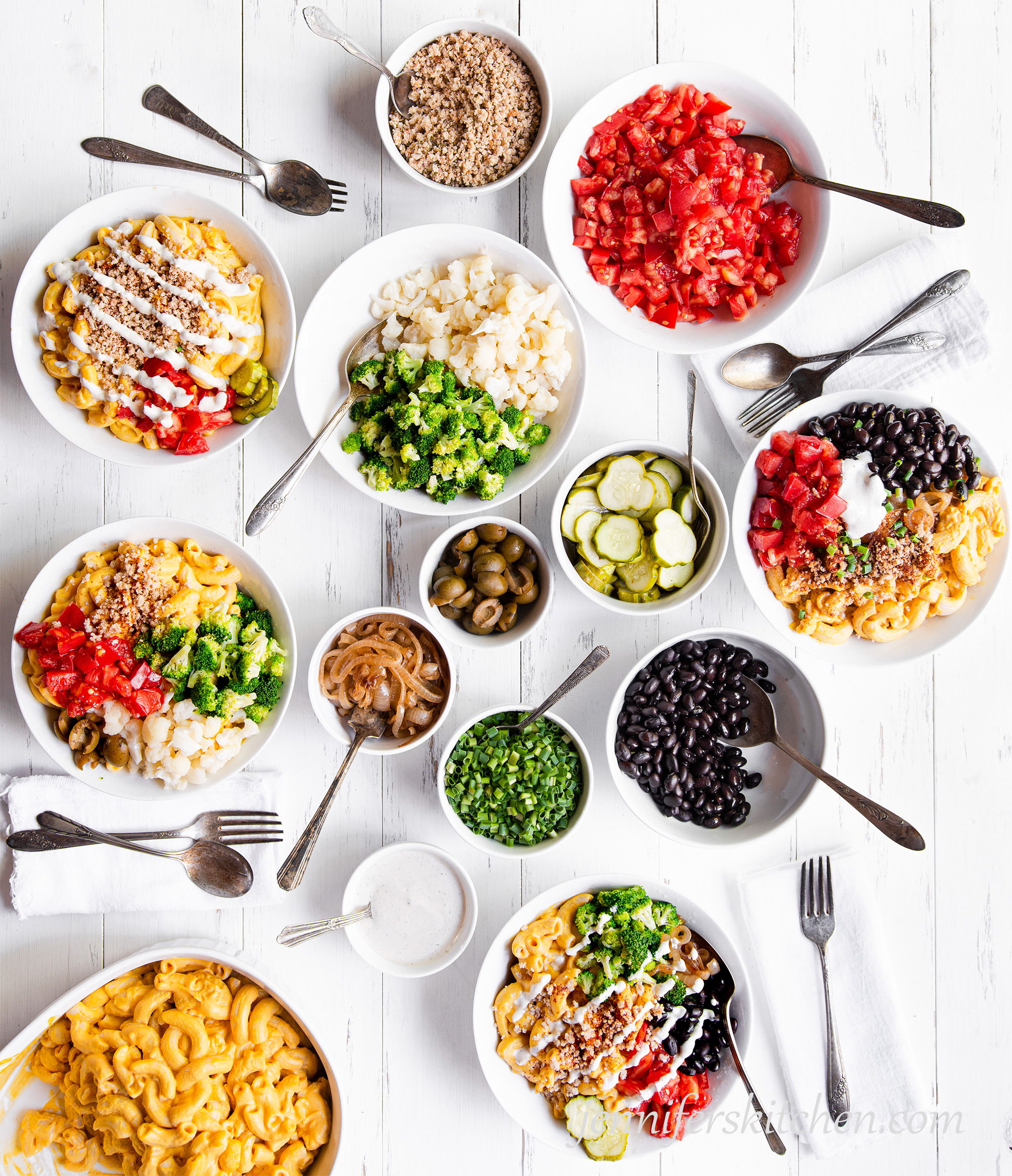 I'm a huge fan of make-it-how-you-like-it meals. This Loaded Sweet Potato recipe, this Mazidra, and these Bean Burritos are excellent meal options for when you have company, because everyone can create their plate exactly how they like it!
And this Macaroni and Cheese Bar is another great option to have up your sleeve. It's an easy, versatile, kid-approved meal that everyone – even the pickiest of eaters – will like. It makes for a fun meal and guests will love that they can customize their own plate.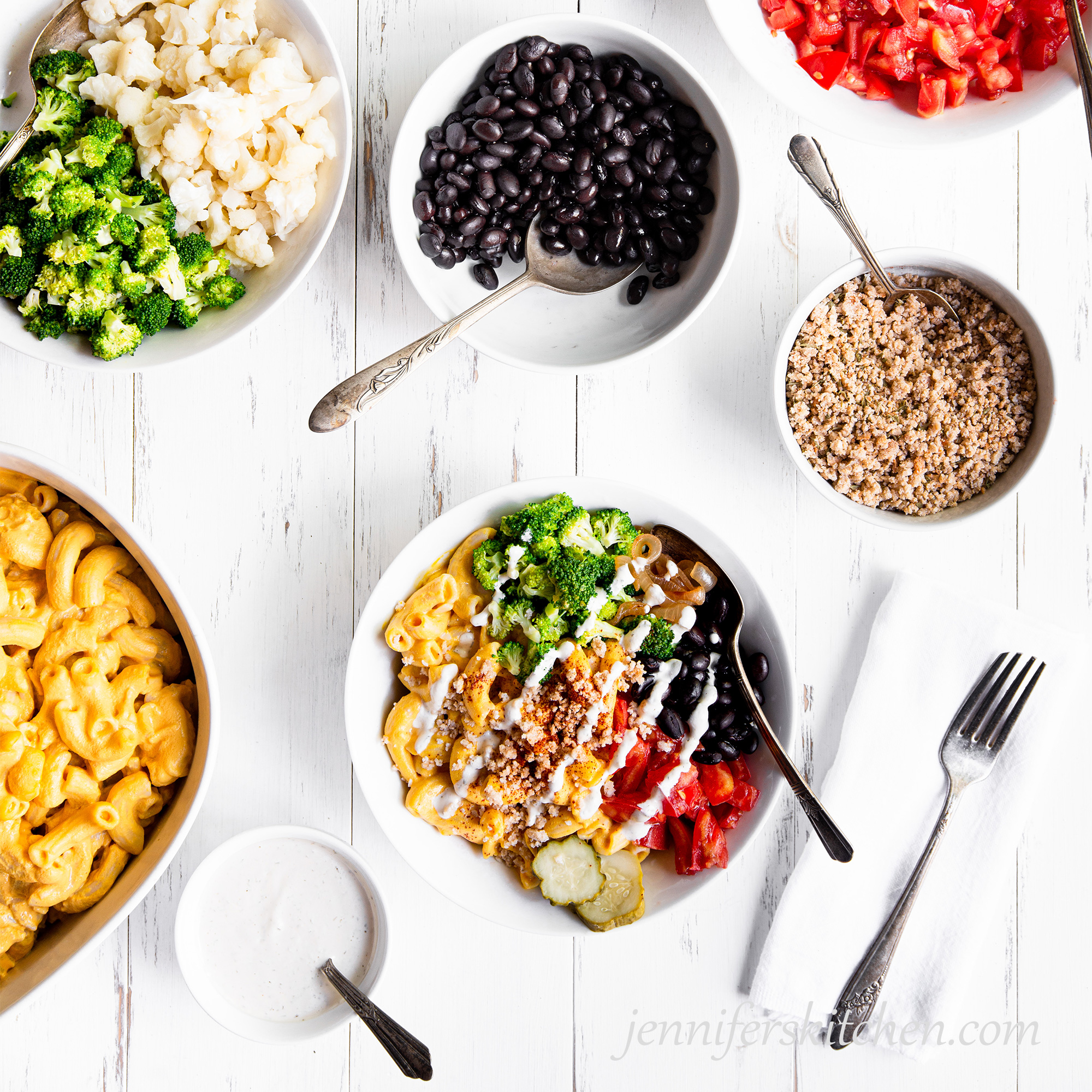 And not only is this vegan and gluten-free Mac and Cheese Bar delicious and sure to please everyone, but it's also super healthy.

This website is brought to you without annoying ads because we can better live healthier lives without the influence of marketing. But running a high-traffic site is expensive. How can you help? If you purchase anything through the affiliate links on my site, your cost is the same, but I receive a small commission. Thank you!
I've included our favorite toppings in the recipe, but you can get creative and try other ones as well. The beauty of this recipe is that you can keep it as simple or make it as fancy as you would like.
Hard to beat a warm plate of macaroni and cheese loaded with your favorite toppings!
This Macaroni and Cheese Bar was a hit at my house, and I'm sure your family will love it too!
What are some good Macaroni and Cheese Bar toppings?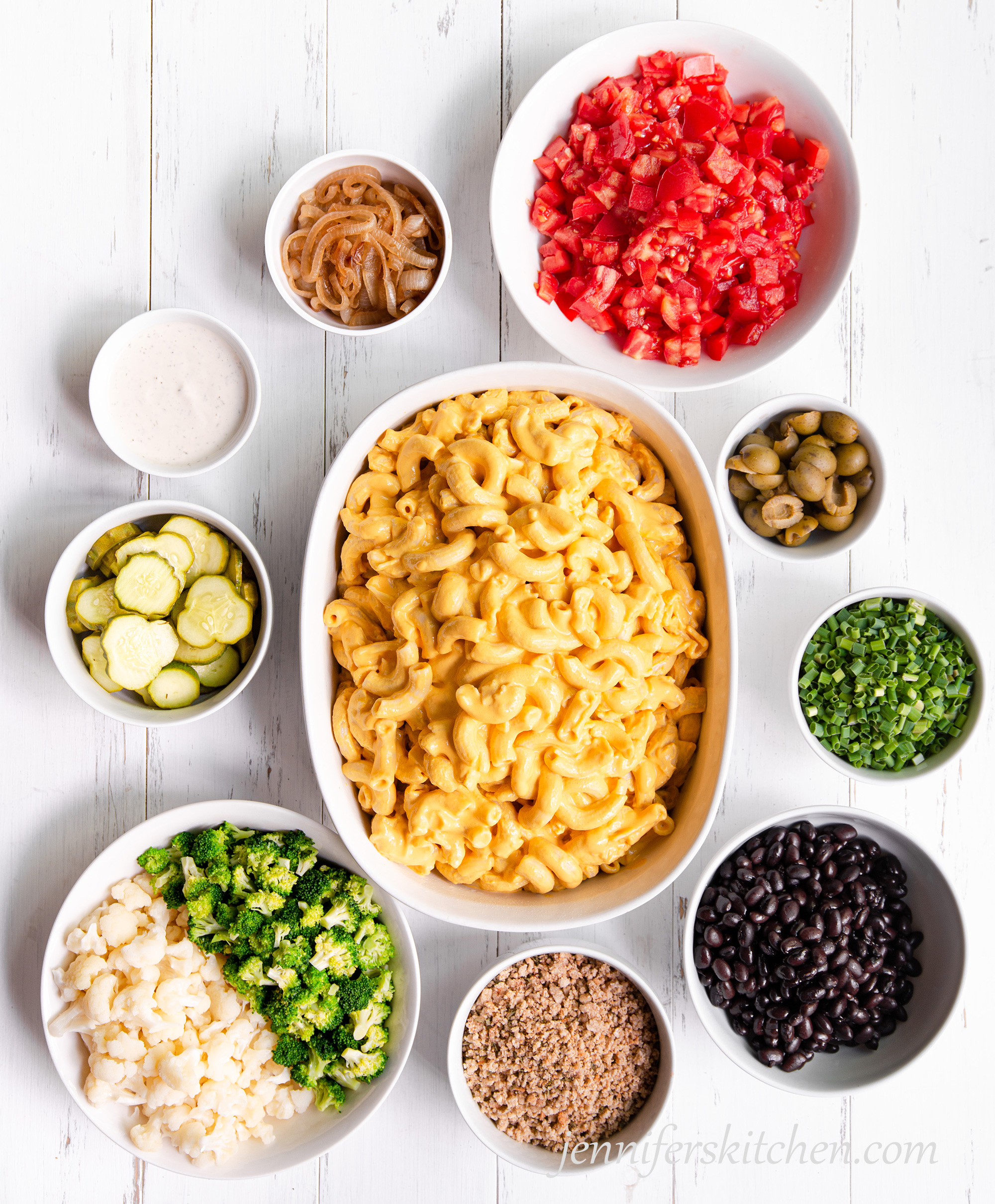 The possibilities are nearly endless, but we like to keep it simple and healthy at our house, so we chose beans (great source of fiber), broccoli and cauliflower (so good for you and the perfect veggie-match for mac and cheese), onions (I was surprised at how amazing onions are with mac and cheese!), fresh tomatoes (nice, fresh addition), these lemon pickles (add a healthy zing), and this healthy, homemade Dill Dressing.
Here are all of my Macaroni and Cheese Bar ideas:
these tree-ripened olives
whole-grain seasoned bread crumbs
sauteed onions
green onions
chives
beans (I recommend black or pinto) or Chili
broccoli (steamed)
cauliflower (steamed)
tomatoes
these lemon pickles
this healthy, homemade Dill Dressing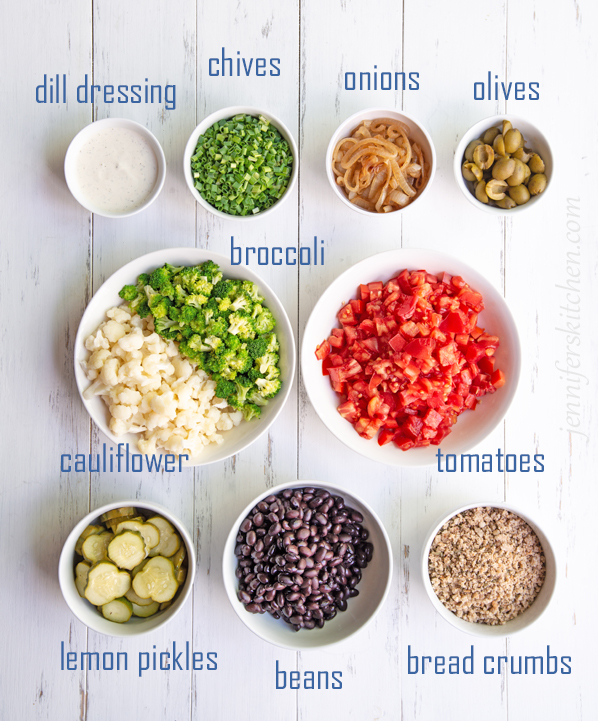 What kind of pasta should I use?
You can use any kind of pasta you'd like, but if you want your Macaroni and Cheese Bar to be gluten-free, I highly recommend Tinkyada pasta. Tinkyada pasta is a wheat-free and gluten-free pasta that has an amazing texture and taste. It's easy to cook and is NOT mushy like other gluten-free pasta varieties.
(We tested 21 varieties of gluten-free pasta and rated them from the worst gluten-free pasta to the best gluten-free pasta. Check it out!)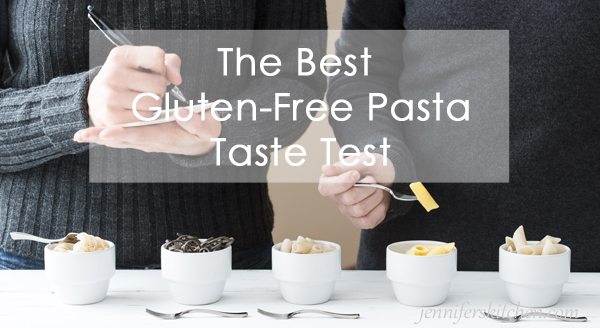 Can I keep macaroni and cheese hot in a slow cooker?
Yes! When serving a large group, a crock pot / slow cooker (or an Instant Pot using the slow cooker function) can come in handy for keeping the pasta warm. You can keep cooked macaroni and cheese warm in a crock pot for about 2 hours without it getting mushy.
I suggest spraying the crock pot insert with nonstick cooking spray to prevent the mac and cheese from sticking to the crock.
Vegan Macaroni and Cheese Bar
Comfort food meets salad bar. The perfect make-it-how-you-like-it meal!
Ingredients
4 – 6

cups

diced broccoli

-

or cauliflower

1/2

cup

sauteed or caramelized onions

2

cups

cooked black beans

2

cups

diced, fresh tomatoes

1/2

cup

sliced olives

- (I like these tree-ripened olives)

2-4

tablespoons

green onions

-

or chives

1/2

cup

seasoned breadcrumbs

-

or 1 cup croutons
Instructions
Prepare macaroni and cheese according to recipe directions.

Meanwhile, prepare toppings.

Steam broccoli and cauliflower until tender, but not mushy.

Saute or caramelize onions.

Slice green onions or chives.

Allow every to assemble their plates.
Notes
Ingredient amounts are approximate. Adjust according to personal preferences.
* * * This recipe for Vegan Macaroni and Cheese Bar is … gluten-free, plant based, oil-free, sugar-free, high in fiber, dairy free, egg-free, vegetarian, vegan, and made from real, whole foods.
>> One quick request: if you like this recipe, please leave a rating and a comment. Ratings help more people find these healthy recipes!
Print Recipe
You my also like:
Before you go . . .
Did you know that you can eat all this delicious food AND lose weight? You can!
No calorie counting. No portion sizes.
Join my online weight loss program today!