Easy Garden Veggie Quinoa Salad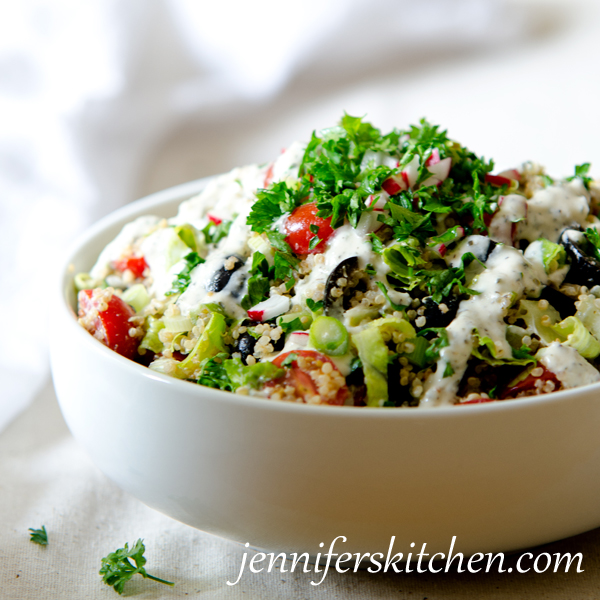 This website is brought to you without annoying ads because we can better live healthier lives without the influence of marketing. But running a high-traffic site is expensive. How can you help? If you purchase anything through the affiliate links on my site, your cost is the same, but I receive a small commission. Thank you!
Gardens and farmer's markets are overflowing with fresh veggies this time of year … which is perfect because you'll want to make this fabulous salad every week for the remainder of summer.
Here's what I like about this salad
1. If you have some cooked quinoa on hand in the frig, you can make this delicious meal in just minutes.
2. With the exception of some quinoa, there's no cooking required.
3. It's easy to make for a large crowd.
4. It's easy to make a small amount for one or two servings.
5. Precise measurements are not necessary.
6. It's great as a side dish, but it's surprisingly filling and can work as a main dish too. (Throw in a few black beans if you like your main-dish salad a bit heartier.)
7. It's flexible. A certain picky someone doesn't like cucumbers? No problem. Leave them out. Want to use a different dressing? That'll work too.
8. Dedicated carnivores and vegans alike can still happily eat together at the same meal. (Okay, add some chicken for those who can not live without meat.)
9. It's not just another pretty face. The nutrition profile of this beautiful salad is more impressive than the number of fuzzy socks I own.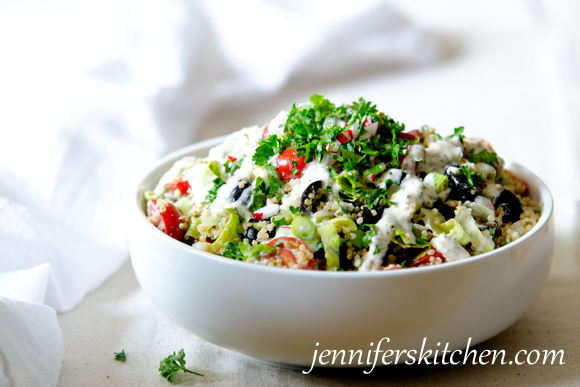 What you need to know when making this salad
1. When I make this Garden Veggie Quinoa Salad, I use my healthy, vegan Creamy Italian Salad Dressing recipe. It's easy to whip up, is made from whole-food ingredients, and tastes delicious.
You may not need an entire recipe of this dressing – it depends on your taste.  (I like my salad loaded with dressing.) But any extra dressing will keep in the frig for several days and tastes great on potatoes, sweet potatoes, kale, and, of course, salad.
Other salad dressings may taste good on this too.
2. I love, love, love Lindsay Naturals Tree-Ripe Green Olives and Lindsay Naturals Black Ripe Olives and think they taste best in this salad. However, pretty much any kind of olive will work.
3. Never cooked quinoa before? No problem.
1. Place 1 1/2 cups of water or broth in a wide-bottom pan and bring to a boil.  I use my pan with glass lid so I can see when the liquid is absorbed without lifting the lid (which can affect the cooking time and results).

2. Stir in 3/4 cup quinoa, cover, and return to a boil.

3. Reduce heat and simmer for about 15 to 20 minutes or until all liquid is absorbed. Remove from heat and fluff with a fork.
All About Quinoa

How do you pronounce quinoa?
"KEEN-wah".
Why should I eat quinoa?
Here are 4 good reasons:
1. Quinoa contains all 9 amino acids (making it a complete protein).
2. Quinoa is gluten-free.
3. It's a good source of fiber (and lots of other good stuff).
4. You can make a large pan of it at the beginning of the week, keep it in the frig, and use it for quick meals all week long.
Where can I buy quinoa?
You can buy quinoa from most major grocery stores.  Or you can order quinoa through Amazon and enjoy the convenience of getting quinoa delivered right to your door.
How do I cook quinoa?
See instructions above.
How do I know if my quinoa is done/cooked all the way?
If you use the right water-to-quinoa ratio, the quinoa is done when the water is absorbed.
When quinoa is properly cooked, you can see little curled "tails" emerged from the grains/seeds.
How much raw quinoa equals how much cooked quinoa?
Quinoa almost quadruples in volume when cooked.
1 cup of uncooked quinoa will make approximately 3 1/2 to 4 cups cooked, depending on the type of quinoa.
Can quinoa be eaten raw?
Quinoa should be cooked (or sprouted) before consuming.  The body cannot digest raw quinoa (or any other raw grain) properly, and the improperly digested starch molecules can end up in the blood stream.  Large amounts of improperly digested starch in the blood can cause health problems.
Does quinoa need to be rinsed before cooking?
Quinoa has a coating on the outside of it that gives it a bitter taste if not rinsed well before cooking.  Fortunately, most commercially-available quinoa comes pre-rinsed.
Does quinoa come in different varieties?
Quinoa comes in a wide variety of colors including:
Black
Red
Gray
Pink
Yellow
Purple
Green
Beige
Orange
Garden Veggie Quinoa Salad
A quick and easy, full-of-flavor, salad. Serves 4 as a main dish or 6 as a side dish.
Ingredients
3

cups

cooked quinoa

2

teaspoons

granulated onion

1

teaspoon

dried basil

1/2

teaspoon

dried oregano

2 to 3

cloves

garlic, crushed

1

(6-ounce) can

black olives, halved

-

cut in half lengthwise

1

bunch

green onions

-

(about 8 onions)

1

small head

Romaine lettuce

-

(about 12 leaves) or another crunchy lettuce

1

small

cucumber

1

pint

cherry or grape tomatoes

-

(about 30 tomatoes)

2

radishes

-

optional
Instructions
Stir together quinoa and seasonings in a large mixing bowl.

Add garlic and olives.

If your quinoa is hot, chill it for at least 30 minutes. Otherwise, go to step 4.

Slice green onions, chop lettuce, dice cucumber, cut tomatoes in half, and mince radishes. Stir vegetables into quinoa mixture.

Drizzle with salad dressing. If your dressing is thick, you may want to thin it with a bit of water first. Use more or less dressing according to taste. If you have leftover dressing, it keeps in the frig for about 5 days and is delicious over salad, kale, potatoes, and more. Serve.
Notes
Yield:
4 servings as a main dish or 6 as a side dish.
>> One quick request: if you like this recipe, please leave a rating and a comment. Ratings help more people find these healthy recipes!
Print Recipe
Want More?
For more healthy and delicious recipes like this one that will simplify your journey to a healthier and thinner you, check out my
Healthy Weight Loss Program!
More quinoa recipes?
Here are my favorites.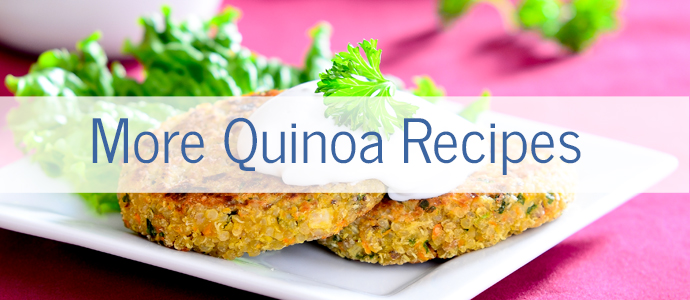 Popular Posts
You my also like:
Before you go . . .
Did you know that you can eat all this delicious food AND lose weight? You can!
No calorie counting. No portion sizes.
Join my online weight loss program today!