Should I Buy a Food Processor or a Blender?
Blender or Food Processor?
I often get the question, "If I can't afford to buy both a food processor and a blender, which one should I get?"
My answer, "It depends."
A food processor and a blender are two very difference appliances, and which one you buy will depend on what you want to do.
To help you decide which is the best for your needs, I took several different ingredients and ran them each through the blender and the food processor to show you what each machine can do. Here are the results.
Almonds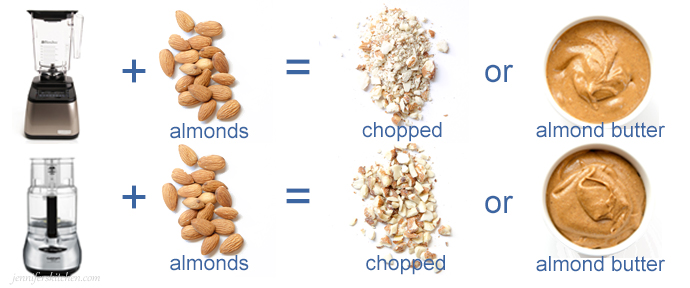 Both a food processor and a blender can chop almonds, but a food processor will get them more uniform. Also, with a food processor, you can grind them into large pieces, tiny pieces, and anywhere in between. A blender doesn't give you that much control.
If you have a heavy-duty blender, like a Blendtec or a Vitamix, you can make almond butter in your blender. A Twister jar is even better as it makes smooth, creamy butter in a flash.
Breadcrumbs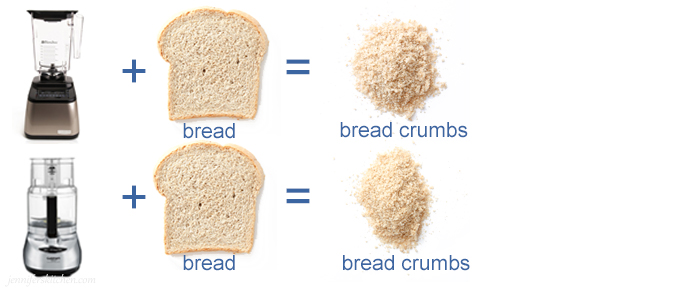 Both the blender and the food processor do a great job making bread crumbs.
Buckwheat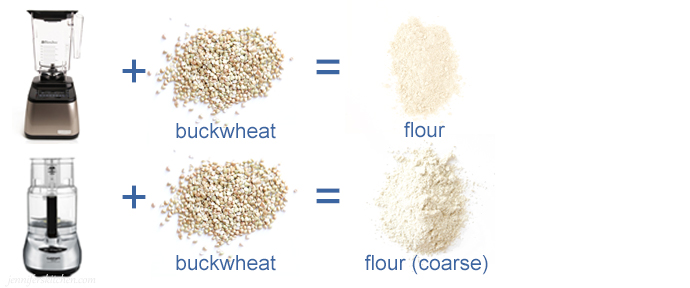 Buckwheat is a fairly soft grain, so it's easy to make flour from it in your blender.
Making flour in a food processor doesn't work so well. The flour will be very coarse.
Cabbage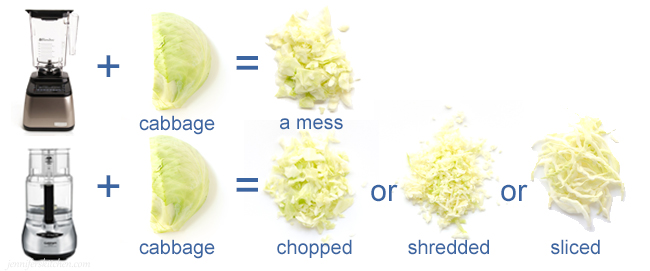 I like to use my food processor to make coleslaw. It's so fast!
Chopping cabbage in a blender doesn't work so well – you'll end up with huge pieces mixed with cabbage mush. I'd rather chop by hand.
Carrots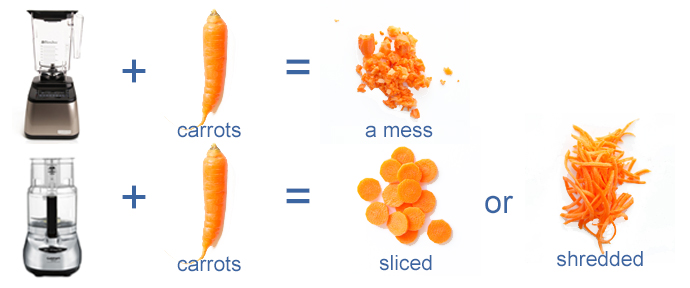 Using the slicing blade of a food processor, you can slice several pounds of carrots in seconds. The shredding blade shreds piles of beautifully uniform shreds without shredding your knuckles. You can also use the "S" blade to chop carrots fine.
In a pinch, you could chop carrots with a blender, but you'll end up with teeny, tiny pieces mixed with very large pieces.
Cashews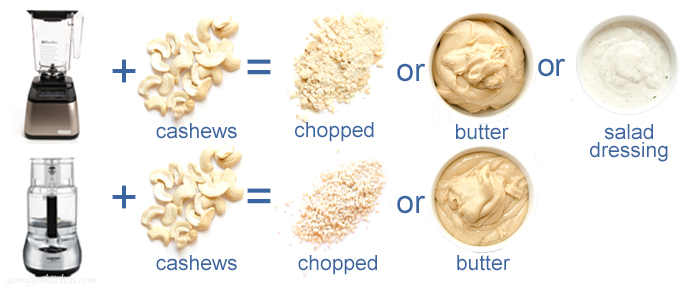 A food processor is the better tool when it comes to grinding nuts, but if you don't mind a mixture of large pieces with small pieces a blender can be used in a pinch.
Cashew butter can be made in either a food processor or a high-powered blender, but I find a food processor to be a bit quicker (and easier to clean).
This delicious Creamy Italian Cashew Salad Dressing is soooo delicious and sooo good for you, it's worth buying a good blender just so you can make it! Don't try it in a food processor; it doesn't work.
Hummus
If you want hummus that has some body and a tiny bit of texture to it, a food processor is your weapon of choice. However, if you want your hummus super smooth, you should use a heavy-duty blender.
Oats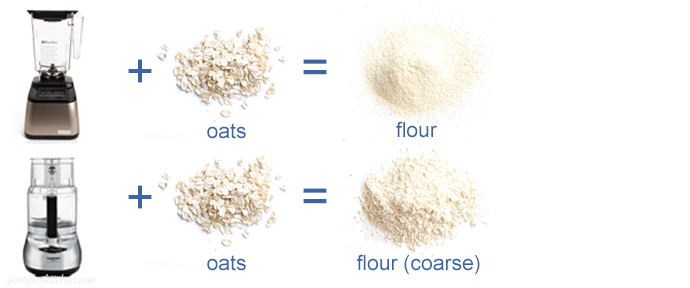 If your recipe calls for oat flour and you don't have any on hand, you can make your own in seconds. However, I recommend doing so in a blender (and a Twister jar works even better), not a food processor. A food processor won't get the flour fine enough.
Parsley and other herbs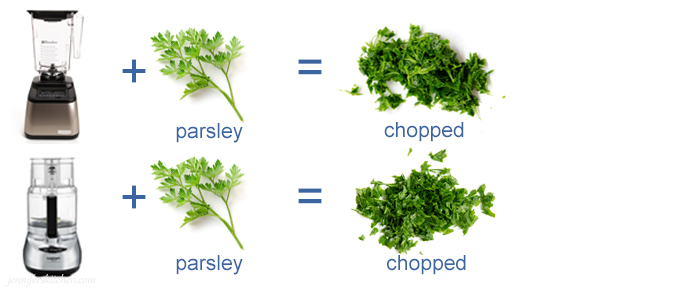 I often mince curly parsley (and other herbs) in my food processor and they come out nice and uniform. This time I only had flat leaf parsley, and it didn't chop as nicely, but it still worked.
Chopping parsley in a blender doesn't work so well and you end up with lots of big pieces mixed with parsley puree.
Pesto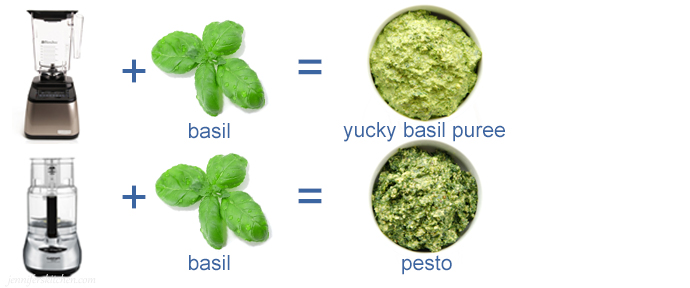 Traditional pesto is usually made by hand, but if you're looking for quick and easy homemade pesto, it can be done in the food processor.
Pesto doesn't really work in a blender; you end up with a yucky green basil puree.
Potatoes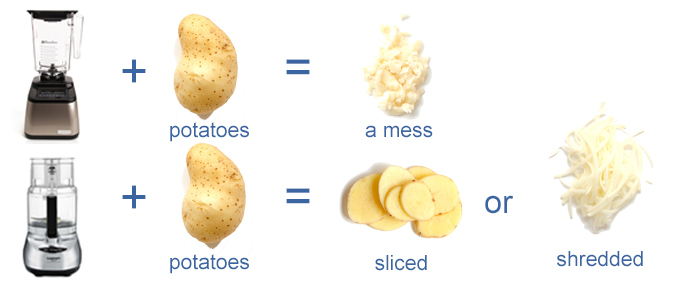 Slicing and shredding potatoes is one of the jobs for which I use my food processor the most. I can slice the potatoes to make these luscious vegan and gluten-free Skinny Scalloped Potatoes in less than 5 minutes using my food processor.
Smoothie and/or Ice Cream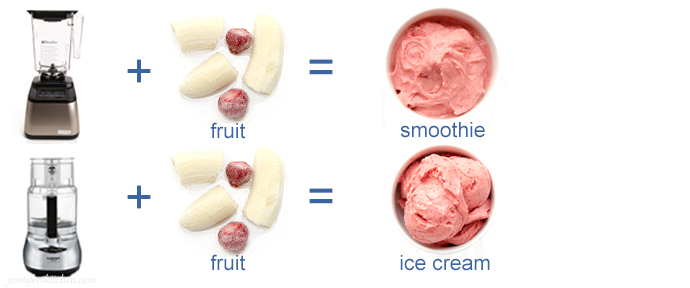 Smoothies can be made in either a food processor or a blender with good results, but if you want an extra thick smoothie that you can eat with a spoon (like ice cream!) you'll need a food processor.
Sunflower Seeds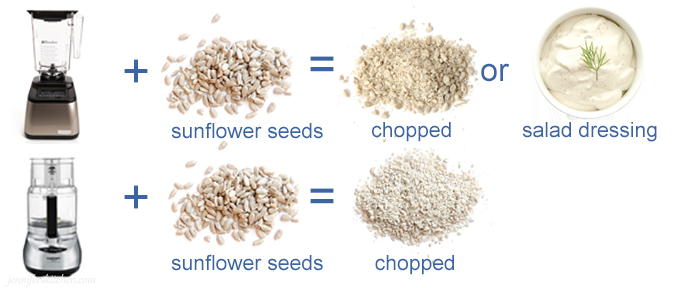 You can grind any nuts or seeds in either a food processor or blender, but a food processor will always give you more uniform and more precise results.
If you want to make this delicious, Vegan Ranch Salad Dressing, then you'll need a good blender.
Which is the Best Blender?
Both the Blendtec and the Vitamix are good, heavy-duty blenders that can easily whip up smooth sauces, luscious smoothies, and healthy salad dressings.
Which is the Best Food Processor?
There are some really nice food processors on the market. I recommend either the Breville Sous Chef or the Cuisinart 14-cup.
Food Processor Recipes
Here are some of my favorite recipes using a food processor.
Blender Recipes
And my favs using a blender …
You my also like:
Before you go . . .
Did you know that you can eat all this delicious food AND lose weight? You can!
No calorie counting. No portion sizes.
Join my online weight loss program today!