6-ingredient Avocado Cabbage Slaw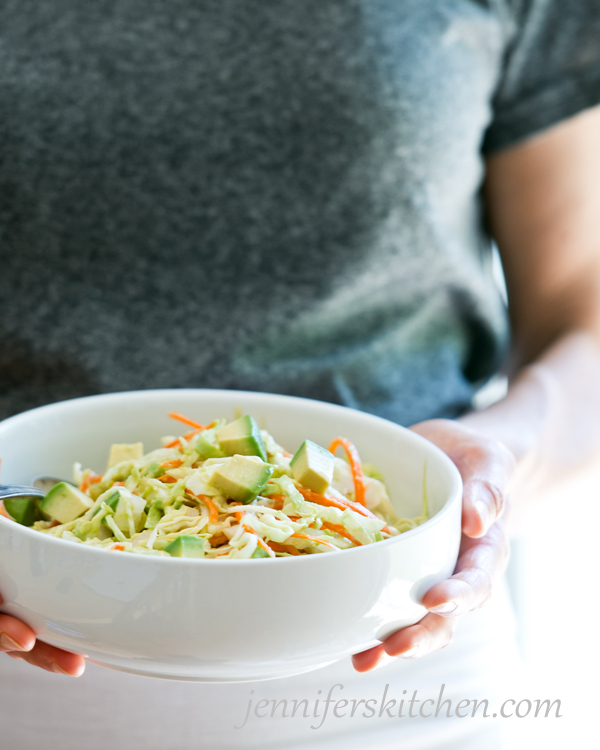 Peanut butter and jelly
Burt and Ernie
Ebony and ivory
Raggedy Ann and Andy
Soap and water
Wisdom and age
Some things just go together so sweetly.
I really didn't expect cabbage and avocado to be one of them. In fact, even Joshua – who says that he has yet to find a food that avocado doesn't go well with – expressed doubt.
But when I tried this little salad, I was super surprised at what a great pair cabbage and avocado make!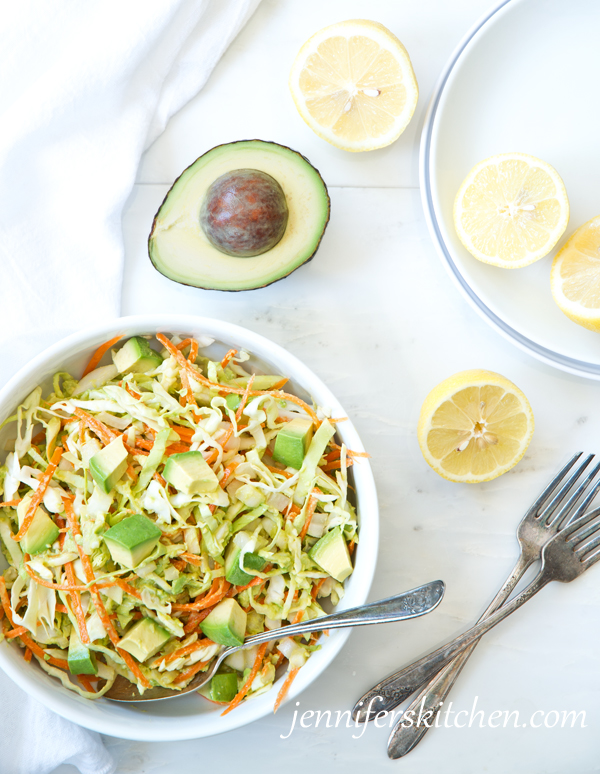 And the simplicity of this easy, 6-ingredient recipe!

This website is brought to you without annoying ads because we can better live healthier lives without the influence of marketing. But running a high-traffic site is expensive. How can you help? If you purchase anything through the affiliate links on my site, your cost is the same, but I receive a small commission. Thank you!
The Avocado Cabbage Salad
We've got fresh cabbage and carrots. Sweet onion. (Onions. I love onions. Except when I put half of one in the frig and they mixed their luscious savory onion flavor with my sweet Chia Pudding. Then I don't love onions.) Zippy lemon. And, yes! Creamy avocado! Toss that all up with just the right seasonings, and this perfectly crunchy, fabulously zippy, I-want-seconds, brightly summer salad is on its way to my belly.
Make it Fast
Coleslaw can be made in a food processor – it not only saves time, but it prevents shredded knuckles too!
Make-Ahead Tip for Coleslaw
Shredded cabbage tends to lose liquid as it sits, which can make the salad soggy. Because of this, slaw usually has the best taste and texture when eaten fresh – within the day it's made. This is even more true with this Avocado Cabbage Slaw, since the avocado with start to turn brown after about 30 minutes or so.
If you'd like to make this slaw a day or two before you eat it, you can shred the cabbage and carrots, and dice the onions ahead of time, and keep them tightly sealed in a plastic bag (remove as much air as you can) in the frig until ready to use. When ready to serve, mix the dressing ingredients, stir into the salad, and you're ready to go!
Cabbage and Your Health
Stomach ulcers – Some studies have shown that eating raw cabbage can help heal stomach ulcers.
Weight loss – Because of its very high fiber content and abundance of other nutrients, cabbage – cooked or raw – is very beneficial for weight loss.
Reduce inflammation – With its high antioxidant content, cabbage can help reduce inflammation.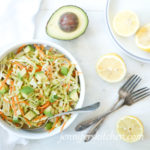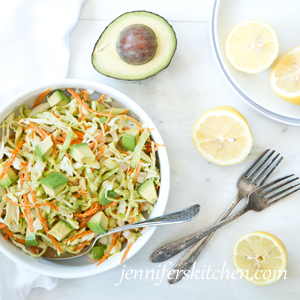 6-ingredient Avocado Cabbage Slaw
This quick and easy, 6-ingredient salad is full of flavor.
Ingredients
3

cups

finely shredded raw green cabbage

1 3/4

cups

shredded carrot

1 1/4

cup

finely diced sweet onion

1/4

cup

lemon juice

1

teaspoon

granulated onion

1

teaspoon

salt

-

scant

2

large

ripe avocados
Instructions
Combine cabbage, carrot, and onion in large mixing bowl.

Cut avocados in half and remove pits. Scoop out and mash enough flesh to make 1 cup. Add lemon juice and seasonings to mashed avocado and mix well.

Stir avocado mixture into cabbage mixture.

Dice remaining avocado and add to slaw.

Serve immediately
>> One quick request: if you like this recipe, please leave a rating and a comment. Ratings help more people find these healthy recipes!
Print Recipe
Want More?
For more healthy and delicious recipes like this one that will simplify your journey to a healthier and thinner you, check out my
Healthy Weight Loss Program!
Leave a comment
Your comments make my day! 🙂
Want More Avocado Recipes?
Here ya go …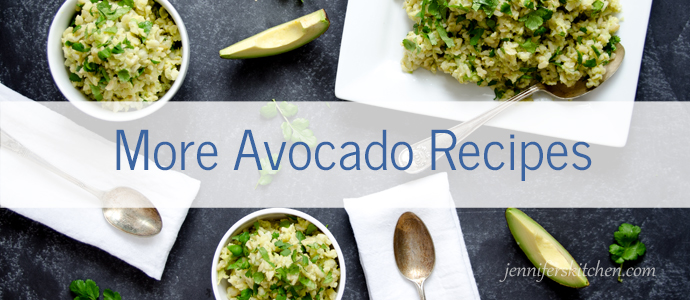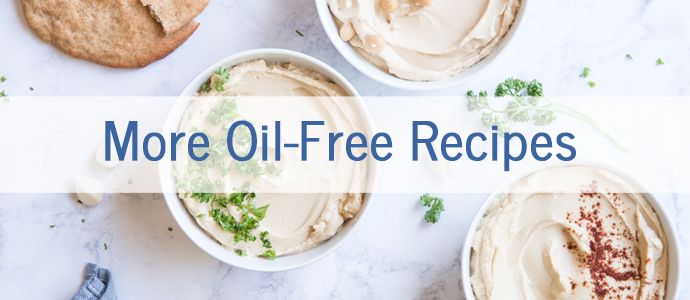 You my also like:
Before you go . . .
Did you know that you can eat all this delicious food AND lose weight? You can!
No calorie counting. No portion sizes.
Join my online weight loss program today!