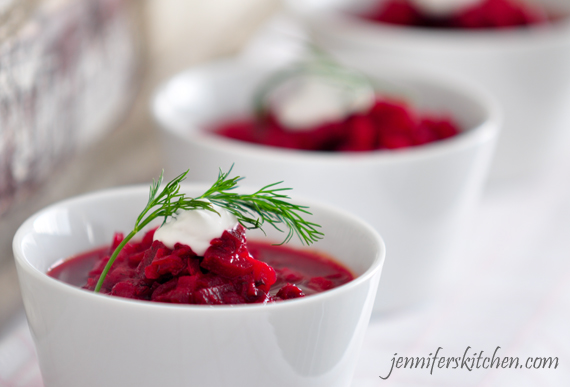 When I was a child, I was quite content to live on cereal, tater tots, and ice cream day after day (if I would have been allowed), and yet I wasn't a terribly picky eater and could manage to eat foods that I didn't really care for if absolutely necessary.  The one exception was beets.  I just could not tolerate beets.
Once when I was about 14 years old, we were dinner guests at the home of a family originally from Russia.  Guess what was on the menu.  Yep.  We were having soup made from the only vegetable I absolutely despised. And I had no choice but to eat it.
I swallowed a spoonful, and then as I began rallying the courage to take another, I suddenly realized that I actually liked it.  In fact, I really, really liked it!  Borscht just may be a delicious way to eat beets – even if you normally hate them.
There are probably as many different variations of borscht as there are towns in Europe, and I'm sure this one isn't the "authentic" version, but we like it and I hope you do too!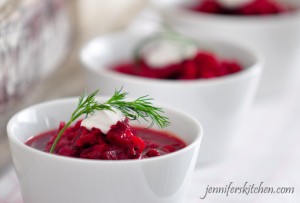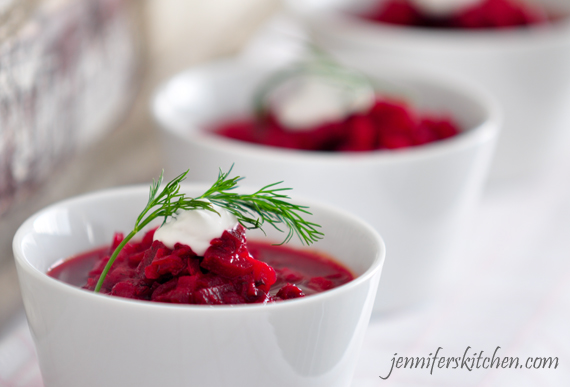 Print
Borscht
Be sure to use only fresh beets in this recipe. Canned beets won't produce the same results.
Ingredients
2 medium onions, finely diced
2 medium carrots, coarsely shredded or finely diced
1/2 head of cabbage, coarsely shredded or diced small
4 medium FRESH beets, peeled and shredded or finely diced
3 tablespoon olive oil
2 cloves garlic, minced
2 teaspoons dried dill weed or 2 tablespoons fresh
1 tablespoon granulated onion
2 teaspoons dried parsley
1/2 teaspoon celery salt
1/2 teaspoon dried basil
1/2 teaspoon granulated garlic
4 cups broth
2 medium potatoes, peeled and diced small
2 bay leaves
2 cups tomato puree
1/4 cup lemon juice, scant
1 tablespoon honey or 2 teaspoons sugar – optional
salt to taste
Instructions
Prepare vegetables. (I use my veggie chopper for this.)
In a soup pan, sauté onion, carrots, cabbage, and beets in oil over medium heat until vegetables are slightly tender, but not soft.
Add garlic and sauté for 2 more minutes.
Add seasonings and stir.
Add remaining ingredients, turn heat to high, and bring to boil. Reduce heat and simmer until all vegetables are tender.
Remove bay leaves.
Serve hot topped with sour cream.
Notes
Variation: Omit the diced potatoes and add 1 1/2 cups white beans along with the tomato pure
Did you make this recipe?
Share it on Instagram! Tag @jenniferskitchn and hashtag it #jenniferskitchn
Leave a comment
Your comments make my day! 🙂